Building a Detroit Tigers World Series (Virtual) Champion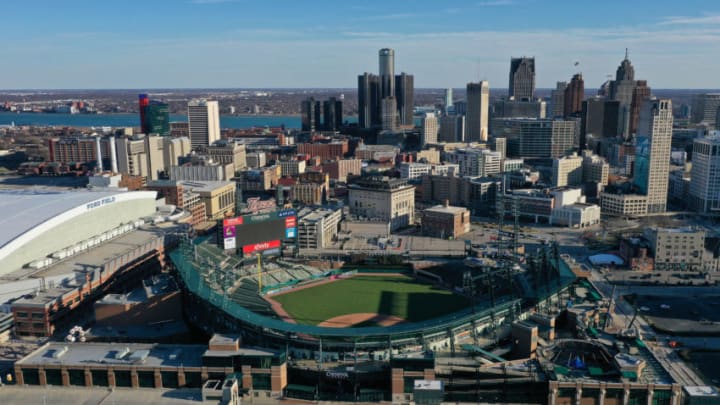 Aerial view of Comerica Park from a drone on March 14, 2020 in Detroit, Michigan. (Photo by Gregory Shamus/Getty Images) /
'Out of the Park Baseball' is a baseball strategy game that's known for being incredibly realistic, and a bit complicated. Having played MLB: The Show video games growing up, I got more enjoyment building a dynasty than I ever did playing the games themselves. I always felt the video games sorely lacked the realism I craved. Given the status of the global pandemic, I figured this was my chance to dive into the 'OOTP' world to answer one question: "How fast can I make the Detroit Tigers win a World Series?" Three years later, the Tigers are World Series Champions, but how? Here are five of the biggest reasons I can give you.
Keep in mind that this exercise is hypothetical. This piece shouldn't be considered a list of what needs to happen for the Detroit Tigers to win a World Series sooner than later, but some of them may help. In 2003, none of us thought we'd be celebrating a pennant just three years later, but things took place to expedite the process.
     1.    A Legend Hangs Them Up
Two years into my dynasty, 'Miggy' decided to enter his post-baseball life as one of the greatest hitters of our generation. He also was making around $35M per season, which tied up my teams' flexibility to add the impact pieces I needed. Once Cabrera retired, I had the budget to lure in a *very* big-name free agent. More on that later.
     2.    The Pitching Staff
Shocking to absolutely no one; watching the Tigers pitching prospects blossom into legitimate big-league assets was the most enjoyable part of my experience. For those wondering: during the World Series, my starting rotation included:
–       Joey Wentz, who bounced back nicely from his 2020 Tommy John surgery to go 10-2 with a 2.91 ERA between Toledo and Detroit.
–       Tarik Skubal, who struck out 177 batters in 144 innings, finishing 10-11 with a 1.5 WAR (wins above replacement).
–       Matt Manning, who, much to our collective enjoyment, became one of the best pitchers in the game. In his breakout 2022 season, Manning went 15-4 with a 2.66 ERA and a staggering 6.4 WAR on his way to winning the AL Cy Young Award – the Tigers first since Max Scherzer in 2013. He was the unquestioned ace of this title-winning team.
A few of the others may surprise you for different reasons. Casey Mize, the #1 pick of the 2018 MLB Draft, posted a combined record of 13-13 in his first two full seasons with a 4.38 ERA before missing the final two months of the season to get Tommy John surgery. I also ponied up for a veteran pitcher from Japan, Tadaatsu Iida (nicknamed "Eeyore") with a rubber arm and 80-grade knuckleball to take the rotation to a championship level. As for Michael Fulmer, he also recovered nicely from elbow surgery to post a 7-6 record and 3.56 ERA in 21 games before budget constraints forced me to trade him.
     3. Prospect Patience
A huge part of me thought that Riley Greene, Spencer Torkelson (who, since he's considered the likely choice with the first pick of the 2020 MLB Draft) or even Isaac Paredes might be lynchpins in the winning the 2022 World Series, but that turned out to be incorrect. Paredes made the big leagues and performed serviceably, hitting .251 with ten homers and 51 RBIs, but the need for a premier player moved him into a utility role. Believe it or not, Greene and Torkelson have yet to crack the big-league roster. They both needed significant time to develop at the Class-A level. As of 2022, both are playing well in Lakeland, with a 23-year old Torkelson hitting .292-16-58 with a 2.8 WAR, while the 22-year old Greene posted a similar .288-15-90 stat line with 17 stolen bases and a 2.5 WAR. Due to service time considerations, it makes sense for both to arrive on my big-league roster by May of 2024. The one exception was infielder Willi Castro, who became an asset, hitting .297-12-48 with a 2.7 WAR in just 107 games before an injury forced him to miss nearly a month.
     4. Lining Up the Lineup
You saw I mentioned Waters, but he wasn't the only player brought in to bolster the starting nine. A handful of trades allowed me to add the critical everyday players my lineup needed. A few of the players those brought back:
–       St. Louis outfield prospect Dylan Carlson, the MLB Pipeline #17 overall prospect.
–       Boston infield prospect Jeter Downs, currently rated the MLB's #44 prospect by MLB Pipeline.
And the final trade I needed to pull off the title:
–       Philadelphia first baseman Rhys Hoskins and reliever Seranthony Dominguez.
All of these players were huge in my efforts to win a title. Hoskins' efforts were especially vital, hitting nearly .300 with 21 home runs, 52 RBIs, and a .438 on-base percentage in just 68 games. I'll have him under control for one more season before needing to extend his deal.
     5. Spend, Spend, Spend
And last but not least, much when the Tigers clawed their way back into respectability after the 2003 season, opening up the checkbook allowed me to add the other pieces I needed. I'm all for spending on free agents when the time is right. In this instance, I felt strong enough in my pitching staff to sign a few impact free agents, including:
–       Perennial Gold-Glove shortstop Andrelton Simmons.
–       Third baseman Kris Bryant, who left the Cubs after six seasons in Chicago.
And the final missing piece to my championship equation, brought in courtesy of the money freed up by Miguel Cabrera's retirement:
–       Outfielder Mookie Betts, who I was able to outbid the rest of Major League Baseball for on a three-year, $122M deal.
Summary:
All of these moves brought the Tigers an American League Central division title with a regular-season record of 93-69. In the playoffs, winning a deciding Game 5 against the Tampa Bay Rays sent Detroit in the 2022 ALCS against a divisional opponent in the Minnesota Twins. That series went the distance as well, where the Tigers won Games 6 & 7 at home to win the pennant and go to their 12th World Series in franchise history, and first in exactly a decade. Ironically, the World Series was arguably the most stress-free series the Tigers played, dispatching the National League Champion Milwaukee Brewers in five games to win their fifth World Series title, and first since 1984. The World Series Most Valuable Player Award went to outfielder Dylan Carlson, who has turned into one of baseball's most popular players.
Of course, this is all a mere hypothetical and shouldn't be considered the only way the Tigers could realize championship potential in just a few short years. Either way, it'll be fun to look back on this article to compare what did and did not go according to plan. As we know, it's fun to pretend, and the idea of this happening, no matter how it occurs, is the happy thoughts we all need to be thinking in a time like this.
Pitching Staff:
Matt Manning
Tadaatsu Iida
Joey Wentz
Tarik Skubal
Casey Mize
Closer: Bryan Garcia
Lineup:
LF Dylan Carlson
1B Rhys Hoskins
3B Kris Bryant
RF Mookie Betts
DH Willi Castro
C Sam Huff
CF Drew Waters
2B Jeter Downs
SS Andrelton Simmons
Until next time,
-DH
What do you think of how things went? What would you like to see from this list actually happen in real life? Find Dan Hasty on Twitter and discuss @ThatDanHasty!