Detroit Tigers: The Top 5 Radio/T.V. Calls in Franchise History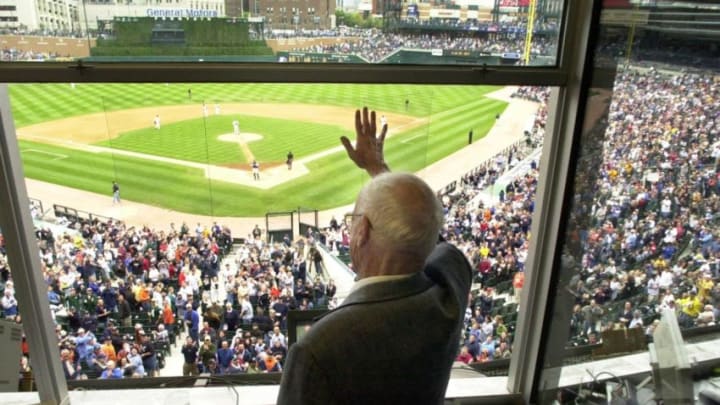 DETROIT, IL - SEPTEMBER 22: Detroit Tigers radio broadcaster Ernie Harwell waves to the crowd during the seventh inning stretch in the game with the New York Yankees in Detroit, MI 22 September 2002. The Hall of Fame broadcaster called his final home game in Detroit before ending his 55th major league season next week in Kansas City and Toronto. AFP PHOTO (Photo credit should read CARLOS OSORIO/AFP via Getty Images) /
Let's take a look back at the top 5 Radio/T.V. Calls in Detroit Tigers history in no particular order.
As someone who grew up in Metro Detroit, we've enjoyed several tremendous play-by-play voices. Hoping that these sports return, Dan Miller is scheduled to begin his 16th season as Detroit Lions Radio Voice this fall, and Dan Dickerson of Detroit Tigers Radio will hopefully get his 18th with the Tigers sometime this summer. Meanwhile, the Red Wings' Ken Kal was enjoying his 25th season alongside Paul Woods, and George Blaha has been the Pistons play-by-play man for a staggering 44 years before sports were halted back in March.
Each of these voices has become part of the fabric of Detroit Sports. I even enjoyed the people on this list so much, that I've followed their lead and become a play-by-play voice of my own with the West Michigan Whitecaps and Detroit Mercy Titans. In this exercise, we spotlight the Tigers, and the great moments they've brought us – along with the voices who accompanied them.
Honorable Mention: Armando Galarraga's Imperfect Game (Mario Impemba & Rod Allen/Fox Sports Detroit, Dan Dickerson & Jim Price/Tigers Radio)
It didn't feel right putting what feels like an infamous moment on this list, but immense credit needs to be given to the voices on the call the night of June 2, 2010. On the night where Tigers pitcher Armando Galarraga was robbed of a perfect game by umpire Jim Joyce, fans were understandably irate. It's an immensely challenging moment to navigate for a play-by-play voice. In a moment of anger, they showed grace. The broadcaster's reaction could've been very different, depending on which MLB team this had happened to, but thankfully, all parties involved showed tremendous respect to the situation. We didn't see a perfect game, but we witnessed a perfect response. Moments like these are why I'm proud to say that the likes of Impemba, Dickerson, and Harwell have shaped me into the broadcaster I've become.
George Kell/WDIV-TV – Tigers Win 1987 AL East
"Two outs in the ninth…and a tap to the mound! This could be it… It's all over, and the Tigers win it! The Tigers win it!"
Kell's accomplishments are wildly understated. Most former players go into a color analyst role, but Kell went into play-by-play and may still be the best player ever to make a successful transition. Kell, an Arkansas native, brought his southern charm into the Tigers TV Booth as early as 1959. Ten years earlier, he won the 1949 American League batting title with a .343 average to deny Red Sox legend and Hall of Famer Ted Williams, a triple crown. Kell's portrayal of Frank Tanana's 1-0 shutout on the final day of the 1987 season exemplified his genuine excitement and love for the game.
Mario Impemba & Rod Allen/Fox Sports Detroit – "Welcome Back, JD!"
Impemba: "Look who's pinch hitting…J.D. Martinez getting a 'standing o'!"
Allen: "How 'bout this place?"
Impemba: "Oh, if he hits one out right here…"
Allen: "Huh?"
Impemba: "Sale goes to work."
*Wack*
Impemba: "Swing and a drive! Deep left-center field…and…gone! It's gone! Welcome back, J.D.!"
While you can't ignore the history of 'Mario & Rod', the two were wildly successful for the better part of two decades, which supersedes all else. Nevertheless, this call remains a moment that gives us goosebumps. Impemba, an Emmy and Ty Tyson Award winner during his time in Detroit, also dropped "Holy Cats" shortly after Martinez homered off Chris Sale in his defining Tigers moment as the club attempted one last run at making the postseason.
Frank Beckmann & Al Kaline/Detroit Tigers TV – Al Kaline accurately predicts Robert Fick's HR in last game at Tiger Stadium
"Here's Robert Fick. Another man who's counted on in the future. Wearing Norm Cash's number 25. Remember, Al told him he'd hit a home run today…*wack*…and he did!"
Talk about calling your shot – or in this case, someone else's. The fact alone that the late Al Kaline told Robert Fick he'd hit a home run during the final game at Tiger Stadium is impressive, but for Beckmann to have mentioned it as the pitch was coming in is the stuff of legends. He could've walked out of the booth right then and there because that call was impossible to top. For many young Tigers fans (myself included), this was the closest thing we ever had to a Tigers playoff game, and this moment delivered on every conceivable level.
Ernie Harwell/Detroit Tigers Radio – Tigers Win 1984 World Series
"Roenicke off the bag at first…the pitch…he swings and lifts a fly ball to left. Here comes Herndon …he's there …he's got it! The Tigers are the champions of 1984! They race on the field to mob Hernandez. The Tigers have won the World Series! They are the champions of the world in 1984."
Harwell, one of the great voices in baseball history, gave us this timeless gem. Revered as a 'Hall of Fame' broadcaster, 'Ernie' was an even better human being. During his 42 seasons in Detroit, Harwell became beloved by the entire fanbase. For the summer of 1984, he gave us the call we had been waiting for since the team began the season with a record of 35-5. Harwell, the voice who called 55 seasons of Major League Baseball (42 with the Tigers), remains the gold standard for the voices of all Detroit sports.
Dan Dickerson/Detroit Tigers Radio – Magglio's ALCS Walk-off
"The 1-0…swing and a fly ball …it's deep…it's way back…the Tigers are going to the World Series! Three-run walk-off home run! Oh man! Ordonez around third …he's into a mob scene at home! The Tigers have beaten the A's 6-3…completed a four-game sweep! In one of the greatest turnarounds in baseball history: three years after losing 119 games, are Tigers are going to the World Series."
It's almost impossible for me to find a call I enjoy more than the night Magglio Ordonez sent the Tigers to the 2006 World Series – their first American League pennant since 1984. This list wouldn't have been complete without it. The best part is Dickerson's genuine amazement, as well as his ability to put the moment into context by mentioning how far the team had come in such a short time. This run to the World Series was as unexpected as it was incredible. Even though we wish it ended in a World Series title, Tigers fans received the gift of this unforgettable call.
What do you remember about these moments? Was there anything else that should've made this list? Leave a comment below and find me on Twitter at @ThatDanHasty.
Until next time,
-DH