Detroit Tigers: Making Room for One More Fulmer?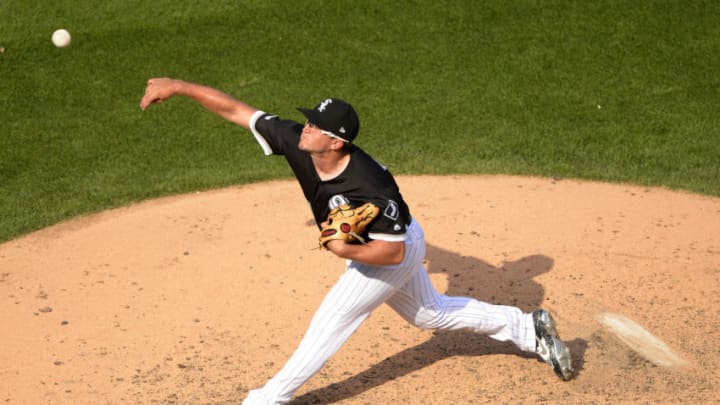 CHICAGO - JUNE 29: Carson Fulmer #51 of the Chicago White Sox pitches against the Minnesota Twins on June 29, 2019 at Guaranteed Rate Field in Chicago, Illinois. (Photo by Ron Vesely/MLB Photos via Getty Images) /
Once the top prospect of the divisional rival White Sox, the 26-year-old Carson Fulmer was designated for assignment. Could he have a future with the Detroit Tigers?
The Detroit Tigers have the top waiver priority for any American League player that is waived this season. The Chicago White Sox just designated Carson Fulmer for assignment and the 2020 Detroit Tigers already face one of the toughest questions for a team nearing the end of a rebuild. Should the continue selecting teams' castoffs to try to unlock their potential for the future?  Usually, for a former first-round draft pick, the answer would be a resounding yes for a team that had the worst record the prior season. But Detroit faces a crunch right now as their own prospects are added to the 40-man roster. The Tigers' 40-man roster is currently full. So for Fulmer to be selected by Detroit, a current Tiger would have to be waived and then risk potentially losing him to another team.
Jordy Mercer and Dario Agrazal were both recently added to the 40-man roster and could be the most likely to be removed if Detroit decides to select Fulmer or add any player to the roster this season. Agrazal was obtained by Detroit via waivers himself in November. Detroit has already once designated him for assignment to make room for Ivan Nova. He cleared waivers then and there is a chance he could clear again to be optioned to the minors. Mercer is turning 34 years old in a couple of weeks and, even though he ended the year on a tear from July on, he doesn't fit into the Tigers' long term plans.
With at least two players that could be swapped for Fulmer, would it be worth it to select him from waivers?
When he was drafted, Fulmer was considered a sure bet to succeed at the major league level. He was selected in the first-round out of Vanderbilt where he put up utterly unbelievable stats. As a freshman, he was pitching out of the bullpen but transitioned into a starting role during his sophomore year. After moving to the rotation he had a 28 inning scoreless streak. By his junior year, he was the ace of a staff that included Walker Buehler and top Braves' prospect, Kyle Wright. He had a collegiate record of 24-3 and a career ERA of 1.99 while leading his team to back-to-back College World Series appearances. The sky seemed to be the limit for this pitcher.
So just what happened for the sure bet to be cut from his team
The only concern that his critics had was that he was undersized and that he might only succeed as a reliever. Let's say that again. That he might "only" succeed as a reliever. There was never a doubt in anyone's mind that he would succeed, just to what extent. Baseball America even put his floor as an elite closer.
He was ranked by MLBPipeline as the 38th best prospect in all of baseball in 2016. He made his debut that same season with eight relief appearances just 14 months after being drafted. He made his first start in August of 2017 but only recorded four outs and gave up six runs. After that disaster of a start, he was sent back down to the minors.
He was called back up to Chicago when rosters expanded in September. That month would be, by far, the best month of his MLB career. But, after nine games as a starter in 2018, he was optioned to Triple-A with an ERA north of eight and it looked like the can't-miss prospect was a bust.
Since his debut, his Achilles heel has been the free pass. He has given up 64 walks over his 94.2 career big league innings. And last season he walked 20 batters in just 27.1 innings. With that much traffic on the basepaths, his career ERA of 6.26 is understandable.
What can he offer Detroit in the future?
If Detroit can figure out Fulmers' control issues and with their new approach to using openers, Fulmer could form a future piggyback starting pair with either Daniel Norris or Michael Fulmer as they both build up arm strength. But is he worth giving a shot? Years ago a pitcher that struggled this much wouldn't warrant a write-up like this. But now the future is here and with Statcast we can dig a little deeper into what is really happening to Fulmer.
So, let's ignore the boxscore for a minute and look at Fulmer as a pitcher. His once elite fastball velocity has dropped from 97mph when he was drafted to a good-not-great 93.7mph during his 2019 MLB appearances. But what makes him a very interesting possibility for Detroit is the elite spin that he has on both his fastball and curveball. His fastball spin ranked in the 91st percentile and his curve wasn't far behind in at the 87th.
Steve Adams at MLB Trade Rumors suggests a change of approach for Fulmer. He pitched his fastball almost exclusively down in the zone and Adams believes an elevated fastball could result in more swings-and-misses on the pitch.
A change of scenery and coaching could be just what Fulmer needs to right the ship. With as much raw talent as he has, he is exactly the type of player that Detroit should take a flyer on. If he can find any of the magic that once made him the pitcher that was drafted ahead of both Beau Burrows and Kyle Funkhouser, that trio could give Detroit a formidable bullpen for the foreseeable future.
I, for one, would be ecstatic to see Fulmer wearing the Old English "D" for this season and hopefully long into the future.