Remembering The Detroit Tigers' First Season At Comerica Park (Part 2)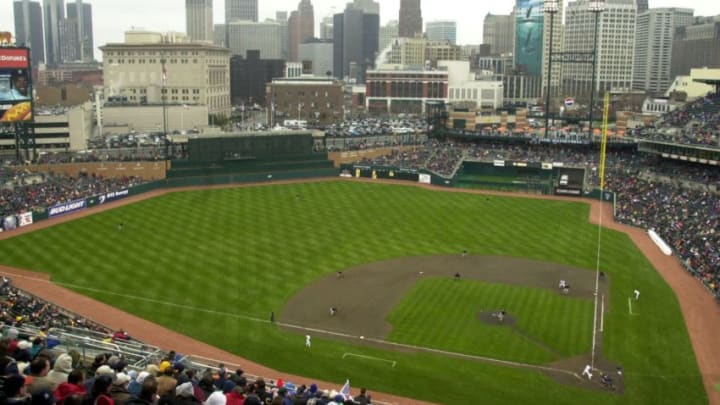 A view of the Detroit skyline from the first game at Comerica Park in April 2000. (Photo by JEFF KOWALSKY/AFP via Getty Images) /
Comerica Park ushered in a new era of baseball in Detroit in 2000. In this ongoing series, we'll reminisce about some of the Detroit Tigers' memorable moments and games that shaped that inaugural season.
From a business perspective, Comerica Park (click here for part one.)  was a box office hit right off the bat. In mid-April, after only three games had been played, the Tigers announced that a new franchise record for season ticket sales had been set. Over 17,000 were sold, beating the previous record (from Tiger Stadium's farewell season in 1999) by 5,500.
From a baseball perspective, there was still a lot of curiosity about what kind of ballpark Comerica would turn out to be. Tigers general manager Randy Smith offered his forecast. He said,
""This ballpark is going to end up playing very fair. I think what we will see here is pure baseball where everything matters – hitting the cutoff man, sacrifice bunts, defense. It will be baseball the way it was meant to be played.My opinion is that a home run should be something special. Home run hitters like Juan Gonzalez, Tony Clark, and Dean Palmer will still hit them here, but the little guy who isn't supposed to hit homers won't get the cheapies he might have at Tiger Stadium.""
April 14: The First Home Runs
The Devil Rays, as Tampa Bay's team was called back then, were the Tigers' opponents in Comerica Park's first weekend series. The Friday night opener was a scoreless game through the first two innings. Tigers starter C.J. Nitkowski pitched a 1-2-3 top of the third to keep it at 0-0. Juan Encarnacion led off the bottom of the third with a double to deep left. Deivi Cruz laid down a sacrifice bunt to send Encarnacion to second. Leadoff hitter Luis Polonia walked. Brad Ausmus' single drove Encarnacion in with the first run of the game. Gregg Jefferies grounded to first, but both runners advanced.
With two Tigers in scoring position, Juan Gonzalez stepped up to the plate. He had doubled in the second but went no further. Devil Rays starter Ryan Rupe may not have realized it, but he was about to become part of history. "Juan Gone" lined a 1-1 pitch into the left-field seats. The three-run home run was the first one ever hit at Comerica Park. Gonzalez knew that fans were waiting for the first home run, and he acknowledged that it was a special moment. It was a big mistake by Rupe that made the moment possible. The Tampa Bay righty lamented,
""I was going to walk him or get him to chase bad pitches. The pitch he hit was supposed to be a changeup in the dirt. It wasn't, and you saw how he hit it.""
Juan Gonzalez is congratulated Brad Ausmus and Bobby Higginson after hitting the first home run in Comerica Park history on April 14, 2000. (Photo by JEFF KOWALSKY/AFP via Getty Images) /
The second Comerica homer almost happened in the top of the fourth. Devil Rays sluggers Jose Canseco, Fred McGriff, and Greg Vaughan (who hit a combined 1,310 home runs in their careers) weren't the ones who almost took Nitkowski deep, however. Instead, they all singled to load the bases for Vinny Castilla. With 320 longballs of his own, most of them hit in Denver when he played for the Rockies, Castilla was no slouch. He drove Nitkowski's first pitch to deep left-center, but thanks to the cavernous Comerica Park outfield (which was 395 to left-center in those days), it wasn't deep enough. Encarnacion caught the estimated 390-foot sacrifice fly. From behind the plate, Ausmus had a good view. The Tigers catcher noted,
""That would have been a homer in every park that I know of, except maybe the Astrodome.""
The Tigers caught a big break when Castilla missed out on what would've been a game-tying grand slam, and they were able to capitalize. In the bottom of the fourth, Tony Clark hit Comerica Park's second home run. His two-run shot to right gave the Tigers a 6-1 lead. Surprisingly, Rupe was still in the game in the bottom of the sixth, and the Tigers were poised to finish him off. Ausmus led off with a single. Jefferies singled him to third, but was able to cruise into second on the throw to third. That brought Gonzalez up.
Just like in the third inning, Gonzalez had two runners in scoring position with first base open. This time, the Devil Rays took no chances. Gonzalez was intentionally walked. With Bobby Higginson up, Rupe threw a wild pitch that scored Ausmus and allowed Jefferies and Gonzalez to each move up a base. Higginson's sacrifice fly brought Jefferies in to increase the Tigers' lead to 8-1.
Despite the comfortable cushion his teammates had given him, Nitkowski got into some trouble in the seventh. After back-to-back singles to begin the inning, Gerald Williams hit a three-run home run to left, making him the first visiting player to homer at Comerica Park. That made it an 8-4 game. The Tigers added a couple more runs of their own in the bottom half of the inning on a 2-run single by Dean Palmer. For the first time in the young history of the new ballpark, the Tigers had scored 10 runs in a game. The final score was 10-5.
Thanks to his historic home run, plus two doubles and the intentional walk, Gonzalez had reached base in all four of his plate appearances. The Tigers improved to 3-0 when he started, compared to 1-6 when he couldn't start due to a sore right hamstring. With tremendous self-awareness, he talked about the early impact that he was having on the Tigers' lineup. He crowed,
""It's very important. There are expectations by everyone coming to the park to see Juan. I'm trying hard for the fans and the team.""
April 30: Sparky Anderson's Guest Appearance
A Thousand Oaks, California resident named George Anderson made the trip to Detroit and took a break from being "George" so that he could don the guise of "Sparky" again. It was Sparky Anderson Day at Comerica Park. The legendary former Tigers manager had been at the ballpark for the Opening Day ceremonies, but with a Hall of Fame induction coming up that summer, the organization shined the spotlight on him on this Sunday afternoon. The first 10,000 fans were given a Sparky poster, and there was a video tribute shown. He addressed the crowd during a pre-game ceremony and threw out the first pitch.
Curiously, the day's festivities did not include a uniform number retirement, even though no Tigers player, manager, or coach wore Sparky's No. 11 after he departed following the 1995 season. Why not? In an interesting example of non-answer corporate-speak, Tigers president John McHale, Jr. said,
""It's an issue that has to be confronted and resolved. We'll go slowly and have the benefit of time.""
The Tigers certainly did go slowly. No. 11 was finally retired in 2011, months after Anderson's death. Sadly, Sparky didn't quite have the benefit of time that the Tigers did.
An extreme close-up of Sparky Anderson on the day the Tigers honored him before a game on April 30, 2000. (Photo by Ronald C. Modra/Getty Images) /
April 30: The Tigers' First Walk-Off Win
After the 10-5 win on April 14, the Tigers lost their next six home games, including three in which they were shut out. John Lowe of the Detroit Free Press quipped that the Tigers' new house looked haunted. Sandwiched in that spurt of futility was a 1-6 road trip, so they weren't much better anywhere else either.
The Tigers wrapped up their first month at Comerica Park with a Sunday afternoon game against the White Sox. The Sox led the AL Central with a 17-7 record. Conversely, last place in the division belonged to the 5-17 Tigers.
Chicago was looking for win to complete a three-game sweep, and they stuck first. Magglio Ordonez, who would hit the most famous home run in Comerica Park history as a Tiger in 2006, hit his first CoPa homer while wearing the road team's colors. His opposite-field shot to right off Tigers starter Hideo Nomo led off the second inning. Nomo bounced back with five shutout innings after that.
Magglio Ordonez, circa 2000. (Photo by Ronald C. Modra/Getty Images) /
An RBI double from Deivi Cruz in the bottom of the seventh tied the game at 1-1. The White Sox struck again in the eighth. With two on and two out, Chris Singleton drove in the tiebreaking run with a single. That was the end of the day for Nomo. Tigers manager Phil Garner brought closer Todd Jones in early. Jones successfully solved the ChiSox problem with an inning-ending strikeout. Unfortunately, Chicago scored another run off Jones in the ninth.
The Tigers didn't give up, however. Damion Easley and Luis Polonia led off the bottom of the ninth with back-to-back singles. Shane Halter's sacrifice bunt moved the runners up. Pinch-hitter Robert Fick blooped a double down the leftfield line that drove in both runners. The game was tied again at 3-3. Fick, who had been 0-for-5 as a pinch-hitter at that point in his young career, remarked,
""I didn't hit it hard. I just got lucky. My plan was just go up there and make contact and get at least one of those runs home.""
Gregg Jefferies was intentionally walked, and Brad Ausmus singled. That loaded the bases for Juan Encarnacion. He grounded to the shortstop, who forced Fick out at the plate with a timely throw. The ballpark might have cost the Tigers a win when Juan Gonzalez flew out to the warning track in distant left-center to end the inning.
For the first time, extra innings would be played at Comerica Park. Danny Patterson of the Tigers and Scott Eyre of the White Sox threw scoreless innings in the tenth and eleventh. Two more Detroit relievers, Jim Poole and Matt Anderson, combined on a 1-2-3 inning in the top of the twelfth. Eyre stayed on for the bottom of the inning. Ausmus drew a leadoff walk. Encarnacion flew out to center, but not deep enough to advance the runner. Gonzalez singled. Bobby Higginson's single to center drove Ausmus in with the winning run. The 4-3 triumph was the Tigers' first walk-off victory at Comerica Park.
A low-key Higginson said that it felt good to help the team and surmised that it was his turn to do it. As the Tigers prepared to head out on their next road trip, a happy and optimistic Fick commented,
""We needed to experience that kind of win. It's something this team hasn't done – and until you do it, you don't know if you can.I think this is something we can build on. I tell you what, it's going to be great to get on that plane with a win like this to celebrate. We've been flying all over America as losers.""
The Tigers wrapped up April with a 4-7 record at Comerica Park (6-17 overall). Maybe Fick was right about the building process because the Tigers did show some improvement over the next month. They went 7-7 at home (12-14 overall) in May.
(To be continued.)