Detroit Tigers: Rule 5 Draft Decisions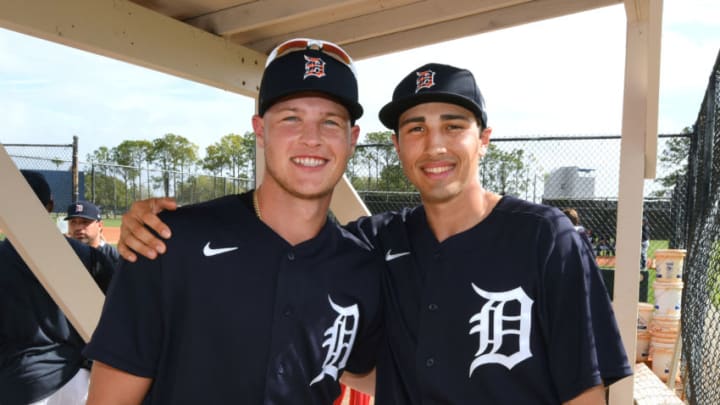 LAKELAND, FL - FEBRUARY 19: Matt Manning #83 (L) and Alex Faedo #76 of the Detroit Tigers pose for a photo during Spring Training workouts at the TigerTown Facility on February 19, 2020 in Lakeland, Florida. (Photo by Mark Cunningham/MLB Photos via Getty Images) /
The Rule 5 Draft is rapidly approaching, and the Detroit Tigers must decide who to protect by November 20. Let's look at the prime candidates.
Few events in sports have a lower coverage-to-impact ratio than Major League baseball's Rule 5 Draft. For those unfamiliar with the Rule 5 Draft, you can read the detailed rules here, but it basically comes down to this: if a player has been in one organization for four or five years and isn't placed on that team's 40-man roster, then he is eligible to be taken by another club in the Rule 5 Draft.
The draw of the Rule 5 Draft is understandable. It's a great opportunity to play fantasy GM and over-analyze both a team's prospects and their big-league roster. But most of all it appeals to our innate desire to bargain hunt. Some people go to garage sales, use metal detectors, or play those damned coin pusher games at casinos. We write about the Rule 5  Draft.
But these Rule 5 Draft bargains rarely end up as anything more than spare parts for a team. There have been 146 players selected in the Rule 5 Draft since 2010, and below you'll see the top ten Rule 5 picks ranked by bWAR:
There are a couple of solid names in there, but the chances of landing a 5-WAR player in the Rule 5 Draft are about 3.4% – that's roughly the same success rate teams have on draft picks in rounds 6-15.
We'll get into potential Rule 5 Draft additions in a few weeks, but for now let's focus on who the Detroit Tigers will protect. The team currently has 37 players on its 40-man roster, and there are three prospects who are locks to be added.
RHP – Matt Manning – 22

Detroit's first-round pick in 2016, Matt Manning is one of the best pitching prospects in all of baseball. He's big, athletic, and owns a dynamite fastball/curveball mix. Manning was shut down this summer with a forearm strain, and he still needs to refine his changeup, but he should join the Tigers' rotation at some point in 2021. Not protecting him from the Rule 5 Draft would be a fireable offense.
LHP – Joey Wentz – 23
Taken about 30 picks after Manning in the 2016 draft, Joey Wentz came to the Tigers in the Shane Greene trade in 2019. He showed immediate signs of improvement in Double-A Erie, but he hurt his arm and underwent Tommy John surgery in March. When healthy, Wentz shows solid command of a three-pitch mix headlined by an above-average changeup, and he has a decent chance to be a back-of-the-rotation starter. Paradoxically, his injury might make him more attractive in the Rule 5 Draft, because a team could stash him on the IL for the first few months of the season. It won't matter though, because the Tigers will protect him.
RHP – Alex Faedo – 25
Detroit's first-round pick in 2017, Alex Faedo also missed time at the end of this summer with a forearm strain. Faedo appears to be fine now and should be ready to compete for a job in spring. Though he's been strictly a starter thus far in the minors, and he'll probably get a few chances to start in the big leagues, Faedo's most likely role in the future is as a slider-heavy reliever in the mold of former Tiger Alex Wilson. Still, as a former first rounder with a chance to help in the big leagues, Faedo is a lock to be protected from the Rule 5 Draft.
Others
Last month we took a deeper look at the Detroit Tigers roster, and in it we included a Rule 5 section.
"Relievers Alex Lange and Will Vest seem the most likely potential adds, though the odds of either joining the 40-man are still under 50%. There's also a small army of players who could be added, including: infielders Wenceel Perez and Cole Peterson; outfielders Jose Azocar, Ulrich Bojarski, Jacob Robson, and Daniel Woodrow; and pitchers Nolan Blackwood, Angel De Jesus, Jason Foley, Gerson Moreno, Wladimir Pinto, Elvin Rodriguez, and Logan Shore. The odds of any of these players being added probably falls below 2%."
And just to cover our bases, let's look at Lange and Vest.
Alex Lange – RHP – 25
Another former first-round pick, Alex Lange came to Detroit from the Cubs in the Nick Castellanos deal. He's strictly a reliever now, and while he lacks the velocity typically seen in Rule 5 picks, he mixes in four pitches and could fit in the middle of the bullpen.
Will Vest – RHP – 25
Will Vest is a bit of an outlier on this list, having been drafted in the 12th round in 2017, but he's got a good arm and the Tigers seem to like him as a potential reliever. Our own Jake Boes handled his prospect profile over at Prospects Live
"Vest's recent changes to his pitch mix and uptick in velocity bring intrigue; it's a reliever profile all the way, but the consistent movement he generates with all three pitches as well as his command will determine his future. It is tough to believe a 25 year-old has upside, but if he does maintain his stuff, there is the potential for a middle relief role. Because of the inconsistencies with command and movement, an up-and-down relief option is more likely, but the fastball warrants a big league look regardless."
Again, this isn't the sort of player who tends to get taken in the Rule 5 Draft, and the Tigers are probably safe to leave him unprotected. We'll know more in a week, so check back then for more Rule 5 coverage.