Detroit Tigers Top 20 Prospects: No. 18 Colt Keith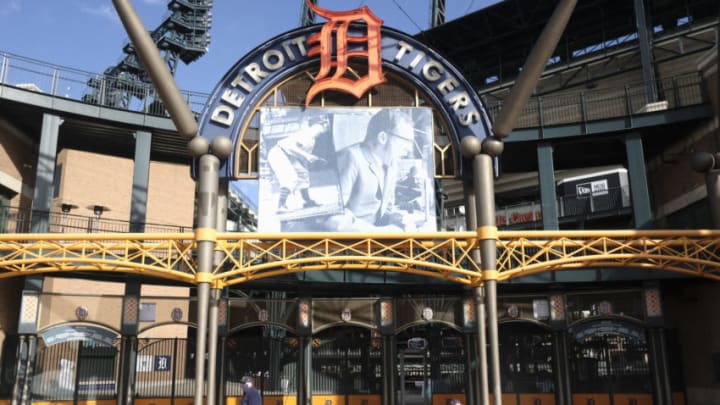 DETROIT, MI - NOVEMBER 10: Meijer employees and medical workers transformed Comerica Park into a makeshift vaccination hub during a free flu clinic vaccination event held by Meijer at Comerica Park on November 10, 2020 in Detroit, Michigan. With Covid-19 cases skyrocketing around the US medical professionals fear that a bad flu season will only make things worse and further fill hospitals and deplete medical supplies around the nation. (Photo by Matthew Hatcher/Getty Images) /
Welcome to the first-ever installment of the Motor City Bengals Top 20 Detroit Tigers prospects. The MCB staff has compiled our prospect lists and we will be releasing our consensus rankings, along with a breakdown of each player, in a series of articles in the coming days. We continue the list at number 18 with Colt Keith.
The Detroit Tigers have gone noticeably heavier on the position player side of the draft after building a formidable system on pitching. The Tigers would choose position players with 8 of their first 10 picks in 2019 and used all five choices in the shortened format toward position players in the 2020 draft.
In the fifth round last year, the Tigers would pick up third baseman Colt Keith, a high school talent from Biloxi High School in Mississippi. At 6 foot-3 inches and 195 lbs, he possesses the prototypical big league frame many teams covet.
Colt Keith Strengths
Many thought Keith would have been off the table after about the third round, figuring that no team would be able to offer Keith a bonus high enough to lure him away from his commitment to Arizona State University. But the Tigers, armed with one of the higher bonus pools in the draft, were able to sign Keith over the $426,000 slot at $500,000.
The strength of Keith's profile is his bat. His junior year, he would hit at a .527 clip as part of a season that propelled him to the 2019 Gatorade Player of the Year honors for the state of Mississippi and a 2020 preseason All-American by Perfect Game. The crew at Prospects Live likes Keith's plus bat speed, pitch recognition, and ability to make contact.
Keith's other calling card is his arm, which is graded plus (60 on the 20-80 scale) by most publications. As a pitcher in high school, his fastball was rumored to reach as high as 93 mph, but the club ultimately intends to use him in the field where they feel his left-handed bat will get put to better use.
Colt Keith Weaknesses
The biggest weakness of Keith is perhaps his age and the rawness that comes with being a prep talent that isn't a surefire first-round guy. He'll undoubtedly have some kinks to work out associated with getting accustomed to pro baseball. Considering he still hasn't played any professional games yet, expect the Detroit Tigers to take a methodical approach with his development.
There are also some questions with Keith on his defense, which seems by most to grade out fringe-average to average, but there have been some who have questioned his ability to stick at the hot-corner long-term and feel there might be an eventual shift to the outfield at some point.
Our Take on Colt Keith
While nothing jumps off the page about Colt Keith, the summation of his tools coupled with a strong throwing arm make an average, everyday role within the realm of possibility. More likely, he ends up as a bench or platoon player when it is all said and done. However, there is a ton of development time left and a lot could change between even now and this time next year (for better or worse).
The Detroit Tigers have loaded up on third baseman, with Isaac Paredes, Spencer Torkelson, Gage Workman, Nick Quintana, and now Colt Keith added to the mix. He shouldn't have an issue getting at-bats at third base, but if there is an eventual conflict, it would not surprise me if the organization got his feet wet in the outfield to allow him to continue to get those much-needed plate appearances against professional pitching.
Video