Detroit Tigers: Five Key Spring Training Battles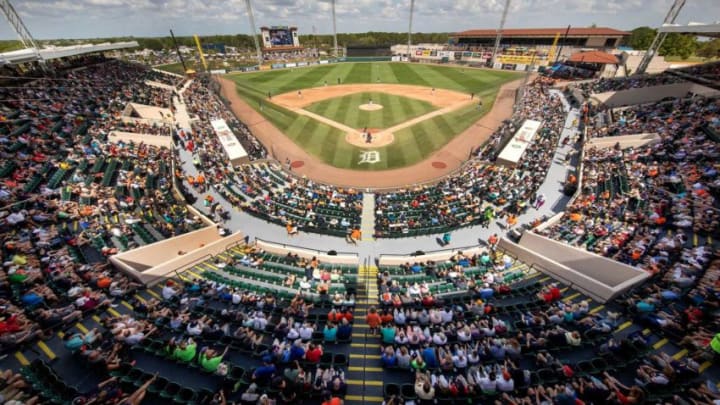 Detroit Tigers baseball fans watch their spring training game against the Atlanta Braves at Publix Field at Joker Marchant Stadium last March.031220 Ep Tigers 1 News /
The Detroit Tigers don't figure to be particularly good in 2021, but they have at least addressed most of the holes on their roster, so their spring training camp figures to be relatively free of drama.
We know injuries and camp performances will eventually thrust new names into (or out of) the mix, but for now let's focus on the few clear spring training battles we already see, beginning behind the dish.
Spring Training Battle: Backup Catcher
Catchers Austin Romine, Eric Haase, Jake Rogers and Grayson Greiner share a laugh. /
For a few months this off season it appeared the Detroit Tigers were content to let their internal candidates duke it out for starting catcher duty, but then the club signed Wilson Ramos in late January. Ramos is coming off a rough season, but he's a former all-star and generally durable, so he figures to handle 100-120 games behind the plate this year. That leaves 40-60 games for our other contenders.
Candidates: Grayson Greiner, Jake Rogers
Long Shots: Dustin Garneau, Eric Haase
Fans and analysts pondered why Jake Rogers, MCB's number 14 prospect, never got a chance to play with Detroit last year while Greiner and Haase struggled so mightily. It didn't take long for A.J. Hinch to suggest what the issue was with Rogers:
""The one thing I want Jake to know," Hinch said on Saturday. "All eyes are on his offense, right, on whether he can be an everyday player? But the reality is, from his manager, I want him to know that he will lose playing time and lose a spot on the roster more because of what he does on defense."
It seems likely the previous coaching staff had a similar opinion, so we begin spring training by giving Grayson Greiner the slight edge here. Rogers can certainly improve, and Greiner's well-below average offensive production (career OPS of .568 in 104 games) figures to eventually end his chances. But if the organization wants Rogers to get more consistent on defense, it seems like the best course of action is to give him regular playing time in Triple-A while the player they trust more handles playing once or twice a week in Detroit.
Odds to Win the Job: Greiner 50%, Rogers 40%, Garneau 5%, Haase 5%