Detroit Tigers: 4 Strongest Positions in the Farm System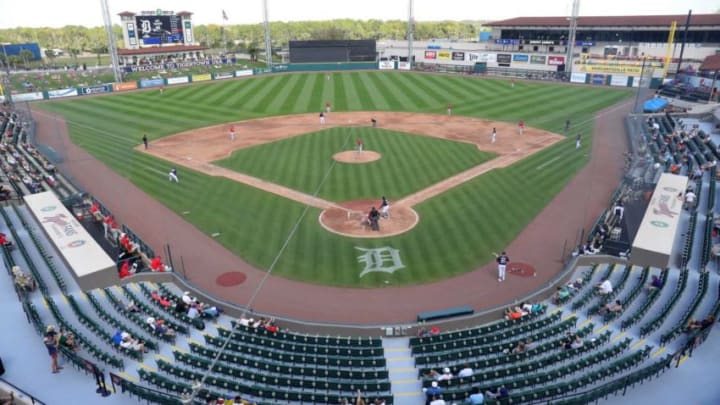 Detroit Tigers play against the Philadelphia Phillies during Grapefruit League action on Sunday, Feb. 28, 2021, at Publix Field at Joker Marchant Stadium in Lakeland, Florida.Joker Marchant Stadium overview, Joker Marchant Stadium general view /
This week is Detroit Tigers Prospects Week here at Motor City Bengals as we are discussing all things Tigers prospect-related as we roll into week two of spring training.
If you look at our Top 20 Detroit Tigers prospects list, you will see it is heavy with pitchers, but the Tigers have do have some positions that stand out as points of strength for the organization. We have spoken before about Detroit having "type" when it comes to player profiles, and one pattern seems to have emerged in recent years.
Sounds familiar and athletic
2014 -1st round draft pick Derek Hill:  His father, Orsino, was the first-round pick by the Reds in 1982.
2015 – 5th round draft pick Cam Gibson: His father Kirk…well, you know.
2016 – 1st round draft pick Matt Manning:  His father Rick played in the NBA.
2018 – 3rd round draft pick Kody Clemens:  His dad was quite the pitcher
2019 – 1st round draft pick Riley Greene: His father played college ball and opened his own hitting school.
2020 – 3rd round draft pick Trei Cruz: He comes from an impressive line of MLB players including his father, Jose Cruz Jr, and his grandfather, Jose Cruz Sr.
Eliezer Alfonzo, an international signing – His father played for nine teams and his uncle, Edgardo, was an infielder for several teams.
Those are current examples of the Detroit Tigers chasing bloodlines, and that is rather new to a degree. Detroit had players like Ray Boone, who played for the Tigers in the 1950s, and whose son Bob and grandsons Bret and Aaron all had lengthy MLB careers.
Joe Coleman, who pitched for the 1972 AL East Division winners, was the son of another Joe Coleman, who pitched for ten years and made an All-Star team. And Pat Underwood, Detroit's top pick (and the 2nd pick overall) in the 1976 draft, was the younger brother of Tom, who spent 11 years in the majors.
But there is much more than just the bloodlines story going on in the system. Let's start with the number four position of strength, the outfield.