The Detroit Tigers Have Started Winning Trades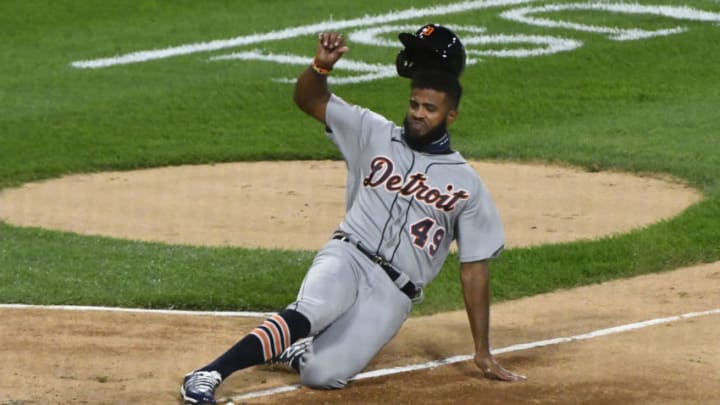 Aug 18, 2020 - Detroit Tigers shortstop Willi Castro scores. Matt Marton-USA TODAY Sports /
The Detroit Tigers are deep into their rebuild now, and after a pretty ugly start, it looks as though they are finally starting to win their trades.
The phrase "win a trade" is a bit misleading, because it implies the other team (or teams) lost the deal. Sometimes trades work out well for both sides, and sometimes they don't work for anybody.
Unfortunately for Al Avila and the Detroit Tigers, they lost most of their big, early trades, and that has a chance to cripple this rebuild. We've gone in-depth on the J.D. Martinez and Justin Verlander deals before, so there's no need to beat a dead horse.
But the Detroit Tigers also didn't get much in return for their Justin Upton and Ian Kinsler deals. Elvin Rodriguez and Wilkel Hernandez are interesting pitchers, but neither made our Top 20 Detroit Tigers prospects list. That's four All-Star players gone for next to nothing.
It also seems like the Detroit Tigers have waited too long to deal their talent and aren't maximizing player value, but without knowing other trade offers we can't really comment.
Obviously it's not ideal to come out behind on your biggest trades, but any incremental improvement is important during a rebuild. Most of the subsequent trades have been smaller, but a pattern seems to be emerging.
The Detroit Tigers have hit on a lot of their more recent trades.
So for now let's take a look at some of these positive trade outcomes to see what the Detroit Tigers have.
Detroit Tigers Trade No. 1 – Jeimer Candelario and Isaac Paredes
MINNEAPOLIS, MN – Jeimer Candelario runs the bases. (Photo by Brace Hemmelgarn/Minnesota Twins/Getty Images) /
Wilson/Avila bWAR for Chicago – 1.2
Candelario/Paredes bWAR for Detroit – 4.1
WAR isn't the only way to measure these deals, but we're including it so you can tell your friends at parties. This isn't one of the more recent deals, but it still merits discussion. Jeimer Candelario has had a bit of an up-and-down career with the Tigers, but he was excellent last year and he seems like either a key part of the future, or a solid trade piece. Paredes still hasn't established himself, but he's one of Detroit's top prospects and could be a big part of the team in the next few seasons. This wasn't a total loss for the Cubs though, as Avila and Wilson helped them win the Division and the 2017 ALDS, though Wilson had some control issues. He was a key member of their 2018 bullpen, too.
Verdict – This is a clear win for the Detroit Tigers.