The Detroit Tigers Have Started Winning Trades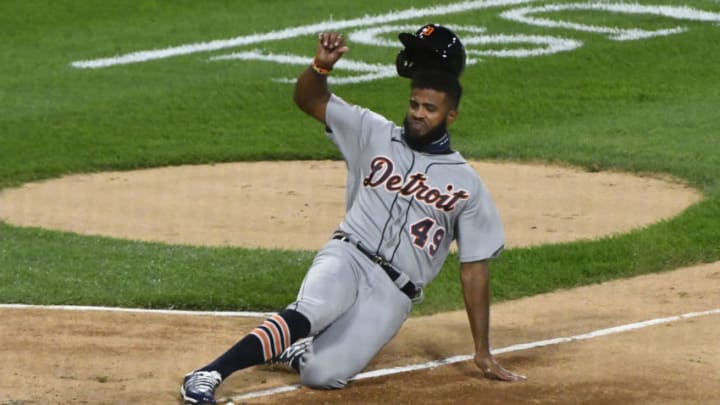 Aug 18, 2020 - Detroit Tigers shortstop Willi Castro scores. Matt Marton-USA TODAY Sports /
Detroit Tigers Trade No. 5 – Travis Demeritte and Joey Wentz
Jul 4, 2019 – Detroit Tigers relief pitcher Shane Greene gestures towards first base. Jon Durr-USA TODAY Sports /
Greene bWAR for Atlanta – 1.4
Demeritte/Wentz bWAR for Detroit – (-1.2)
The WAR numbers on this one look bad, but you only have to dig a little deeper to feel pretty good about Detroit's odds here. Shane Greene was a luxury for the Tigers. He made the All-Star team in 2018, and he through four months of 2019 he had compiled a 1.18 ERA and 22 Saves for a terrible club that went on to lose 114 games. The return felt a bit light at the time, but despite his numbers, Greene wasn't viewed as an elite closer, and true to form he posted a 4.01 ERA with just one Save for Atlanta after the deal. He looked a bit better last year, but still didn't close games, and now he's a free agent. Demeritte was the second piece here; a lottery ticket with plus raw power but a long history of contact issues. The Tigers gave him just 198 at-bats over two seasons, but his .608 OPS didn't really merit more playing time. He is now back with the Braves.
Joey Wentz was always the prize of this deal, and he looked like a better prospect the instant he entered Detroit's system. Wentz owned a 4.72 ERA over 20 Double-A starts when the Tigers acquired him, but he posted a 2.10 ERA with 37 strikeouts in 25.2 innings after joining Erie. He has since undergone Tommy John surgery, but by all accounts his rehab is progressing nicely. He is one of Detroit's top-10 prospects, and while there's still some risk here, he has a good chance to become a back-of-the-rotation starter.
Verdict – Solid chance to be a draw or win for the Tigers.