Detroit Tigers: "We're Close, Man": An Optimist's View on 2021 Season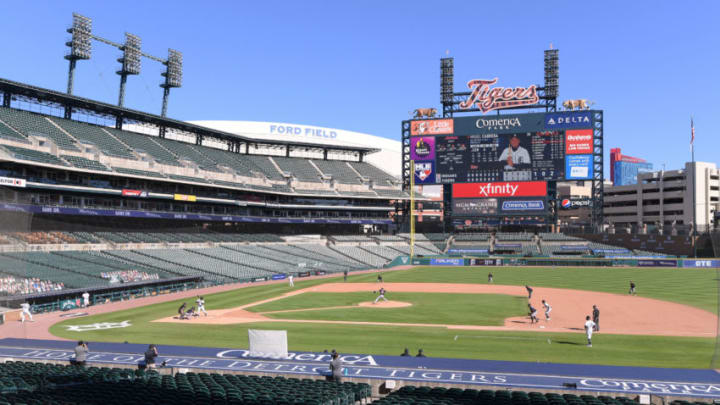 A general view of Comerica Park during the game between the Indians and the Tigers on September 20, 2020. (Photo by Mark Cunningham/MLB Photos via Getty Images) /
In a recent interview with the MLB Network Radio, Jonathon Schoop was asked how close the Detroit Tigers were to be a legitimate playoff team and he responded,  "We're close man". It is easy to look at this as the "media answer", but as an optimist of this young Tigers team, it made me wonder: What if everything goes right? As of right now, per PECOTA, the team is projected to finish last in the American League Central with a 67-95 record.
In 2006 (Before computer-generated projections), Dan Schneider predicted the Tigers would win 76 games, and considered that a generous number in his article.
Detroit Tigers Starting Pitching
The Opening Day Starter, Matthew Boyd, has had a stellar spring, allowing just 3 runs over 13 innings of work. The lefty has shown that when his pitches are working, he can be an effective and even dominant pitcher at times. The Tigers will need Boyd to eat up consistent innings at the front end of the rotation this season.
Spencer Turnbull could turn out to be a breakout player in the MLB in 2021. After leading the league in losses in 2019, Turnbull bounced back and dazzled in 2020, going 4-4 with a 3.97 ERA. Among his performances in 2020 include a 7 inning, 1 run performance against the Pittsburgh Pirates. When Turnbull is locating his pitches, he is a force to be reckoned with. When Turnbull is on, he will give the Tigers a chance to win every time he steps on the mound.
Two-Time All-Star Julio Teheran is the reclamation project this Tigers rotation needed. His ERA over 10 last season is an albatross compared to his 3.81 career ERA. He has been a part of multiple postseason teams while with the Braves and has been considered a dominant pitcher at times. His veteran presence will be a key factor in keeping the young rotation up throughout the year and the Tigers will need a big season from him to compete this year.
Tarik Skubal is a legitimate Rookie of The Year Candidate for the Tigers this year. He has posted 12 innings of work this spring, allowing just 2 runs on a .200 Batting Average Against. He has been nothing short of dominant in his time on the bump, flashing a fastball that can touch the upper 90s. If Skubal continues his upward projections, he will be a mainstay at the front of the Tigers' rotation for years to come.
The final spot of the rotation is up for grabs, but as of right now it appears it will be between Michael Fulmer and Jose Urena. Fulmer has the track record with the Tigers, having won the 2016 Rookie of The Year Award, but Urena has been much better this spring despite only posting 4 2/3 innings. He has allowed only one hit and despite being wild, is a better choice than Fulmer, who holds an ERA over 10 this spring. The Tigers were hoping Casey Mize would break out this spring, but he has not impressed enough to win a roster spot yet. He will likely be a mid-season call-up for the ball club.
Best Case Scenario?
A key factor to success for the rotation is grooming workhorses. The Tigers need their pitchers to be prepared to throw at least 5-6 innings each game. In 2020, there were simply too many games in which starters had to be pulled after 2-3 innings. They need Boyd to return to Pre-All Star Break 2019 form and post consistent quality starts throughout the year. If Turnbull continues his upward ascension, he is a potential All-Star and could be a key cog in the rotation for years to come. Julio Tehran could take on the Kenny Rogers role, while not being as seasoned, he has had excellent years and could prove to be an excellent pickup for the team. If Skubal is as good as advertised, the American League should be on watch, as he could be a menace to opposing teams this year. The final spot is still unknown, but the best-case scenario is to find someone who can pitch 5 innings consistently and give the team a chance to win the game. Hopefully, Casey Mize will smooth out the wrinkles and prove his spot among the game's top prospects this summer.
The Detroit Tigers Bullpen
The bullpen is anchored by Jose Cisnero, the flame-throwing closer who shined for Tigers in a breakout 2020 campaign. Used predominantly as a setup man last summer, he could slide nicely into a closing role for this team. Gregory Soto dazzled in his breakout 2020 season, showing off a 100 MPH sinker, posting 2 saves and 6 holds. Soto could contend for the closing role as well, given his proven track record and impressive stuff. Bryan Garcia was an unlikely surprise for the Tigers in 2020, posting a 1.66 ERA over 26 outings. Should Garcia continue to impress, he could also get a shot at the closing role.
Buck Farmer has been a consistent member of the Tigers since 2014 and as the second-longest tenured Tiger will be a mentor in the bullpen. He can do it all out of the 'pen, including working the seventh inning on. He has proven to be effective and will be a consistent member of the club this season. The four-headed monster of Cisnero, Soto, Garcia, and Farmer should prove to be effective this season, should they continue to outperform their expectations. Daniel Norris, Tyler Alexander, and Derek Holland have all proven themselves to be consistent long relievers capable of making spot starts in the rotation if needed. They will play a critical role on this team with a rotation that could include pitchers on innings limits.
Best Case Scenario?
The best-case scenario for this bullpen is they continue to build on their success from last season. This exciting, hard-throwing bullpen draws some comparisons to the "Gum-Time" crew of 2006, with Joel Zumaya, Nate Robertson, and Todd Jones. Should the Tigers make a playoff push, they may consider trading for a more consistent closer at the deadline to bolster the back end. If this motley crew can keep their command and velocity up they will be a consistent force and will keep the offense in the game long enough to win the game.
The Offense
Top to bottom, the Tigers offense is full of "What-Ifs", potential breakout performers, and even a few former All-Stars.
Robbie Grossman will be the spark plug of the offense. When he is hitting, the rest of the offense will perform in suit. Sure, he is only a .250 career hitter, but in the words of Billy Beane, "He gets on base". Grossman walks a lot and has speed and power from both sides of the plate. He is a potential breakout performer for this offense and could prove to be a plus signing for the Tigers.
Jeimer Candelario has carried his scorching 2020 season into Spring Training, slashing .353/.395/.412 throughout the Spring. If Candelario can continue this into the season, he will set the offense up for success.
For the Tigers to make a run in the AL Central, they will need Miguel Cabrera to drink from the Fountain of Youth. A Triple Crown Miggy is not going to happen, but if he can hit in the .280 range with some power and drive in 70-80 runs, that will be a good sign that the team is making a playoff push.
The ongoing dilemma of Willi Castro has been nagging at Tigers fans all Spring and he has made a push to be included in the lineup. If he finds a power surge during the summer, last year's ROTY candidate will make a viable push to be included in the middle of the lineup. Castro finding his groove could be the difference between a late-season push and the team slowly sinking to the bottom of the standings.
Jonathon Schoop was a model of consistency offensively and defensively last season and if he can repeat that, he will be the glue guy of the offense with his timely hitting and power from the second base position.
From the catcher position, Wilson Ramos has displayed plus power and the ability to lead a young team. Ramos is a two-time All-Star who appears destined for a turnaround year for the Tigers. He has gap-to-gap power and should find success in Comerica's spacious extra-base alleys.
The Tigers have another Rookie of The Year Candidate in Akil Baddoo. While this may be controversial, he has been slashing .344/.475/.735 throughout Spring Training. Baddoo deserves a crack at the Big League lineup, having far outperformed any other Tigers outfielder this Spring. If Baddoo plays at half the level he has been at recently, he would still be one of this lineup's biggest threats, bringing power, speed, and defense from the left side of the plate. Baddoo could be the reason this team rises from the bottom of the American League this year.
Renato Nunez comes from the same mold as CJ Cron as it relates to powerful first basemen. He can change the game with one swing and will provide instant offense for the Tigers this year. Just two years ago he hit 31 Home Runs for the Baltimore Orioles and if he can find a way to replicate that output, he could be an October nightmare for pitchers around the league.
Rounding out the outfielders are JaCoby Jones and Nomar Mazara. Both have had success at the Major League level but are likely not part of the future of this organization. Neither player's stats will jump off the page but they will certainly both have hot streaks throughout the season. Jones will likely get the nod to start the season and should he hold down the 9 spot, will be a key piece of the offense turning over the lineup card.
Best Case Scenario?
Look for manager AJ Hinch to ride the hot hand this season when it comes to the outfielders. In a perfect world, three will stand out above the rest and lay claim to the positions. The outfield offers a lot of hope and potential on the offensive side of the lineup and could prove to be essential as the season approaches September. If Candelario, Cabrera, Nunez, and Ramos can provide just enough power, the Tigers will be able to give their pitchers a chance to win every game. These four have the chance to put their stamp on every game and could be reminiscent of the Tigers' lineups of old. I think the offense has a lot of potential and should improve upon their 4.3 runs per game from 2020. Look to be pleasantly surprised by this sneakily exciting offense.
Bottom Line
Will the Tigers win the World Series? It is unlikely. Will they compete into the dog days of August? I think it is likely. The pitching staff is exciting and full of potential. Four of the starters have established this Spring that they are ready to break out and if AJ Hinch can find a consistent fifth man, the rotation will shake out just fine. The bullpen is quirky but versatile, with guys top to bottom who can fill a role and pitch a shutout inning. I think new pitching coach Chris Fetter will groom the pitching staff into place and they will be what keeps this team in contention in 2021.
While the offense is not sexy at first look, they should piece together enough runs to give the pitching staff a chance to put a W in the book. There are power and potential breakout players from 1-9 on the lineup card, so look for new faces to make a major difference.
The overhauled coaching staff will be the biggest difference this team sees. Yes, AJ Hinch comes with baggage, but he also brings a culture of winning to an organization that has not seen playoff baseball since 2014.
I envision this Detroit Tigers team outperforming their expectations and competing for a Wild Card Spot deep into the season.
There is hope.
All statistics were found on BaseballReference.com and MLB.com