2021 Detroit Tigers Season Forecast: Roses, Butterflies and Reality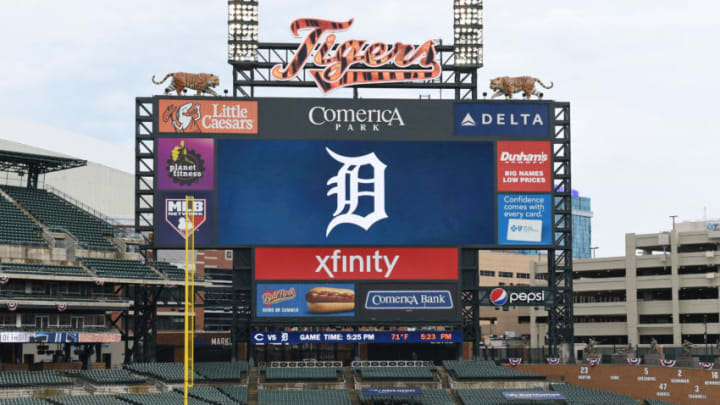 DETROIT, MI - A general view of the Comerica Park scoreboard. (Photo by Mark Cunningham/MLB Photos via Getty Images) /
Hope is eternal as the roster competitions are now complete and the long practice routine known as Spring Training comes to an end. The birds are chirping, the bunny rabbits have become visible in the backyard, and the weather is warming up except for the Opening Day forecast as is tradition. The 6 months 162 game love affair of my life is about to begin. For the 2021 Detroit Tigers, a new era is starting to bubble up and reach the surface.
Long-suffering fans can see the light at the end of the tunnel. The 2006 Detroit Tigers won 95 games, exceeding their Las Vegas season win total in the 78 range by 17 games. The 2021 Detroit Tigers are currently at 68.5 wins on many of the available betting sites. I am sure you are aware of those sites and want to scream every time you watch a sporting event in Michigan now with the obscene amount of their advertisements and invading the pre-game and post-game shows.
What would it take for AJ Hinch's Squad to match that performance which would unexpectedly put the Tigers on the fringe of the Wild Card race playing meaningful games in September with an 85 game win season? Every year one of my favorite things that I like to do at the start of a new season is what I like to call my Roses, Butterflies, and Reality outlook on the upcoming season while I root unabashed for wins and hope for a Buster Douglass surprise against Mike Tyson odds but still know deep down the reality I expect. Let's dig in and get ready for those magical words 'Play Ball' to be echo on the field for real on Thursday.
Roses and Butterflies: What Needs to happen for the 85 Win Season:
1- Casey Mize turns in a 2006 Justin Verlander performance: Casey will begin the season in the rotation with Spencer Turnbull expected to be out at least the first few series to start the season. This is the perfect scenario for him to catch lightning in a bottle and build off of his 9 strike outperformance against the Blue Jays this past week and grabs a hold of his spot for the next decade.
2-Spencer Turnbull returns, stays healthy, and takes another step forward: I have always been a huge Spencer Turnbull fan. If he can harness that arm and move that BB/9 towards 3 and not 4.6 as it was in 2020 he would be a real force at the top of the rotation that is an absolute necessity for us to smell the roses.
3-Julio Teheran returns to Major League form:  Forget 2020. Julio Teheran I am sure would love to just erase it from existence. He contracted the Covid 19 virus, missed some of the Summer Camp, and just never found his form with the Los Angeles Angels. He has had two very high-quality All-Star seasons in 2014 and 2016 for the Atlanta Braves and even his 2019 season was a very respectable 124 ERA+ offering. At just 30 years old, Julio Teheran has bounced back written all over him. This could be the minor league invite deal that Al Avila hits pay dirt. It needs to happen for the butterflies to be present in the garden of Comerica Park.
4- Matthew Boyd doesn't stink: Boyd overall has been one of the worst starters in baseball since the middle of 2019. He needs to be just bad with a couple of months of the really good Boyd mixed in to produce close to a respectable season.
5- Tarik Skubal holds his own: While the numbers were not impressive overall from his 2020 debut, 5.63 ERA, 9 Home Runs in 32 innings, 5.75 FIP, there were some silver linings with 37 K's and a 1.21 WHIP in his first go-around with the big boys. The eye test to me seems further along than his fellow 2018 draft classmate Casey Mize. He has taken some lumps and will take some more, but if he limits those lumps it goes a long way towards seeing those flowers bloom on this year's fortunes for the team as a whole.
6- The bullpen comes together: Yes seemingly forever the bullpen situation in Detroit has had us collectively reaching for the antacid, grabbing another ginger ale, and covering our children's eyes but bullpen arms are notoriously fickle and the collective group of Jose Cisneros, Buck Farmer, Bryan Garcia, Derek Holland, Tyler Alexander, Derek Norris, and Michael Fulmer is an intriguing mix of 4 right-handers and 4 left-handers, with some versatility in how it's usage is deployed. It will need to be a pleasant surprise if the best case scenario is to play out.
7- Robbie Grossman's power uptick is real: Robbie Grossman is a nice on-base guy and a real upgrade over Christin Stewart from last season both at the plate and in the field. He will pay dividends simply as an addition to Stewart's subtraction. He has never hit more than 11 Home Runs in a season but a change in his approach led to 8 Bombs in just 166 AB's could be sustainable and is backed up by his Statcast measurables. The Tigers need that power to pull off the surprise season.
8- The Candy Man Circa 2020 is real: After some teases of his promise, a wrist injury that sent him off track, a terrible 2019 that made him look like 2020 was the last call for alcohol, Jeimer Candelario who you just have to root for with his personality broke out in the short 2020 with a .297/.369/.503. A repeat performance would go a long way to helping the line-up score more runs as I suspect they will this season. A regression would be tough to overcome.
9- Willi Castro doesn't fall off the map: Yes we all know his .448 BABIP and his .349/.381/.932 with a 5% walk rate is not sustainable, but it is imperative that he puts up a productive season at the plate while being a serviceable defensive SS. This is a huge season for Willi Castro as to how he fits into the future puzzle and he needs to produce both for this year's squad to surprise and to stick around on this team's 26 man roster in 2022.
10- Jacoby Jones stays healthy: A healthy Jacoby Jones that produces as he flashed in 2019 and plays CF closer to his 2018 level would be a huge lift and one that I feel is necessary in order to lengthen the lineup and give that spark of energy on both sides of the ball. He can be a bus driver when he is hitting on all cylinders.
My Reality and Prediction for the 2021 Season:
Of the 10 items I have listed that must go right, most likely some will occur, some will not, and there will be other keys that help determine the fate of the season such as Wilson Ramos behind the plate and Jonathan Schoop at 2B, along with how the injury front treats the team. Why I can't allow myself to be too excited for this season is the rotation.
Spencer Turnbull is going to miss a few weeks and he is the only pitcher I feel reasonably certain about. I do believe that Julio Teheran will bounce back some but Casey Mize and Tarik Skubal are likely to have their growing pains along with some really brilliant performances. Jose Urena, I don't see as anything more than an innings eater at best.
Matthew Boyd is just simply not very good. The depth needed to get through a season is simply not there. Daniel Norris needs to be left alone in the pen. Michael Fulmer is a giant question mark. Matt Manning will likely get a look and take his initial lumps….then who else is there to turn to? The bullpen could go either way but is not likely to be a lockdown unit.
Will someone finally hit 30 home runs for the first time since Miguel Cabrera led the team with 38 in 2016? Not likely. There are plenty of reasons to watch and the team will not be dull as we sorting out what we anticipate will be a real step forward in 2022.
We also have the Miguel Cabrera 500 Home Runs and 3000 Hits milestone watch to help keep us engaged. The 2021 Detroit Tigers Season Win Total is set at 68.5 on the betting markets. I have their projected record coming at 65-97 when it is all said and done. Take the under one more year and look forward to the hopefully brighter days ahead. I will be rooting and praying every day that I am wrong and we see those roses and butterflies instead.