Detroit Tigers Weekly Draft Report: Lonsway to Go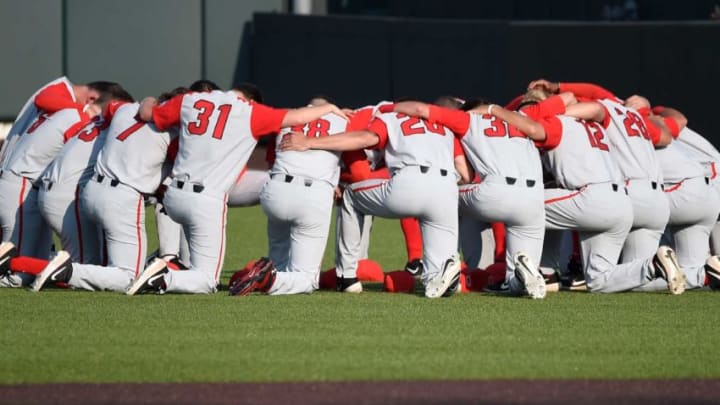 Ohio State players huddle before the start of a game. /
The Detroit Tigers Weekly Draft Report has reached the halfway point of the college baseball season. This week's report is a bit late, as last weekend's games were spread from Thursday to Monday because of holidays and poor weather.
Last week MLB finally confirmed the 2021 draft will be 20 rounds long, and there were plenty of noteworthy performances to discuss, the biggest news of the week was a potential top-10 pick going down for the season with an injury.
If you care to read earlier updates you can find them here: College Preview, High School Preview, Week 1, Week 2, Week 3, Week 4&5, Week 6
Detroit Tigers College Pitching Draft Targets
Season Totals
Jack Leiter – (6 IP, 3H, ER, 3BB, 12K) – Jack Leiter saw his streak of hitless innings reach 20 before the LSU Tigers managed to string together a small rally, but he remained as dominant as ever, and he now leads Division I in strikeouts.
Kumar Rocker – (6 IP, 4H, ER, 0BB, 8K) – Kumar Rocker's dwindling velocity is a bit concerning, but it isn't hampering his effectiveness in the slightest, mostly because his slider remains a nasty out pitch.
Jaden Hill – (1.1 IP, 2H, 2ER, 2BB, 2K) – Sadly, this will be the last Jaden Hill update of the year, as LSU's talented righty tore his UCL in a marquee matchup against Leiter. It ends a frustrating season for him, where he showed good stuff at times but never dominated. With two injury-shortened seasons and just over 50 innings pitched in college, it will be fascinating to see if and when he gets drafted. The Detroit Tigers have 3 of the top 40 picks and the 2nd highest bonus pool in the draft, so Hill may actually be an option for them at picks 32 or 39.
Ty Madden – (8 IP, 7H, 1R (0ER), BB, 5K) – Texas's ace occasionally has outings where he dominates despite not missing bats, and this was one such game. He hit 97 MPH multiple times while scattering 7 hits against Kansas.
Gunnar Hoglund – (6 IP, 4H, ER, 3BB, 5K) – Hoglund took his first loss of the season last weekend as Florida shook up its pitching staff, sending reliever Franco Aleman to start while ace Tommy Mace threw the final five frames.
Sam Bachman – (4IP, 3H, 3BB, 6K) – Bachman continues to work light outings after some arm soreness earlier in the year, but that hasn't hurt his stuff at all. Last weekend he was once again sitting in the mid-90s and flashing his potential double-plus slider
Detroit Tigers Later Round Pitching Targets
Just checking in on some college arms who might go in rounds 2-5 this July.
Season Totals
Matt Mikulski – (9 IP, 2H, 0ER, 0BB, 12K) – Mikulski was an interesting arm in the 2019 Cape Cod League but he went undrafted last year. So far this year he's dominating the A10 with improved stuff, and he completely shut down Seton Hall last Saturday.
Christian MacLeod – (6 IP, 2H,0ER, 0BB, 11 K) – MacLeod flummoxed Kentucky's hitters all night with his low-90s fastball and nasty curve.
Michael McGreevy – (9 IP, 3H, 0ER, 0BB, 10K) – McGreevy is an athletic pitcher with ideal size and above-average command. He gets tons of ground balls with a fastball that sits in the low-90s but has been trending up this year, as well as a slider that shows above-average potential.
Dustin Saenz – (7 IP, 3H, 0ER, 3BB,10K) – Saenz doesn't quite have the stuff of some of his teammates, but he remains the Aggies' Friday night starter because he just performs. He's a solid Day Two prospect.
Robert Gasser – (7.2 IP, 2H, 0ER, 3BB, 12K) – Robert Gasser lands here for the second week in a row thanks to an impressive outing against Wichita State.
Seth Lonsway – (7 IP, 2H, BB, 17K) – There's never been any question about Seth Lonsway's stuff. His fastball can get into the mid-90s and at times his curve is untouchable, but his command has always been well below average. But he put up the gaudiest stat line in college baseball last week, outdueling potential first-rounder McCade Brown in the process.
Detroit Tigers College Infield Draft Targets
Season Totals
Henry Davis – (7-for-15, 2 2B, 2HR, 3BB, 2K, 4R, 6 RBI) – Davis shook off a pedestrian performance two weekends ago to have the sort of dominant week we've seen from him all year.
Adrian Del Castillo – (8-for-17, 3 2B, BB, 2K, 6R, 7 RBI) – Adrian Del Castillo's steady season continued, as he once again failed to send a ball over the fence but still put it just about everywhere else in the park.
Matt McLain – (4-for-12, 2HR, 3BB, 0K, 5R, 4 RBI) – Matt McLain had one of his better weeks of the season, but he's still been underwhelming overall.
Nike Kavadas – (4-for-8, 2B, HR, 5BB, 0K, 4R, 3 RBI, SB) – The burly Kavadas is getting pitched around a lot these days, which is understandable given he's leading all Power-5 hitters with a .933 slugging percentage.
Connor Norby – (10-for-21, 2B, HR, BB, 4K, 5R, 7 RBI, SB) – Connor Norby's monster season continued last week as he joined Henry Davis as the only DI players with 8 home runs and 8 steals on the season.
https://twitter.com/ECUJungle/status/1379802954820169730?s=20
Detroit Tigers College Outfield Draft Targets
Season Totals
Sal Frelick – (4-for-17, 2B, BB, 4K, 3R, SB) – It was a bit of a down week with the bat for Frelick, but he still managed to put his secondary tools to use.
Jud Fabian – (1-for-11, HR, BB, 6K) – At this point it almost feels mean to keep offering Fabian updates. He still shows impressive power and he looks great in the field, but the swing-and-miss may push him out of the first round.
Colton Cowser – (4-for-12, 2B, 2HR, 4BB, K, 3R, 2 RBI, SB, CS) – Colton Cowser continues to shake off his slow start, his stats are starting to look more like what was expected, and he has already set a new career high in home runs.
Ethan Wilson – (4-for-13, 3B, 4BB, K, 3R, 3 RBI, SB) – Ditto Ethan Wilson, who is also beginning to perform more like the potential first-rounder he was projected before the season.
Christian Franklin – (5-for-14, 2 2B, 2BB, K, 5R, 2 RBI) – Last week's headline player had another solid week, though he didn't make quite as much of an impact with the bat, with just one extra-base hit.
Caleb Roberts – (5-for-11, 3HR, 3BB, K, 5R, 4 RBI, SB, CS) – Justice Thompson has gotten the most attention for the Tar Heels, but the guy to his left is interesting, too. Caleb Roberts was a prep catcher but has moved to right field, and he's having a solid season, showing good pop and patience from the left side.
Ben Carew – (11-for-18, 2B, HR, 2K, 10R, 6 RBI) – Ben Carew is a senior and probably won't be drafted in the first 10 rounds, but all he does is hit (maybe it's his last name?) He batted .406 as a sophomore, and he's now a career .367 hitter in college. The Detroit Tigers have taken a few outfielders from Kent State in recent years, and perhaps Carew will be the next.