Detroit Tigers Prospect You Should Know: Beau Brieske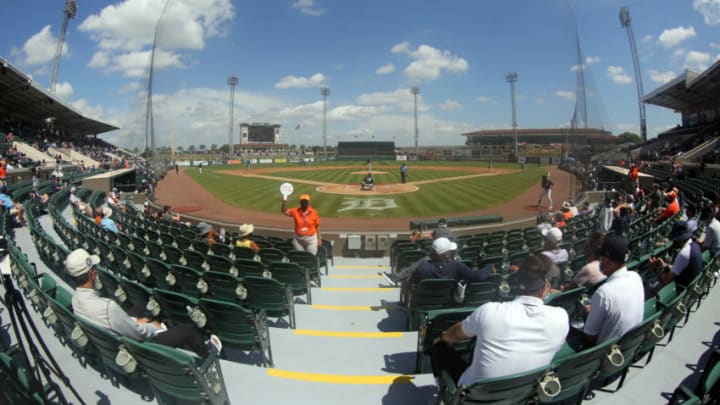 Mar 16, 2021; Lakeland, Florida, USA; A general view of Publix Field during the game between the New York Yankees and Detroit Tigers at Joker Marchant Stadium. Mandatory Credit: Kim Klement-USA TODAY Sports /
Detroit Tigers Prospect you should know: Beau Brieske
The Detroit Tigers farm system has been getting a lot of attention over the last six years. With names like Casey Mize, Tarik Skubal, Matt Manning, Spencer Torkelson, and Riley Greene. But, you already know about all of them. There are a lot of great minor leaguers besides those five players, and I am here to discuss why they deserve a lot more attention. The player being discussed here, Tigers 2021 minor league pitcher of the year, Beau Brieske.
Beau Brieske was drafted by the Tigers in the 27th round, pick 802 of the 2019 MLB draft, and has quietly been one of the best minor league prospects in the Tigers farm system. Beau started his professional career at the age of 21 in the GCL and FSL. Playing 10 in the GCL and only 1 in the FSL, recording a total of 20.1 IP in his first professional year.
Due to the Covid-19 pandemic, there was no minor league season in 2020, but in 2021 Beau started the year in West Michigan. This is where Beau started catching the eye of many of the Tigers staff and coaches. In 13 games in West Michigan, Beau put up a 3.45 ERA and a 1.02 WHIP along with 76 K's in 62.2 Innings. After this stellar performance, the Tigers decided it was time to move him up to the AA and play for the Seawolves. From here Beau did not slow down at all. As a matter of fact, he got better!
In eight games with the Seawolves, he had a 2.66 ERA, 1.00 WHIP, with 40 K's. Putting up these kinds of numbers in your first year above rookie ball and being promoted to AA and still dominating especially after not having a 2020 season is outstanding.
Here are Beau Brieske's full minor league stats from his 32 games in the minors:
Brieske also has a very good pitch mix for only being 23. He throws a fastball, curveball, slider, and changeup.
His fastball is a pretty good pitch, it sits in the mid to low 90's and usually is a pitch he enjoys throwing up in the zone. Since his fastball sits in the low 90's, it is very important for him to locate it well. Because in this day and age hitters will be able to take a 92-94 MPH and do whatever they please with it if poorly located.
His slider on the other hand works very well with his fastball. The slider sits low 80's and Brieske uses it very effectively and can work it on both sides of the plate and can keep hitters off balance.
Next is his curveball, Beau throws a more 12-6 curve. This means the break on the ball is a downward break. This is seemingly the newest pitch in his arsenal because he threw it the least this last season. But with the help of a great pitching coach like Chris Fetter, I am sure he can develop this pitch into something really useful.
Last but certainly not least, the changeup. This is Beau's best pitch in his pitch mix. Beau even said himself on the Locked On Tigers podcast around the 16-minute mark that believes that his changeup is his best off-speed pitch by a wide margin because he can throw it in any count and has the most command with it. This pitch is such a great pitch for Beau.
It just works so seamlessly with his fastball. They have nearly an identical spin but, the speed difference complements the two pitches greatly. After setting up hitters with his mid 90's fastball then going on to pulling the string on them is what Beau has been the most effective in.
To wrap things up, Beau Brieske has shown a great amount of potential in such a short period amount of time here in the Tigers system. Even with him playing so well he is not getting the amount of attention that he deserves and that is why I believe that Beau Brieske should be one of the many prospects that you should know.