Tigers owner Chris Ilitch could cement his legacy in Detroit with deal for Carlos Correa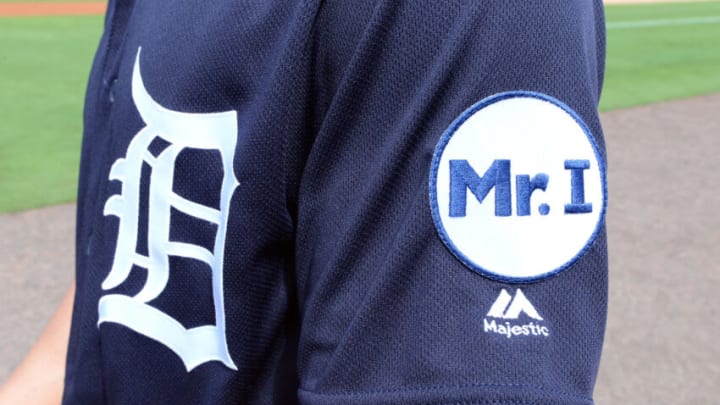 A detailed view of the 'Mr. I' patch to be worn by Detroit Tigers players and coaches in 2017. (Photo by Mark Cunningham/MLB Photos via Getty Images) /
Chris Ilitch has the chance to reinvent himself as owner of the Detroit Tigers. It's a position his father, Mike,  was once in himself.
All he has to do?
Whatever it takes to get superstar shortstop Carlos Correa into the Olde English D.
The deal that turned the Detroit Tigers' future
About this time 14 years ago, right around Thanksgiving, late owner Mike Ilitch called then-GM Dave Dombrowski to discuss a young slugger playing for the Marlins, Miguel Cabrera.
A decade later, the Detroit Free Press looked back at what is one of the most pivotal events in modern Tigers history.
""I remember him calling and he says, 'Well, I see this guy's available. Do you have interest?' " Dombrowski said."
Of course Dombrowski had interest. Pretty much anyone in baseball would have had interest in having Cabrera play for their team.
Through parts of five seasons in Miami, Cabrera batted .314 with .388 OBP and .542 slugging. He was 24 years old and already had 138 home runs, four All-Star Game appearances and 18 WAR to his name.
Sure, it was a little too early to declare him a future Hall of Famer for certain, but the career arc was already noticeable.
""And he basically said, 'Well, why don't you see what we can do.' ""He thought maybe we could push things in this case for a player like this," Dombrowski said. "And that's what really pushed it along.""
At the Winter Meetings a few days later, Dombrowski saw what he could do. It took two of the Tigers' top prospects, pitcher Andrew Miller and outfielder Cameron Maybin, along with four other players.
It was truly a make-or-break deal, one that declared the Tigers were not afraid to go out and compete for the top players and do what it takes to bring them to the fans in Detroit.
Then Mike Ilitch made sure Cabrera would be there a while, too. Before the season even began, the team secured an eight-year, $152 million deal that would keep Cabrera in Detroit through 2015 — the best peak years of his career.
Under that contract, Cabrera made six All-Star Games, won two MVP awards, and batted for the first Triple Crown in 35 years. No player has done it since.
The Tigers won four consecutive American League Central titles, went to the ALCS three consecutive years, and appeared in the 2012 World Series.
Tigers fans saw one of the best batters in franchise and indeed MLB history, now certainly a first-ballot Hall of Famer.
Mike Ilitch became a hero in Detroit, even appearing in Sports Illustrated in 2009 for his desire to do (and spend) whatever it took to bring a World Series title back to Tiger Town.
Maybe history can repeat itself for Chris Ilitch if he signs Carlos Correa
In the time leading up to Mike's death in 2017, and since, things have been a bit tough for Tigers fans. The years of high budgets and prospects traded eventually had to be dealt with.
It hurt — and we knew it would — seeing stars traded, seeing once-hot prospects fail to pan out, seeing years where you knew going into it the team would finish in last and only wondered just how far back the team would finish.
Those years are in the past now.
The painful part of the rebuild is over. The fun part is here. The part where rumors are flying and the Tigers, with a low payroll, are seen as competitors for some of the best and most expensive free agents.
The part where even a lunch between Correa and his former manager, AJ Hinch, causes a melt down on the internet.
Suddenly, the best guess of some of the smartest people in the industry is that the Tigers are a contender for Carlos Correa.
Correa, a 26-year-old shortstop with 133 home runs to his name. Correa, whose closest comparisons through age 26 feature players like Francisco Lindor, Gary Carter, Joe Torre. Correa, a Gold Glove winner whose outs above average ranks in the top 2% (per Baseball Savant).
Correa, worth 34 WAR.
Correa, the prize of the offseason.
Chris Ilitch can cement his legacy in Detroit with just one move
A contract that size is a risk. But every championship team has taken a few risks along the way. You don't just win a title by doing the safe thing every time.
Chris Ilitch is in the rare position of being able to decide whether one of the best young players in the game spends his best years playing in front of Tigers fans of Comerica Park — or whether to go halfway and hope for the best while Correa goes elsewhere.
We can make a pretty good guess what his father would do. It's easy to close your eyes and picture Mike Ilitch saying let's try to get him to Detroit.
But will Chris Ilitch follow in his father's footsteps, or shy away from the opportunity instead?