Detroit Tigers fans skepticism of spending may draw to a close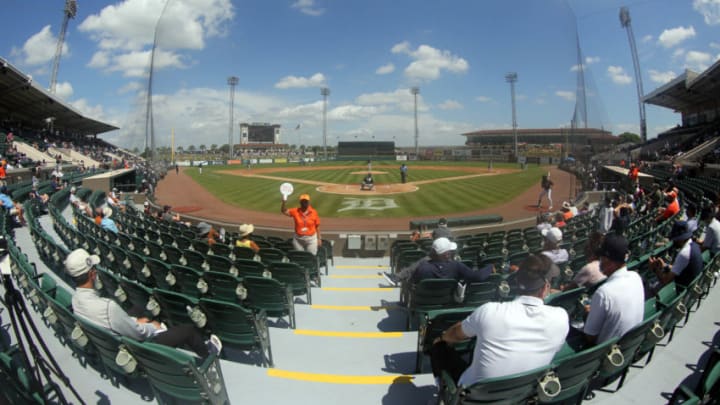 Mar 16, 2021; Lakeland, Florida, USA; A general view of Publix Field during the game between the New York Yankees and Detroit Tigers at Joker Marchant Stadium. Mandatory Credit: Kim Klement-USA TODAY Sports /
The Detroit Tigers spent over $200 million dollars so far in free agency. There are some ways to go but it is a step forward.
The Detroit Tigers are finally starting to spend money and try and build a contending team. But, many fans are still upset the Tigers didn't sign more players before the lockout. Though what I think a lot more people have to realize is that it's not gonna take just one free agency class to be World Series contenders, and why fans should not be worried too much about the Tiger's future.
This free agency is just the beginning
A lot of fans are concerned about how much the Tigers spent so far in free agency. Because they decided to sign shortstop Javier Baez over Carlos Correa and that panicked a lot of fans. It makes sense the Tigers went the cheaper route which is something you can, and somewhat should be a little upset over. But at the same time, fans have to realize this is only the beginning.
Now, what do I mean by "only the beginning"? I mean that the Tigers have already had a pretty successful free agency and it's still not over. I still expect the Tigers to go out and sign a starting pitcher and relief pitcher after the lockout ends.
In addition to that, I mean that this is just the first of many free-agent classes the Tigers will be spenders. You should not expect the Tigers to spend a ton of this free agency and start competing for a championship. I expect the Tigers to make a few more signings and be done. That will still be a very huge jump for the organization and considered a successful off-season.
The Tigers still have two top 10 MLB prospects to join their team. Those players are Riley Greene and Spencer Torkelson. Which if they perform as they have in the minors it would be like signing two big-name free agents. Along with, a lot of young talent in the outfield.
So, I think the Tigers will go this season with the guys they have in the house and see what they are working with. Then in the 2023 free-agent class they will go about and be big spenders and fill in the gaps where they need to. Because contrary to belief the Tigers are a big market team. They just have not shown that due to being in a rebuild for so long so many fans and other analysts and teams have forgotten that.
Why should fans trust the Tigers will continue to spend in 2023 and beyond?
I get that a lot of fans are skeptical of Chris Illitch and Al Avila spending money. But, they have so far held up to their promise this off-season. Trading for Tucker Barnhart, and signing Eduardo Rodriguez and Javier Baez.
This puts the Tigers third in spending this off-season which still isn't over. So, just because they didn't get Correa does not mean that they necessarily cheaped out. The Illitch family is still the 4th wealthiest owner in baseball and has shown in the past and as we are seeing now they are willing to spend money if they have to.
So to sum up all of this, all fans should not expect a world series team next year or for the Tigers to spend a ton more this off-season. If they do it would be fantastic and bring so much joy to the fan base and would prove more than they would probably spend in the future, and they want to win the Central in 2022.
But, if they don't and we only see them go and get a few more cheap signing that is okay. The Tigers filled their biggest holes, which were catcher, starting pitching, and shortstop. So after the 2022 season once we see what the other holes are I would fully expect the organization to address them and continue building up this roster and bring them closer to winning a World Series championship.
To emphasize this more, this is just the first step of coming out of the long rebuild and this organization is heading in the right direction and to stay calm and watch the progression and success come.