3 changes to Comerica Park we'd love to see Detroit Tigers make in 2022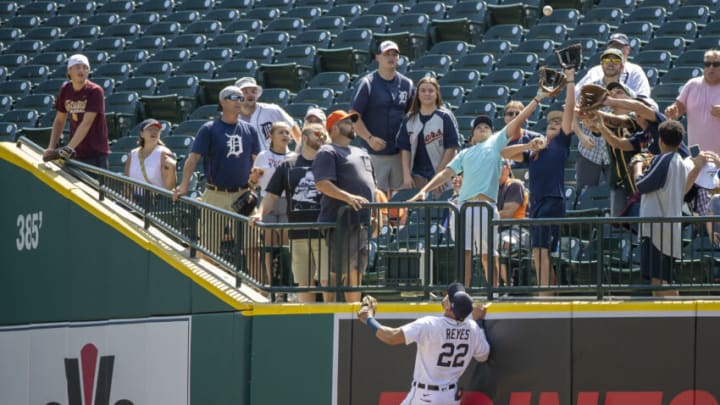 DETROIT, MI - SEPTEMBER 02: Victor Reyes #22 of the Detroit Tigers looks up at a home run by Mark Canha #20 of the Oakland Athletics in the first inning during a MLB game at Comerica Park on September 2, 2021 in Detroit, Michigan. (Photo by Dave Reginek/Getty Images) /
The Detroit Tigers are pondering ballpark enhancements; these three would heighten the fan experience
It's difficult to believe that Comerica Park, home of the Detroit Tigers, is 21 years old. Perhaps even more difficult to fathom is that it is now tied as the 14th oldest ballpark in the league with Houston's Minute Maid Park and San Francisco's Oracle Park. This new age of stadium assembly via taxpayer dollars has taken storm nationwide with teams like Atlanta and Texas trading out sufficient set-ups for state-of-the-art.
Putting away the ire of how the organization handled Tiger Stadium, Comerica Park is a perfectly acceptable ballpark. The location is convenient, the carnival theme gives kids something to do, and the wide-open concourse offers a level of intimacy with the game that many parks do not boast.
Gripes about the park seldom come from the fans' perspective, though. Throughout the park's existence, most of the park's problems were regarding the dimensions of the park; mainly, the 420 sign that exists halfway up the padded wall in dead centerfield. Juan Gonzalez infamously left due to the park's dimensions. More recently, players like Nicholas Castellanos and Miguel Cabrera have stated their peace.
According to a report from The Athletic's Cody Stavenhagen ($), the club is exploring the possibility of addressing centerfield as part of some improvements the organization is looking to make to the stadium. If this plan is executed, it likely would not be as simple as installing a gate across the large part of the park–meaning the change would likely also result in other adjustments to the park.
Let's assume centerfield coming in is a given. But how is that executed? What about right-center? Could left field also be improved? We have some ideas.