3 changes to Comerica Park we'd love to see Detroit Tigers make in 2022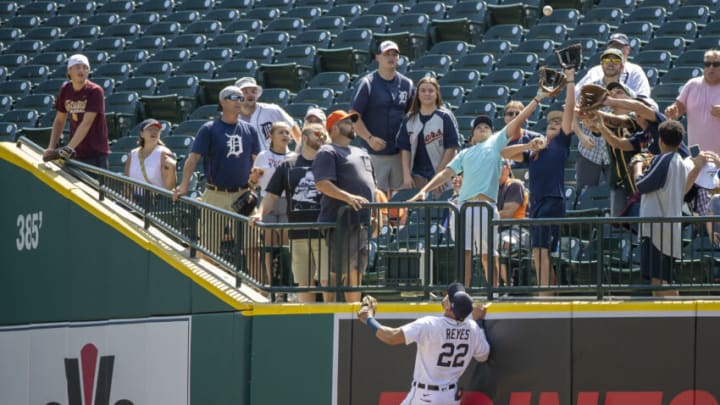 DETROIT, MI - SEPTEMBER 02: Victor Reyes #22 of the Detroit Tigers looks up at a home run by Mark Canha #20 of the Oakland Athletics in the first inning during a MLB game at Comerica Park on September 2, 2021 in Detroit, Michigan. (Photo by Dave Reginek/Getty Images) /
DETROIT, MICHIGAN – APRIL 01: Victor Reyes #22 of the Detroit Tigers warms up before playing the Cleveland Indians on Opening Day at Comerica Park on April 01, 2021, in Detroit, Michigan. (Photo by Gregory Shamus/Getty Images) /
3. Make Comerica Park retractable
Imagine having two professional sports stadiums right next door to each other. One has 81 home games where the weather can cause a game to stop or get canceled completely. The other stadium hosts 8-9 home games a year and weather is a non-factor in determining if a game gets played. Now imagine that both stadiums were constructed within three years of each other. Somehow, the one that gets a dozen uses out of the year total is the one that got the dome. Nonsensical.
I've heard wild rumors about the Lions and Tigers sharing a lid when these projects were in the planning stages; obviously, that never came to fruition. But given the unexpected weather patterns every Michigander has come to know and love, not having a retractable stadium for the Detroit Tigers is borderline inexcusable.
I highly doubt that any change of this magnitude is being discussed, but the Detroit Tigers had eight postponements in 2021; six of them home games–and this doesn't even factor in delays. Weather delays and postponements are a debacle from every angle. It hurts TV ratings, causes frustration for attendees, and makes for a busy ticketing department to try to accommodate fans for a different day. Not to mention, ratings are likely lower for doubleheader days, too, as I can't imagine the average person has five hours to dedicate out of their day.
If we take it a step further, though, even consider the uncomfortable days. A good portion of April is frigid, and even if it isn't pouring rain, it can still be miserable to attend a baseball game. Getting fans to a game is simpler than getting them to go back. Freezing for three hours may leave a sour enough disposition in the casual fan that it halts the possibility for future attendance.
Again, I'm fully aware this is the Hail Mary of improvement proposals. I also am aware of the enhancements it would bring to the experience and overall product, and that shouldn't be ignored.