The D On Austin Jackson's Tigers Cap Also Stood For Defense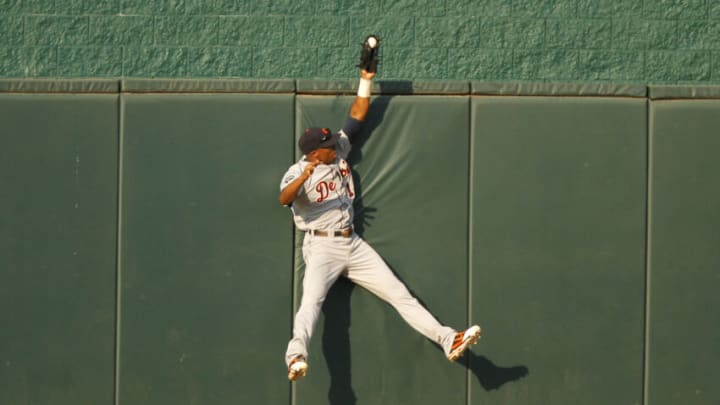 Austin Jackson reaches over the wall to rob the Royals' Alex Gordon of a home run on August 6, 2011 in Kansas City. (Photo by Ed Zurga/Getty Images) /
Austin Jackson dives to make a catch. (Photo by Mark Cunningham/MLB Photos via Getty Images) /
August 23, 2012: Diver Down
During Austin Jackson's time in a Tigers uniform, observers often commented on how rare it was for him to make a diving catch. Usually he didn't need to dive. Jackson was known for getting good reads on fly balls and taking good routes to intercept his targets. With his speedy legs, Jackson could usually run flies down in time.
The Tigers and visiting Toronto Blue Jays were tied, 2-2, at the end of nine innings. Jackson had scored the tying run after singling in the eighth. In the top of the 10th, future Tiger Anthony Gose came up with one out and the potential go-ahead run on second base in the form of Jeff Mathis. Jackson was stationed slightly in left-center. On the first pitch that Gose saw from reliever Octavio Dotel, the left-handed hitting rookie hit a line drive to the gap in right-center.
Right fielder Brennan Boesch was playing too close to the foul line to be able to converge on the ball. It looked like a sure RBI-hit for Gose, but Jackson made up a lot of ground in a hurry. However, this was one of the rare instances when he needed to dive. The outfielder left his feet at the last possible moment and caught the ball in the heel of his glove. Jackson slid a bit after returning to the Earth's surface but maintained control of the ball. Jackson remarked,
""It was one of those situations where if that ball drops, he's probably going to score. I knew in that situation I probably had to attempt to dive. I knew it was going to be close. I haven't dove too many times. I could probably count (them) on one hand. I knew I had to get on my horses a little bit.""
The Tigers went on to win the game, 3-2, on Alex Avila's walk-off single in the bottom of the 11th.
May 13, 2014: Rally Killer
The Baltimore Orioles jumped out to a quick 1-0 lead when Adam Jones hit a solo home run in the bottom of the first. They threatened to break the game open in the third. Tigers starter Drew Smyly gave up back-to-back singles to Manny Machado and Jones before walking Nelson Cruz. With two outs, J.J. Hardy stepped into a bases loaded situation.
Hardy hit a fly ball to shallow left-center. Jackson had been playing deeper and was shaded more toward right-center. He stormed in with intense focus and never took his eye off the ball until it landed safely in his glove. A slower centerfielder might not have made the run-saving shoestring catch that Austin Jackson made to end the inning.
Jackson's grab essentially quashed the Orioles' momentum. Between the fourth and eighth innings, Baltimore could only muster up a pair of baserunners. Meanwhile, Detroit hadn't fared much better. It was still a 1-0 game when the Tigers came up for the ninth inning. They rallied for four runs, three of which came on a big home run from Miguel Cabera. If you've ever seen the GIF or photo of Jackson staring at Miggy in bewildered amazement in the dugout, this 4-1 Tigers triumph is where it came from.
Detroit went on to face Baltimore in the American League Division Series that October, but Austin Jackson was a former Tiger by that point. Watching him exit the field during a game on July 31 after a trade with the Seattle Mariners became official was one of the season's most unusual and memorable moments.
Later in his career, Jackson became known for a play he made against the Red Sox at Fenway Park. In the fifth inning on August 1, 2017, he caught a fly that was hit by Hanley Ramirez. Jackson completely tumbled over the short center-field wall and into the Boston bullpen as he gloved the ball. Miraculously, he hung on to it and earned a standing ovation for his homer-robbing feat. Jackson was playing for the Cleveland Indians at the time, which is ironic when you consider that two of his biggest plays prior to that came at the Indians' expense while patrolling center field for the Detroit Tigers.