Spring training delays bring angst, anger among Detroit Tigers fans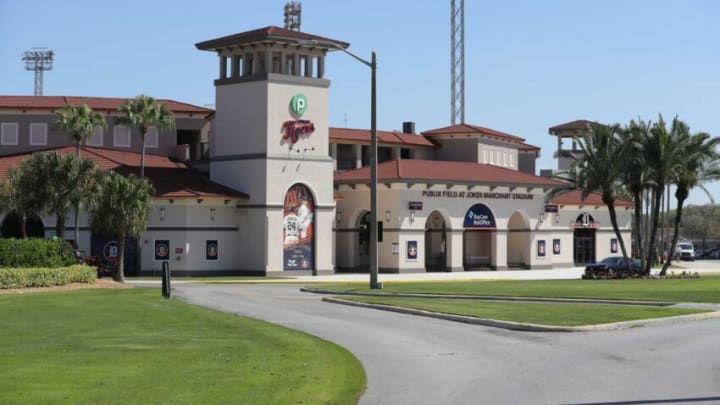 Exterior of Publix Field at Joker Marchant Stadium in Lakeland, Fla., Friday, Feb. 26, 2021.Spring Training overview, Joker Merchant Stadium overview, Publix Field overview /
The Detroit Tigers should have pitchers and catchers reporting today–instead, fans and players alike continue to wait on a new collective bargaining agreement
If there is anything we have learned about the Detroit Tigers fanbase across the rebuild, it's that the fans are unbelievably loyal to their team. They watched their club limp to last-place finishes and 95+ loss seasons from 2017-2019 and likely would have had another in 2020 had it not been for a pandemic-shortened year.
The club was competitive in its first season under new manager AJ Hinch last season and the organization subsequently allocated significant resources to better the club in 2022. These new additions have fans eager to watch a product, but that eagerness has begun to shift toward anger, as we collectively cross fingers for a fresh labor agreement.
Deep underneath that righteous indignation lies confusion and questions that I am unsure anybody but the owners would be able to answer. Why was there no action for six weeks after the owners locked out the players? Why did the owners feel the need to lock out the players in the first place? Why are owners okay with losing money by cutting out games while also complaining that baseball doesn't make them money? Why in the world is Rob Manfred not doing more to solve it?
Oct 7, 2021; Houston, Texas, USA; MLB commissioner Rob Manfred in attendance before game one of the 2021 ALDS between the Houston Astros and the Chicago White Sox at Minute Maid Park. Mandatory Credit: Troy Taormina-USA TODAY Sports /
There was always this possibility; and given how negotiations went two years ago on how to play in the middle of a pandemic, many felt this negotiation would be problematic. The union and the league are in agreement on minor subjects like the universal DH but remain far apart in any meaningful way about key economic issues that would have rippling effects on the game for years to come. Losing any part of the regular season felt fairytale not long ago. Now, with Spring Training in an official delay, it's the first sign of that scenario playing out.
The damage, isn't just in the form of lost games, though. There is collateral damage currently being done. The end of the NFL season and the start of spring training is now more aligned than ever before with an extra week of NFL games and expanded playoff, so it would have presented a ripe opportunity to get sports fans back engaged in baseball. For a sport that has tried desperately to engage the younger demographic, they aren't necessarily helping themselves in a fast-paced and 24-hour news environment.
Here are some of the reactions to the official spring training delay among Detroit Tigers fans and media members who cover the game:
Remain hopeful, remain positive. It's still likely there is a long baseball season, but I'm about 30 percent sure there will be 162 of them in 2022.