Where to park at Comerica Park for Detroit Tigers games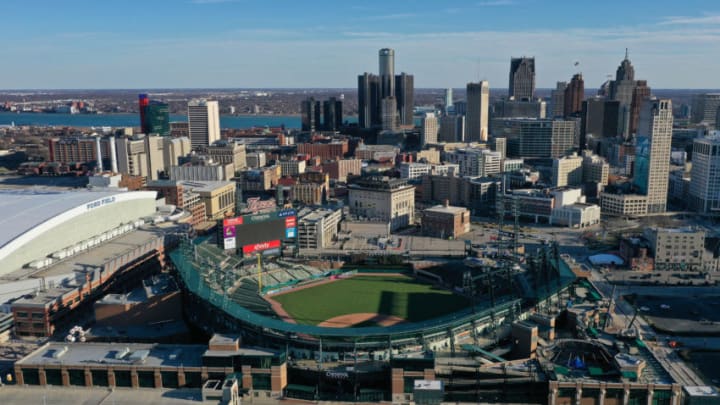 Aerial view of Comerica Park from a drone on March 14, 2020 in Detroit, Michigan. (Photo by Gregory Shamus/Getty Images) /
Whether you're a Detroit Tigers fan headed to your 500th game at Comerica Park an out-of-town fan attending your first game there, you've got one important task ahead of you first: finding a place to stick your car where it won't be ticketed or towed away.
Hopefully this Comerica Park parking guide will help you out.
How much does it cost to park near Comerica Park for a Detroit Tigers game?
Parking generally runs in the $10 to $25 range near Comerica Park, depending on how far you are willing to walk. You should expect to pay $25 for the lots closest to the stadium. The area around the park has both open lot parking as well as covered parking in towers.
Comerica Park: Best places to park based on where your Detroit Tigers seats are
If you're seated behind home plate or closer to the first or third base lines, or just wanted some covered parking, the garages between Fisher and Montcalm are the closest available. Both cost about $25. Those are the McLaren Garage and the Tigers/Lions Garage.
Another good option, though uncovered, for those seated around first base or right field is the 61. Elizabeth Street lot. That also will run about $25.
In right field, another option you might choose is 850 Witherell Street. That is also priced $25.
Comerica Park: other options for parking at Detroit Tigers games
There are plenty of other spots you might choose to park, and if you're willing to walk 0.3 or 0.4 miles from further away, you might save a couple of bucks. There are several options along Cass, Elizabeth, Columbia, or Montcalm a couple of further blocks away. Those typically run $10 to $15.
Finally, you might want to check out the official Tigers site before arriving so you can find the road closures ahead of time and avoid being surprised when you get to downtown Detroit.