Detroit Tigers: Scott Coolbaugh needs to go after the All-Star break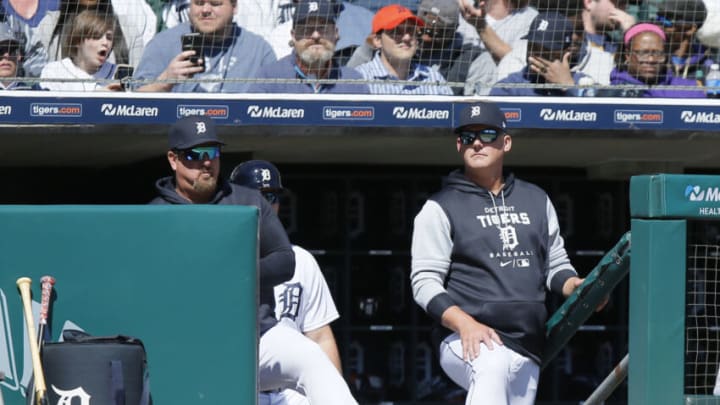 DETROIT, MI - APRIL 21: Hitting coach Scott Coolbaugh #53 of the Detroit Tigers and manager A.J. Hinch #14 watch from the dugout during a game against the New York Yankees at Comerica Park on April 21, 2022, in Detroit, Michigan. (Photo by Duane Burleson/Getty Images) /
The Detroit Tigers need a new hitting coach
When you look up and down the Detroit Tigers' lineup on a nightly basis, almost all of them have batting averages of .220 or below. They all have similar issues—nobody understands the concept of launch angle, nobody can draw a walk anymore, everyone strikes outs at an alarming rate, and nobody can hit with runners in scoring position. These are all systemic issues.
All of these hitters have track records of being much better than they've been this season. Jeimer Candelario used to have great plate discipline, but that has disappeared this season. He's got a 6.5% walk rate and a chase rate of 35.5%—the highest of his career.
Robbie Grossman came off a career year in 2021, with a career high 23 homers and 98 walks, which was good for fourth in all of baseball. But he looks like a shell of his former self in 2022, with a putrid slugging percentage of .277. He's still got a good 11.3% walk rate, but that just isn't enough. He could very well be headed for a DFA sometime after the All-Star break.
Grossman isn't the only one who can't for power anymore, virtually the entire club has been unable the produce any amount of firepower. Nobody has hit double digit home runs halfway through the season—Javier Baez is the closest with nine, which leads the team. The Detroit Tigers have hit 53 homers as a team—dead last in the league.
Austin Meadows, acquired for Isaac Paredes, who has found his stride in Tampa, has hit zero home runs in 36 games. He hit 27 last year and 33 in 2019. He's better than this.
Spencer Torkelson, one of the best hitting prospects this franchise has ever seen, looks completely lost. Baez looks like a bust of a signing. Jonathan Schoop can only hit singles now. The list goes on and on.
This all comes back to Detroit Tigers hitting coach Scott Coolbaugh. He hasn't been able to get any of these players out of their funks. Heck, you could argue he's the reason for their funks.
Nobody can hit a mistake pitch. They're either late on it and foul it off, or they just swing right through it. Everyone whiffs at sliders down and away—not just Javy Baez—everyone. Nobody chases more than this Tigers team.
The only team that walks less than the Tigers is the White Sox. They strikeout at the eighth highest rate in the league. When you don't walk, strikeout a lot, and can't hit homers, it's hard to score runs in today's three-true-outcomes game—and it leads to a historically bad 3.16 runs per game, worst since 1904.
The roster is not as bad as people make it out to be. Yes, certain players like the Castros and Victor Reyes still get way too much playing time, but if there's one thing A.J. Hinch has been right about this season when it comes to the offense, it's that these guys *do* have track records. They are much better than their slash lines have shown.
The Detroit Tigers need to make changes. They can't be this bad 5-7 years into a rebuild. A.J. Hinch doesn't seem like a guy who would accept this kind of offensive ineptitude without making substantial changes. But here we are, halfway into the season, and Scott Coolbaugh is still the hitting coach.
It's time for Hinch to buck up. He can't wait any longer. A historically bad offense cannot remain this bad without consequences and heads rolling. Before the second half of the season begins, the Detroit Tigers need to relieve Scott Coolbaugh of his duties as hitting coach.