3 Detroit Tigers pitching prospects to keep eyes on to end 2022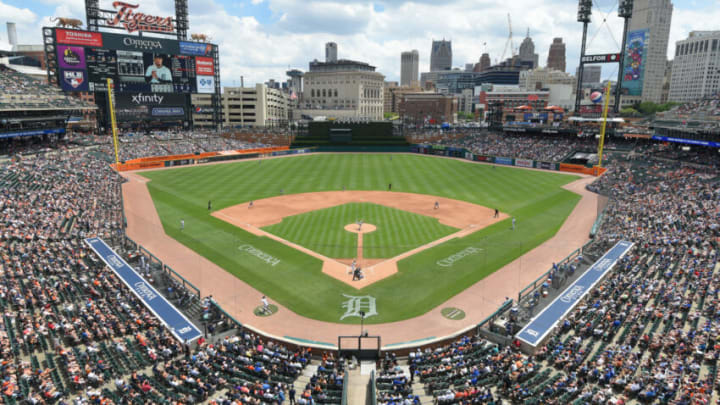 DETROIT, MI - JUNE 12: A general view of Comerica Park during the game between the Toronto Blue Jays and the Detroit Tigers at Comerica Park on June 12, 2022 in Detroit, Michigan. The Blue Jays defeated the Tigers 6-0. (Photo by Mark Cunningham/MLB Photos via Getty Images) /
There are plenty of Detroit Tigers prospects looking to finish the 2022 season on a high note.
The Detroit Tigers are closing in on the end of their season as another month ticks by. Their minor league affiliates will see their seasons end before then. That being said, it's time for the last ditch effort from prospects to prove themselves as the 2022 season comes to a close.
While there is still time, Detroit Tigers prospects will be looking to finish the 2022 season strong and end on a high note. Some of these players, in particular, need a solid showing to prove they are worth keeping around.
As Tigers fans rejoice at the firing of Al Avila, it could make things interesting for the team's prospects. The Tigers will bring in a new general manager who will bring in new staff throughout the front office.
It will lead to a self-analysis of the organization from top to bottom, leaving some prospects looking like they're on their way out. Other prospects may not hold as much value to the new regime, which means the Tigers have some players who need to finish strong.
As the team goes through and re-analyzes their farm system, a strong showing at the end of the 2022 season only builds stock for these players. Whether it's stock as a future player for the Tigers or possible trade bait, a good performance only helps these players.
Here are three Detroit Tigers prospects to watch the rest of the way.