Detroit Tigers: 3 players who may not return for the 2023 season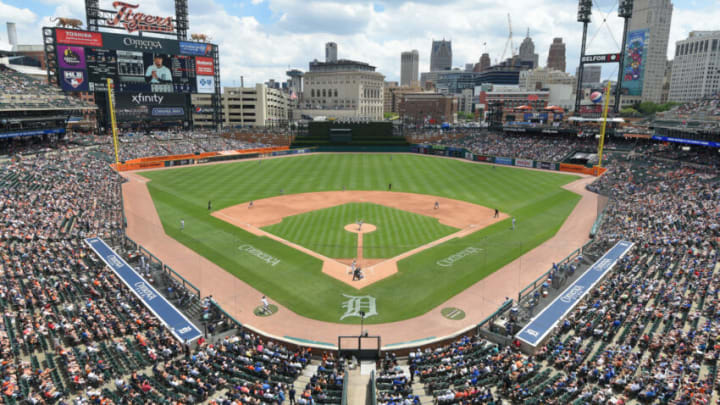 DETROIT, MI - JUNE 12: A general view of Comerica Park during the game between the Toronto Blue Jays and the Detroit Tigers at Comerica Park on June 12, 2022 in Detroit, Michigan. The Blue Jays defeated the Tigers 6-0. (Photo by Mark Cunningham/MLB Photos via Getty Images) /
Aug 30, 2022; Detroit, Michigan, USA; Detroit Tigers left fielder Kody Clemens (21) throws a pitch in the ninth inning against the Seattle Mariners at Comerica Park. Mandatory Credit: Rick Osentoski-USA TODAY Sports /
It may be time for the Detroit Tigers to give up on INF/RHP Kody Clemens.
The Detroit Tigers selected Kody Clemens in the third round of the 2018 MLB First-Year Amateur Draft out of the University of Texas at Austin. After selecting him, there was a lot of hope that he could pan out being a future big leaguer who helps the future of this organization.
After making his debut in 2022, things have not been the greatest. His performance has been quite lackluster. In fact, he's been better on the mound than in the batters' box at times. In the header, Clemens was listed as an INF/RHP because he has become the team's go-to reliever in blowout games.
He channels his inner Clemens bloodlines, including his recent strikeout of Shohei Ohtani that led to a wholesome moment where he kept the ball and later was able to get it signed by the two-way superstar.
Unfortunately for Clemens, things have not quite clicked offensively with some worrisome performances in the batters' box. He's logged 46 games, totaling 100 at-bats, where he has slashed a measly .140/.200/.270 with 28 punchouts.
It's been far from a smooth performance for the infielder. He's a second baseman by trade but has sometimes been shifted around. In all reality, it may be time to send him back to the minors. While it may not be an outright cut, it may be time to shift around the roster and give Clemens a reset.
Clemens has severely underwhelmed in his performance. So the Tigers should be considering moving in a different direction. After a switch-up in the front office and a new general manager coming in, the Tigers may opt to go in a different direction.
At a minimum, the Tigers need to move Clemens back to the minors and give him a reset for the 2023 season.