Detroit Tigers: 3 hitting prospects to be excited about beyond 2022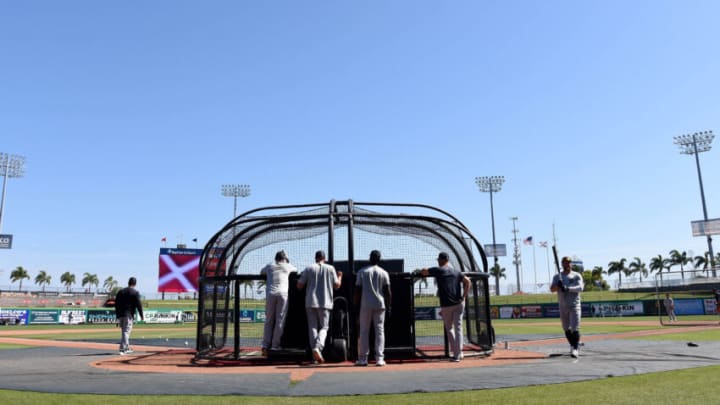 Mar 22, 2022; Clearwater, Florida, USA; Members of the Detroit Tigers take batting practice before the start of the game against the Philadelphia Phillies during spring training at BayCare Ballpark. Mandatory Credit: Jonathan Dyer-USA TODAY Sports /
Tigers prospects Cristian Santana, Manuel Sequera, and Roberto Campos wait to take batting practice. /
The Detroit Tigers are hoping to "hit" on Cristian Santana.
Oddly enough, the next Detroit Tigers hitting prospect on this list is related to Wenceel Perez. The two are cousins, and Cristian Santana has a ton of upside as one of the team's international signings in January of the 2021 season.
The Tigers organization has plenty to be excited about with Santana. He is still just 18 years old and a primary shortstop. Like Perez, he can shift around to play second or third base if needed. The tool that speaks the loudest is his bat.
There is a ton of bat speed in the swing; it's explosive and violent at its best. He's got a big leg lift, getting the hands back as he starts to rotate through the swing. The hips rotate from a closed-off load; that's where the explosivity is.
He's got a good attack angle, getting an uphill path; when he matches planes, it produces some of those moonshots that have circulated on Twitter. Santana's stats on paper may need some improvement, but he's still super young with a lot of room to keep improving.
Santana has slashed .217/.387/.376 with 12 doubles and 10 home runs for 32 RBI with Single-A Lakeland Flying Tigers, except for five at-bats with the Tigers FCL squad. There's so much raw talent here with plenty of room for growth.
The long game comes into play here as well. Similar to Pacheco, Santana is an investment for the long-term. If he grows into his frame and continues adding strength, there are plentiful reasons to like what he could bring to the table as an infielder. Keep an eye on Santana moving forward.