Detroit Tigers: Highlights from Scott Harris' intro press conference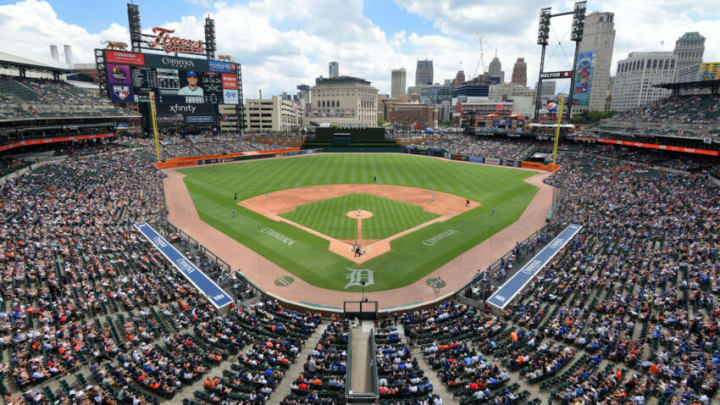 DETROIT, MI - JUNE 12: A general view of Comerica Park during the game between the Toronto Blue Jays and the Detroit Tigers at Comerica Park on June 12, 2022 in Detroit, Michigan. The Blue Jays defeated the Tigers 6-0. (Photo by Mark Cunningham/MLB Photos via Getty Images) /
The Detroit Tigers held a press conference to introduce their new president of baseball ops
The Detroit Tigers just wrapped up their introductory press conference for new president of baseball operations Scott Harris, and it to be quite frank, it couldn't have gone any better.
Harris sounded smart, confident, and humble, all at the same time. He seemed very well-organized and conducted himself in a manner that was extremely likeable.
Even Chris Ilitch wasn't half bad. He still had a pretty robotic delivery, but he didn't say anything that could rub the fanbase the wrong way this time.
I'll spend the rest of this article highlighting some of the things he had to say. The first thing comes from his opening statement, where he laid out his vision for the franchise:
""When I think of Detroit, I think of trying to create an environment that inspires players to want to get better and to put in all the work that they can to get better. It also means creating an environment around those players— support ,staff, technology, coaching, development environments that inspire these players to get better. So when I think of the Tigers of the next few years, I think of free agents who may look to go to various different places across our great game. When they think of Detroit, I want them to think of an environment where they are confident they can come and get better. They can perform at a higher level. They can lengthen their careers, they know that they're going to be surrounded by people in this organization that are gonna get the absolute most out of them.""
There has been this narrative over the past few years that Detroit is where players' careers go to die—and that goes for all sports. But Harris sounds like he wants to change that.
The next highlight is Harris describing the interview process:
""When I got to Detroit, and when I started walking around with Chris, and seeing all that Detroit has to offer— it just felt different for me than any other opportunity that I had in the past. The combination of a exceptionally passionate fan base, tremendous resources in the division, a head start on some of the things that they're building under the hood that were so inspiring. And with tremendous ownership and business-side support, it felt different. That combo felt different than anything I had experienced.""
One of the most commonly asked questions after Tigers fans learned the news that Harris was coming to Detroit was simply, 'why?' 'Why would he leave the Giants to come to Detroit?' Well, there's your answer.
Next, Harris described his timeline of when he thinks the Tigers can be a completive baseball team:
""I am treating this as an opportunity for us to get better this winter. We're gonna put our heads down and we're going to string together as many smart baseball decisions as possible. And we're gonna look up at the end of the winter and we're gonna have a much better feel for when the most competitive Tigers team is going to come out. That's how I believe every baseball team should be built. I don't believe in a five year plan…there's too much variability in the sport to define a plan as concrete.""
This is refreshing to hear. It sure sounds like Harris is not interested in rebuilding the rebuild. He and his crew will get together this offseason and see what they can do to bring winning baseball back to Detroit.
Speaking of his crew, Harris said he plans on hiring a GM at some point, but doesn't have a timeline yet.
The last thing I'll highlight here is his Harris' comments on what Ilitch called "an innovative approach" to the job:
""I've worked for some exceptional leaders in my career. I've been very lucky to work with Theo Epstein, Jed Hoyer, Farhan Zaidi, and many others. One of the things that they taught me very clearly is if you're going to do the same thing as every other organization, you're probably not going to do it as well as they are and you're probably going to be chasing them the whole time. They taught me that it's important to differentiate yourself and your operation. That's where that spirit of innovation comes from.""
This is so interesting an refreshing to hear. No more of this copying X-team's model. Harris wants to create the Tigers way. If by some miracle the Detroit Tigers end up becoming the model organization of the league, aka the new Dodgers, then this hire will go down as the best front office hire in Tigers history.
There were a couple other nuggets that I'll quickly mention. Harris said he doesn't have enough information to properly evaluate the farm system yet, and he's not ready to make a decision on Miguel Cabrera's future with the club. He said he wants to talk to Cabrera first before making any kind of decision.