Detroit Tigers News
Detroit Tigers injuries could result in rotation logjam next season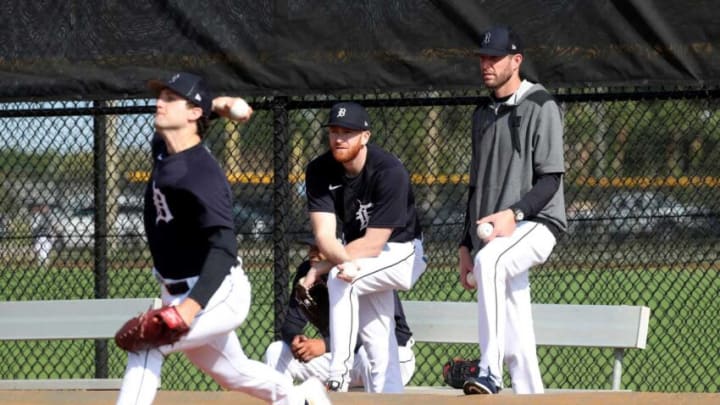 Tigers pitcher Spencer Turnbull, center, and pitching coach Chris Fetter watch as pitcher Casey Mize throws in the bullpen during Detroit Tigers spring training on Wednesday, March 16, 2022, at TigerTown in Lakeland, Florida.Tigers3 /
Detroit Tigers injuries could result in a logjam in 2023.
The Detroit Tigers starting rotation underwent quite the amount of adversity in 2022. They were nearly 20 pitchers down the list of players who made at least one start on the season. Injuries decimated the rotation the whole time.
For the Detroit Tigers, it started with losing Casey Mize being sent to the Injured List (IL) after just ten innings of work. The end result was that Mize had to undergo Tommy John Surgery. This puts him out until late in the 2023 season or, more likely, the 2024 season.
But there is hope that a speedy recovery might allow him to pitch again in 2023. On top of that, things did not get much better as the year went on. Tarik Skubal was sent to the IL, where he eventually had to undergo flexor tendon surgery.
His recovery timetable could have him throwing again during the 2023 season as well. Meaning the team will have to start the year without their two prized young pitchers. Matt Manning was able to avoid any of the major surgeries but has battled some health woes near the end of the 2022 season.
Beau Brieske was dealing with bicep tendinitis and was ultimately shut down. Brieske was putting together a solid performance, so it was a good season with a rough finish. While there were so many injuries, things should start getting back to normal in due time.
The Tigers are going to build out and solidify their rotation for the 2023 season this off-season. The thing is, they are going to manage the free agent market or even trade market to bring in some depth for the rotation likely.
As the Tigers build the rotation, it could result in a logjam later in the summer of next year. In a piece from Jason Beck on MLB dot com, there was a quote from the Tigers skipper about next year's rotation. A.J. Hinch joked during the article that he was excited to field questions about having "too much depth" in the team's rotation.
For the Tigers, this might mean there is some competition in the rotation. At least, that is the hope. It's early to speculate as there is no way of knowing exactly what the rotation will look like come Spring Training.
But, with the potential that there could be some players returning who were out in the long term, it will be interesting to see how it plays out with the rotation. Plus, as mentioned before, Spencer Turnbull was absent all of 2022 after undergoing Tommy John Surgery missing most of 2022, which will add a familiar face to the rotation.
The bottom line is it will be interesting to see how the Tigers' rotation pans out, even though it is early. The offseason moves will make it even more interesting over time.