Miguel Cabrera Wins Triple Crown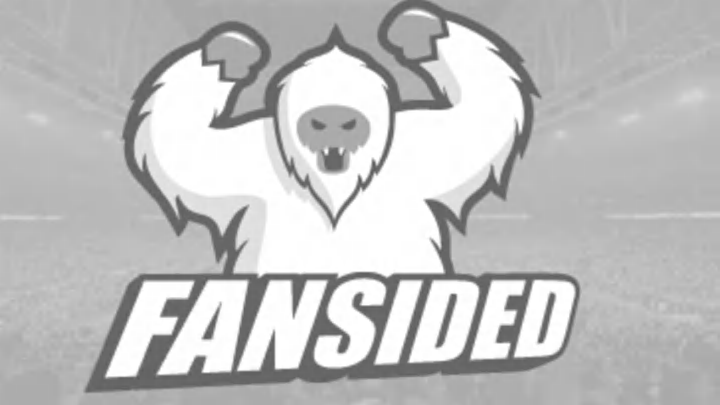 October 02, 2012; Kansas City, MO, USA; Detroit Tigers third baseman Miguel Cabrera (24) smiles to the fans after hitting a two run single in the third inning of the game against the Kansas City Royals at Kauffman Stadium. Mandatory Credit: Denny Medley-US PRESSWIRE
He didn't sit the final game out, though you could have hardly blamed him if he did, and he didn't add to his impressive resume, he was 0-2 in his two plate appearances before being lifted for Ramon Santiago, but Miguel Cabrera secured the Triple Crown. It was the first time any player had lead the league in batting average, home runs, and runs batted in the same season since Carl Yastrzemski accomplished the feat in 1967.
I don't personally believe that Cabrera should win the AL MVP award this season – I can't deny the season Mike Trout has had – but one doesn't need to get hung up on the MVP race to appreciate the historical significance of Cabrera's season. A .330 batting average, 44 home runs, and 139 RBI is one heckuva season, and that's one heckuvan understatement.
Cabrera is a monster at the dish and may very well become known as the best hitter of the generation. You don't have to believe that RBI's tell us much about a player's skill level, or that batting average is a particularly good measure of hitting ability to understand that Cabrera fulfills the very spirit of the achievement. Miguel Cabrera isn't a power hitter – he's a fantastic hitter that happens to also have a seemingly infinite supply power. He truly does it all from a hitting perspective.
No, the Triple Crown isn't a perfect measure (or even a very good one) from a "statistical standpoint", but it's the measure that's been handed down for over a hundred years. It's OK to have fun with baseball – I have to tell myself that sometimes – and put away the calculator and wRC+ leader boards and simply stand and cheer for a great accomplishment. Even if it's slightly "irrational" according to modern analysis it's pretty darn cool to see "Miguel Cabrera" as next in line in a list that includes names such as Ty Cobb, Rogers Hornsby, Jimmie Foxx, Lou Gehrig, Ted Williams, and Mickey Mantle.
Only 14 other individuals have achieved a Triple Crown since 1878, and that's just, like, I don't even know. "WOW" is all I can say. I get to watch that guy every night.
He's not the WAR leader this year, that's true, but can you name all the players that have accumulated more fWAR over the past four seasons? I bet you can't, because no such player exists. Do you know how many players have an OPS above 1.000 over that same time period? One. Miguel Cabrera. Not Albert Pujols, not Jose Bautista, not Joey Votto, not Ryan Braun, not Prince Fielder. Cabrera has been terrific, and he's been terrific for years.
Let's enjoy this for what it is: an accomplishment of historical proportion achieved by the best hitter of the last several years. Let's not let the MVP debate diminish our respect of that, even if you're not picking him to win it.