Texas Still Detroit's Most Likely ALDS Opponent, Four Possibilities Still In Play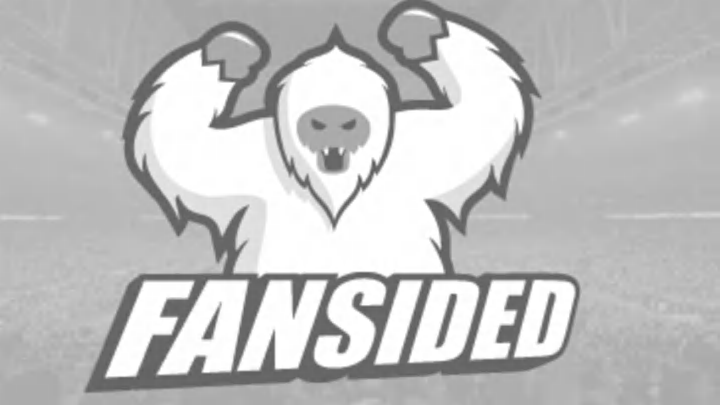 October 1, 2012; Oakland, CA, USA; Texas Rangers third baseman Michael Young (10) is congratulated by teammates after hitting a solo home run off of Oakland Athletics starting pitcher Jarrod Parker (not pictured) during the fourth inning at O.co Coliseum. Mandatory Credit: Kyle Terada-US PRESSWIRE
Not only did yesterday's results – the A's beating the Rangers, and Orioles and Yankees both winning – not decide who the Tigers would face in the first round of the playoffs, it didn't eliminate any of the four teams from contention. We only have one day of regularly scheduled baseball left to play, but the AL East and West races are still undecided. The tiebreak scenarios I laid out yesterday are still in play, but I thought it would be fun to put some percentages on each team's chances to meet the Tigers in the first round.
Here are my underlying assumptions (1) that the New York Yankees have a 60% chance of beating Boston today. (2) That the Rangers-Athletics game is a 50-50 toss up. (3) That the Orioles-Rays game also has 50-50 odds. (4) That a Game 163 between New York and Baltimore (which would take place in Baltimore) would carry 50-50 odds for both sides. (5) That the actual percentages are close enough to these that it doesn't much matter.
Baltimore Orioles
This one's the easy one because they would lose the tiebreak with either Oakland or Texas, and it's impossible that they finish with a better record than either one, so Baltimore would be guaranteed to be the two seed in the AL if they win the East. In order to win the East they need to win today, have New York lose today, and beat New York in Game 163. Odds on this are (0.5 x 0.4 x 0.5) = 10%.
New York Yankees
The Yankees' odds of drawing the Tigers are also pretty easy to figure. If they win today they'll finish with the best record in the AL, and they hold the tiebreaker over the Rangers, so the only way they end up as the number two seed is if they win the division and end up tied with Oakland. There are two ways for this to happen: Oakland wins, the Yankees lose, and Baltimore loses (0.5 x 0.4 x 0.5 = 10%) or Oakland wins, Yankees lose, Baltimore wins, Yankees win Game 163 (0.5 x 0.4 x 0.5 x 0.5 = 5%). Summing those two scenarios together yields the chance of a Tigers-Yankees matchup: 15%.
Oakland Athletics
Oakland holds the potential tiebreaker over both Baltimore and New York, so they can't be the Tigers' opponent if they win their division but end up tied with the AL East winner. So, in order for Detroit to play Oakland, the A's would have to beat the Rangers tonight, and New York would have to beat Boston. Odds here are (0.5 x 0.6) = 30%.
Texas Rangers
For Texas it comes down to the fact that they can't beat out New York should both win their divisions. The Yankees hold the head-to-head tiebreaker advantage and they can't pass them in the AL standings. So Texas ends facing Detroit as long as they win their division and New York wins the East. Three ways That happens: Texas wins and New York wins (0.5 x 0.6 = 30%), Texas wins, New York loses, and Baltimore loses (0.5 x 0.4 x 0.5 = 10%), or Texas wins, New York loses, Baltimore wins, and New York wins Game 162 (0.5 x 0.4 x 0.5 x 0.5 = 5%). Those possibilities sum to a 45% overall chance of Texas meeting Detroit in the ALDS.