Projecting The Detroit Tigers' 2016 Lineup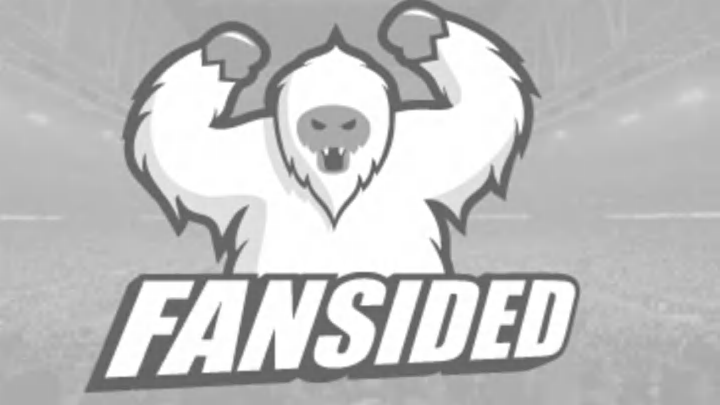 Each off-season Baseball America releases their top ten prospect list for each organization and, with it, a just-for-fun projection of each team's batting lineup and pitching rotation four years into the future.
Here's their projection for the 2016 Detroit Tigers (with article by Conor Glassey):
"CatcherAlex AvilaFirst BasePrince FielderSecond BaseJhonny PeraltaThird BaseNick CastellanosShortstopEugenio SuarezLeft FieldAustin JacksonCenter FieldAustin SchottsRight FieldAvisail GarciaDesignated HitterMiguel CabreraNo. 1 StarterJustin VerlanderNo. 2 StarterMax ScherzerNo. 3 StarterDoug FisterNo. 4 StarterDrew SmylyNo. 5 StarterRick PorcelloCloserBruce Rondon"
The first thing one would have to do is decide how to tackle free agency. They apparently didn't include current-free agenct Anibal Sanchez as a candidate, but they did "predict" that Alex Avila, Jhonny Peralta, Austin Jackson, Miguel Cabrera, Justin Verlander, Max Scherzer, Doug Fister, and Rick Porcello – who all are due to become free agents prior to the 2016 season – would be extended by the club. With 30 teams to cover in a relatively short time span, I'm sure Baseball America's primary concern is expediency. They likely set a rule for themselves that any player without a deal for the following season isn't to be included (Sanchez), but any player under team control for at least one more season (Peralta et al.) can be considered. I don't know that's actually the case, but it seems like that's what they're doing here, and it would be a fair enough thing to do.
That being said, we can likely improve on their initial effort. Here's my guess at the 2016 Tigers lineup:
Catcher – Alex Avila: As I alluded to earlier, Avila is due to become a free agent following the 2015 season, so the Tigers will need to extend him at some point in order for him to remain a member of the Tigers this far into the future, but I think there's a very good chance at that happening. Even with a "disappointing" 2012 season at the plate, Avila gave the team great value (2.2 rWAR, 2.6 fWAR). His oft-broken knees could perhaps become a concern down the line, but there's really no reason to say he won't still be a Tiger in 2016.
First Base – Miguel Cabrera: Fielder isn't a bad projection here – he'll certainly still be under contract then – but Cabrera's probably the better fielder (and athlete) of the two and could again make the shift across the diamond. Cabrera's current deal expires after the 2015 season, so they'd have to reach an agreement on an extension, but he's been the best hitter in the game of the last three or four years (and will likely continue to be), so the team will probably look to make a deal. Sadly, this all may hinge on Mike Ilitch's health.
Second Base – Danny Worth: I really don't think the 2016 second baseman is in the organization right now. Peralta and Omar Infante will be heading into their age 34 seasons by then, Hernan Perez, at 25, would be the right age to take over, but he hasn't yet shown the ability to hit at any minor league level, and Harold Castro, who just turned 19, is probably still a long way from the big leagues (though he hit well in Rookie Ball). Worth will likely be a second year arbitration player in 2016, so he won't be expensive, and his glove would be plus for an everyday second baseman though hitting has always been an issue with him. I sure hope Worth isn't a regular in 2016, but he might be the best bet to actually be on the 25-man roster when we get there.
Third Base – Nick Castellanos: Everyone I've read still believes that Castellanos' best future is at third base. Victor Martinez is signed for 2013 and 2014 – taking up the DH spot – but it's likely that Fielder and/or Cabrera move into that role starting in 2015, opening up third base for the organization's number one prospect. Castellanos will still be just entering his age 24 season in 2016, so plenty of youth and prospect status will remain – even if he spends the interim in the outfield. His batting numbers in Double-A Erie and the Arizona Fall League were disappointing, but his numbers on the whole are still great – he posted an OPS above .800 in both of his full minor league seasons (all aggressive assignments age-wise) and has a career OPS of .810 in 1175 career plate appearances.
Shortstop – Eugenio Suarez: I have no problem with Baseball America's pick of Suarez here. He's not destined for Troy Tulowitzki-like batting lines, but all accounts say he's good enough to handle the position defensively, and he's no offensive slouch either. His .789 OPS in West Michigan this past season was quite good, especially considering his 20-year age was young for the level.
Left Field – Andy Dirks: I don't see any reason why Jackson, who will still be just 29 in 2016, would have to move away from center field, so I don't think he should be in consideration here. Dirks will still be an arbitration eligible player in 2016 (third year), so he'll likely be around and affordable. If we want to turn this into a dream-fest, we could consider Danry Vasquez or Steven Moya – and either one is a possibility (Moya more than the 18-year old Vasquez) – but neither are extremely likely to be ready by 2016 (if at all). We still don't know what Dirks will be as a finished product, but his left-handed bat looks to be at least good enough to serve as the strong side of a platoon.
Center Field – Austin Jackson: Austin Schotts may very well turn into a heckuva player, but he'll still be a teenager for another year and hasn't yet played a full season of minor league ball. Austin Jackson, on the other hand, will still be in the prime of his career, will be the owner of at least one Gold Glove, and will be a multi-time All-Star selection at the position. He's not going anywhere. Of course, he becomes a free agent just prior to the 2016 season, so a long-term deal will need to be agreed to beforehand.
Oct 7, 2012; Detroit, MI, USA; Detroit Tigers center fielder Avisail Garcia (34) at bat during game two of the 2012 ALDS against the Oakland Athletics at Comerica Park. Mandatory Credit: Rick Osentoski-USA TODAY Sports
Right Field – Avisail Garcia: These sorts of things are always too prospect heavy for my taste (there's almost no way Garcia, Suarez, and Castellanos all turn out to be solid regulars), but Garcia might be as sure of a thing as the Tigers have in their system. He showed flashes in his short fall stint in the big leagues last season, but will need to improve drastically at the plate in the next year or so if he's going to pan out. It was clear that he was swinging for contact and not power – a sign of a smart player, to be sure – but it was an obvious sign that he's not ready for the big time yet. Fortunately 2016 is still a long way off, and he'll have plenty of time to season in the minors. His defense in right field isn't a concern, but he may add mass to that frame and slow by a step or two.
Designated Hitter – Prince Fielder: Prince has defied the odds with his body thus far, but it's tough to imagine that he's a player that will age gracefully. He's already a poor defender as a 28 year old and isn't likely to get better as he ages toward 32. Perhaps the Tigers will throw him a bone and allow him to play in the field half-time (with Cabrera), but I really see him becoming the team's long-term DH in the next couple of years.
Starting Pitchers – Justin Verlander, Max Scherzer, Doug Fister, Rick Porcello, Drew Smyly: If the Tigers don't re-sign Sanchez this offseason then yeah, these are the guys they'll be going with for the next year plus. They'll all be due for free agency (with the exception of Smyly) before the 2016 season arrives so Detroit would have to shell out some serious cash to keep them all around. I don't see that happening – more likely one or two are traded before then – but it's tough to say who, or when, or who else will be ready. Casey Crosby and/or Jake Thompson are two possibilities, but neither would be better bets than the five listed above.
Closer – Bruce Rondon: At worst he'll still be a first year arbitration player – and the organization seems to be in love with him – so there's no reason why he couldn't be the closer three years down the road (heck, he could be the closer this year). He'll need to prove his command and effectiveness at the major league level, but he's certainly on the doorstep of the show.