Re-assessing The Detroit Tigers' Payroll Situation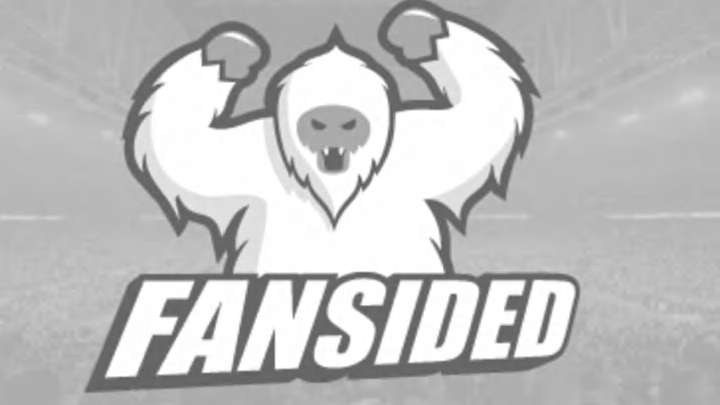 Oct 28, 2012; Detroit, MI, USA; Detroit Tigers first baseman Prince Fielder (28) waits in the on deck circle during the eighth inning of game four of the 2012 World Series against the San Francisco Giants at Comerica Park. Mandatory Credit: Rick Osentoski-USA TODAY Sports
I think the object lesson learned here — for the second season in a row — is to never underestimate Mike Ilitch's desire to build a winner and his willingness to commit to some large contracts in that pursuit. The possibility of signing a superstar player to a mega deal existed, but not many believed the team would shell out $25 million per season it would take to land Zack Greinke or Josh Hamilton. They didn't end up going down that road, but they did commit to over $100 million in total salary to Torii Hunter and Anibal Sanchez.
It marked the second straight year that the Detroit Tigers made signings that I didn't believe possible given payroll constraints. Handing out high dollar deals could signify a problem for the long-term health of the organization but, with the possible (probably) exception of the length of the Prince Fielder deal, there isn't an albatross contract in the group. And, with new TV money pumping huge dollars into the sport, there's a decent chance that the economics of the sport will look quite different in five (or so) years. Perhaps $24 million for an overweight designated hitter entering his mid-30's won't seem so crazy.
That's idle speculation on my part, however, and the fact remains that the Tigers have a lot of money committed to a relative few players for the next few years. If the team somehow struggles in the division, fails to qualify for the postseason, and doesn't continue to draw near-capacity crowds, they could run into a salary pinch. I wouldn't expect that to happen — they look like the best team in the AL Central by a fair margin — but I suppose it is a possibility. Here's a look at what the Tigers have on the books for the next three seasons (with the help of Cot's Contracts and MLB Trade Rumors).
2013
The Tigers have 12 players under contract for next season for a total of approximately $127 million. These players are: Prince Fielder, Miguel Cabrera, Justin Verlander, Anibal Sanchez, Victor Martinez, Torii Hunter, Jhonny Peralta, Joaquin Benoit, Omar Infante, Octavio Dotel, Ramon Santiago, and Brayan Pena. We don't yet know the exact terms of the Sanchez deal, but for the purposes of this post, I'm assuming it's a straight $16 million per season.
Seven more players are under team control as arbitration eligible players. These seven — Max Scherzer, Rick Porcello, Doug Fister, Austin Jackson, Alex Avila, Brennan Boesch, and Phil Coke — will earn an estimated $25.5 million next season based on the estimates provided by MLB Trade Rumors.
Six more players will be needed to fill out the 25-man roster internal options (who would all make the league minimum) would combine for about $3 million. Pick six of Andy Dirks, Al Alburquerque, Brayan Villarreal, Drew Smyly, Jeff Kobernus (Rule 5), Kyle Lobstein (Rule 5), Quintin Berry, Darin Downs, Danny Worth, Duane Below, Avisail Garcia, and Luis Marte. (Kobernus and Lobstein will either need to make the 25-man roster all season or be offered back to their original teams.)
Total everything up and we're looking at an opening day payroll just north of $155 million. That would be nearly $18 million more than the organization's previous high of approximately$138 million in 2008. It's no wonder why everyone expects them to trade Porcello to save a bit of money.
2014
Come next off-season, the Tigers will have only six players under contract — Fielder, Cabrera, Verlander, Sanchez, Hunter, and Martinez — but those six guys will earn just over $108 million. Somewhere between eight and ten more players will be arbitration eligible — Scherzer, Porcello, Fister, Jackson, Avila, Boesch, Coke, Alburquerque, and possibly Dirks and Worth. I don't have a systematic estimate for these players, but, if all ten are retained, the total here could quite possibly approach (or exceed) $40 million.
Notable players that will be "off the books" are Jhonny Peralta, Joaquin Benoit, Omar Infante, Octavio Dotel, Ramon Santiago. Say what you want about some of these guys (Peralta in particular), but it will be hard to replace the value they give at such a low cost. The Tigers are looking at around $148 million in commitments to only 19 roster spots and they'll still need to find a starting shortstop, second baseman, and a setup man or two. Even if the remaining spots are filled with guys earning the minimum, it will be hard to come out much south of the $155 million we're likely seeing this year.
2015
The 2015 season looks like the first year where things open up a bit. They "only" have $62 million committed, but that money only covers three players: Fielder, Cabrera, and Sanchez. Guys like Porcello, Fister, Avila, Jackson, Boesch, Dirks, Worth, Villarreal, and Alburquerque would still be under team control as arbitration eligible players, but it could take something like $44 million to retain them all. That's only a half a team's worth of players — and no Verlander, Scherzer, Hunter, Martinez, shorstop, or second baseman — with a payroll already probably eclipsing the $105 million mark.
The hope here is that Nick Castellanos, Avisail Garcia, and perhaps someone like Eugenio Suarez would be in position to claim starting roles, but even so, this would be the point at which ownership could pause an re-evaluate their "all in" approach — an extension for Verlander alone could start in the $30 million per season range (and they'll still need to find salary space for nearly 11 more players).
Team success over the next two years could very likely determine if the franchise can continue on as a top-five payroll club, or if they'll have to float back toward the middle of the pack. The Tigers have built themselves as big spenders, but they'll need to continue in that fashion wisely to avoid the trap of having too many overpriced veterans signed for too many years (remember Carlos Guillen?). Because if the money gravy train ever stops, it could be a long road to recovery.