Detroit Tigers: The Fate of Bryan Holaday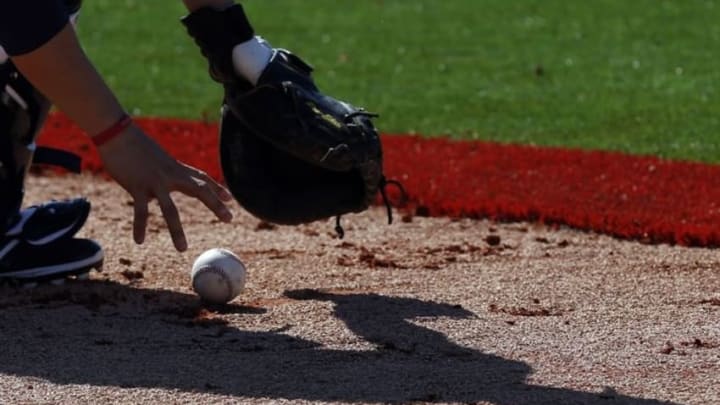 Feb 19, 2016; Lakeland, FL, USA; Detroit Tigers catcher Jarrod Saltalamacchia fields a ground ball at Joker Marchant Stadium. Mandatory Credit: Butch Dill-USA TODAY Sports /
Dear Bryan Holaday: Your epic spring training will not turn you into a full-time Detroit Tigers player.  – Fate
Feb 21, 2016; Lakeland, FL, USA; Detroit Tigers catcher James McCann (34) works out as he hits at Joker Marchant Stadium. Mandatory Credit: Kim Klement-USA TODAY Sports /
The "Most Interesting Man in Spring Training" has numbered days with the Detroit Tigers as April 4 quickly approaches. The fate of the back-up-to-the-back-up-catcher was captured in an editorial in The Detroit News by Lynn Henning. And the news is for Holaday is not good. But, it is nothing that should surprise Holaday. The oft-repeated mantra: "spring training truly does not count" is true for Doc Holaday. It really does not.
Despite the fact that Holaday has the best batting average of any player with 10 or more games and he is tied for first in the Tigers spring training home run race, the odds are against him to make the team. The Tigers only have room for 25 players on their regular season roster and carrying three catchers is not a reality – nor is it a necessity. This means Holaday will be wearing different colors, significantly different colors very soon.
The trade will be a sad one for the Tigers. Holaday is a clubhouse favorite, which is easy to see in the ear-to-ear grins he wears as he runs the bases. Just the fact that he has a nickname proves that he is a favorite in the clubhouse and with fans. Doc Holaday will be missed and there really isn't anything that he can do to secure a spot in Detroit – unless he can teach himself to bat left-handed.
More from Detroit Tigers News
Holaday's fate was practically decided when Alex Avila was snapped up by the Chicago White Sox. This left a gaping hole in the right-handed line-up (no pun intended). Jarrod Saltalamacchia filled that hole. While Holaday's .600 batting average and four home runs is an epic record in his 10 games. Salty's .368 batting average with two home runs is nothing to laugh it in his seven games, especially considering his performance in the previous few years. It is clear that Saltalamacchia wants to be a solid addition to the team and his signing was the first sign that Holaday was soon to be gone.
And, if you wondered if adding Salty was an upgrade, here's Avila's slash line in Glendale, Arizona with the Sox: .000/.400/.000. No hits. Seven strikeouts. Six walks. Yes, it's ok to smile a little.
Mar 2, 2016; Tampa, FL, USA; Detroit Tigers catcher Bryan Holaday (50) hits a grand slam during the second inning against the New York Yankees at George M. Steinbrenner Field. Mandatory Credit: Kim Klement-USA TODAY Sports /
So, how much longer will the Tigers and the fans enjoy the performance of Doc? Probably through the end of Spring Training. Even though he has been playing left field, at third base, and at catcher, Henning believes that Ausmus is trying to give Doc all the exposure he can to up his value. Odds are that Holaday knows this. The Detroit Tigers have more home runs than any team in spring training and four of those belong to Holaday.
Since Holaday's options are out, he will either be traded or put on waivers. And, if he is put on waivers, he will not go back to the Tigers. Henning put it brilliantly: "And should the 28-year-old catcher, who has big league experience and adequate skills, be yielded to the waiver wire he would be slurped up like a pizza left at midnight in a dorm hall."
Next: Detroit Tigers: Waivers and Options 101
Yup. Enjoy Doc's big hits, big personality, and big smile while you. He won't be in the Old English D for much longer.