Detroit Tigers: Do's And Dont's Before Trade Deadline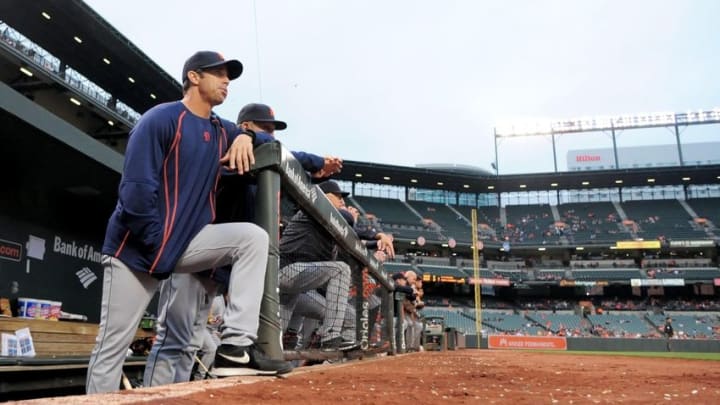 May 12, 2016; Baltimore, MD, USA; Detroit Tigers manager Brad Ausmus (7) looks on during a game against the Baltimore Orioles at Oriole Park at Camden Yards. The Baltimore Orioles won 7-5. Mandatory Credit: Evan Habeeb-USA TODAY Sports /
The Detroit Tigers are right at .500, and to make matters worse, they lost All-Star Outfielder J.D. Martinez for 4-6 weeks. These are the things Detroit should and shouldn't do leading up to the trade deadline.
The Detroit Tigers just showed an embarrassing display of baseball against the Kansas City Royals. The offense was stagnant, and the bullpen was atrocious.
Al Avila is trying to figure things out after calling up Steven Moya after the Martinez injury, and swapping relievers Kyle Ryan and Bruce Rondon for Blaine Hardy and Matt Boyd. Dustin Molleken was also just called up to the big leagues after third basemen Casey McGehee was designated for assignment. But more moves still need to be made before the August 1st Trade Deadline.
Do: Trade for a solid reliever.
The Detroit Tigers are in desperate need of a better bullpen. If the Tigers are going to make a run at a championship this year, a better bullpen will be necessary.
In recent years, bullpens have led the way to the playoffs and beyond. With the exception of Francisco Rodriguez, the Tigers' bullpen is flat out one of the worst in baseball, and fans know it.
This bullpen seems to be more like a pigpen: it stinks and it's difficult to watch. The most disappointing pitcher is Mark Lowe. Last season was exemplary for Lowe, he had a 1.96 ERA in 55 innings with 61 strikeouts. The Tigers need him and many others in this terrible pen to make a run at the World Series.
More from Detroit Tigers News
Don't: Trade for an outfielder
This is something some fans will not like to here, but the Detroit Tigers should not trade for an outfielder to replace Martinez. The Tigers have a variety of players that can take his place in the minors. Former top prospect Moya has played well since being recalled. There are also a few other options as well such as Anthony Gose, Tyler Collins, or JaCoby Jones.
Detroit also shouldn't trade for an outfielder because they would have to trade valuable prospects in order to get one. The Tigers already do not have a very established farm system.
They do not have many pieces that are desirable to other teams. The Tigers have greater needs than just an outfielder. Prospects should not be wasted for someone to fill in a role for a few weeks rather than someone who can impact the rest of the season. Once J.D. returns, what would they do with an outfielder they traded for?
Do: Get Mike Pelfrey out of the rotation
Mike Pelfrey continues to struggle, and Brad Ausmus continues to keep him in the rotation. Pelfrey is 1-7, with a 4.79 ERA. 
Live Feed
MLB Probable Pitchers for Saturday, September 17 (Who's Starting for Every MLB Team?) /
Betsided
Mediocrity has been the best word to describe his entire career. In his 11 years in the majors, the pitcher is 62-88, with a 4.58 ERA. This makes me wonder why Avila brought him in in the first place.
Pelfrey's run support has not been the greatest, but with an ERA at almost five, it hasn't been a big issue. When Pelfrey starts the Tigers are almost guaranteed a loss with the atrocious bullpen behind him.
The Detroit Tigers have a few options to fill that role. They could put Shane Greene back in the rotation as he has been pitching well in the bullpen. This move would be very risky, but it could also be a great reward.
Another player could be Matt Boyd, although he hasn't preformed very well either this year. They could also go out and make a trade for someone. However, I definitely do not think they need to break the bank and trade for a top of the rotation pitcher.
Don't: Add another big contract
The Detroit Tigers do not have much more money to spend. Detroit is spending over $196 million dollars this season (per Spotrac), which ranks fourth behind only the Yankees, Dodgers and Red Sox. The players are definitely not performing to that pay grade.
The best example of this is Anibal Sanchez. The Tigers really don't know what to do with him. He has played terribly in the rotation, and hasn't improved in the bullpen either. The Tigers need to figure something out, otherwise the $16.8 million being spent on him this year will go to waste.
With Sanchez' contract and six other players set to make $14 million or more, the Tigers do not have the funds to add another big contract. Adding another large contract could also make the future messy when Nick Castellanos, James McCann, Michael Fulmer, and others will need to be paid.
Next: Four Bullpen Trades the Tigers Should Make
The Detroit Tigers have a lot of work to do in order to make a postseason run. They are sitting at .500, 4.5 game behind first place. The Tigers do need to bolster their pitching staff, both in the bullpen and the rotation. However, the do not need to trade for an outfielder or add another massive contract. There is still plenty of time in the season, but the Tigers have a lot to think about and consider before the August 1 trade deadline.