Detroit Tigers: Evaluating Victor Martinez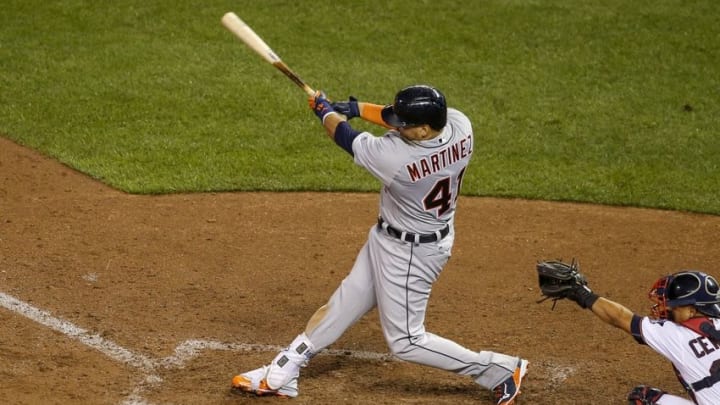 Aug 23, 2016; Minneapolis, MN, USA; Detroit Tigers designated hitter Victor Martinez (41) hits a home run against the Minnesota Twins in the seventh inning at Target Field. The Tigers win 8-3. Mandatory Credit: Bruce Kluckhohn-USA TODAY Sports /
On December 23, Detroit Tigers DH Victor Martinez will be 38 years old. While he is not the oldest player in baseball, there are signs that his body is performing as if he is.
The Detroit Tigers were not even close to having the oldest player in the league. The New York Mets get that honor with Bartolo Colon and the Miami Marlins have the second oldest, Ichiro Suzuki.
But, when it comes to age and ability, Martinez is physically closer to Colon than he is to Ichiro. While it was still fun to watch Colon take the mound and pound the plate, I can safely say that many fans were anything but overjoyed to watch Martinez face opposing pitchers.
There is no question that the man can hit. He ended the 2016 season with a batting average of .289 with 27 home runs, 65 hits, and 22 doubles. The problem with Martinez is that he just can't get to the bases fast enough. His inability to get to first made him a bit of a liability, as he grounded into double plays 19 times.
Issues with Victor's Performance
The other issue with Victor was the number of strikeouts he had this season. He had 90 strikeouts, which is just a few less than his 2014 (42) and 2015 (52) numbers combined. In fact, 2016 marked the most strikeouts that V-Mart has ever had in one season.
For several seasons, Victor has been batting clean-up after Miguel Cabrera. He was originally placed there so that pitchers would not be tempted to walk Cabrera. Unfortunately, Martinez no longer served as much of a threat. Yes, there was always the chance that Martinez could go yard and bring in the best hitter in baseball, but it didn't happen as often as we fans hoped.
Big RBIs
Martinez did finish the season with 98 RBIs. One of his biggest RBIs came on September 22 against the Minnesota Twins. He came in to pinch hit with two men on base and he hit a home run, contributing to the 9-2 win over the Twinkies. A few days later in a game against the Kansas City Royals, he earned four more RBIs.
It was nice to see him come through at the end of the season, but the problems were bigger than the RBIs. When Martinez was walked, which happened intentionally 8 times and unintentionally 50 times, he wasn't much of a threat.
Troubles Getting Around the Bases
Aug 26, 2016; Detroit, MI, USA; Detroit Tigers designated hitter Victor Martinez (41) score a run against the Los Angeles Angels at Comerica Park. Mandatory Credit: Rick Osentoski-USA TODAY Sports /
When Martinez reached first base, it was a serious struggle for the rest of the lineup to move him. First, there is no base stealing with him, so it was impossible to get him in scoring position. This is evident by the fact that J.D. Martinez only had 68 RBIs, despite his 141 hits and 22 home runs. Unless J.D. got an extraordinary hit, Victor could only move one base.
Prior to breaking his hand, Nick Castellanos batted sixth behind J.D. Martinez. He, too, had just 58 RBIs, which also shows how difficult it is to get both Victor and J.D. around the diamond. Victor's slow speed kept J.D. from stealing bases and getting home on Castellanos's hits. This then led to Justin Upton striking out or grounding into double plays and leaving men on base.
More from Detroit Tigers News
His Knees Didn't Help the Team
As a designated hitter, Martinez's job is to get on base and score runs. But, if he cannot run around the bases, isn't it time for him to give up the position to someone else? He looks like he is in pain nearly all the time and his position in the batting order is not doing the rest of the team any favors.
Don't get me wrong, I absolutely love watching Victor Martinez do his thing. His home runs are glorious feats of eye-hand coordination. I also love the fact that when he hits the long ball, he gets to slowly trot around the bases. But, when his hits don't go over the fence, I'm constantly worried that his poor knees will give out on him (and I know I'm not alone). Even with those knees of his, he's got two more years of $18 million contracts with the Tigers. It is highly doubtful that any team in the MLB would invest that much in a man who should always be covered in bubble wrap.
Next: Grading Al Avila's First Season
So, I wonder if that $18 million would be better spent letting him take over as the bench coach or the hitting coach for the next two years. Miguel Cabrera can DH and I'm sure the Tigers could find a first baseman somewhere (Steven Moya, perhaps?). It would certainly be better on those knees, so he might be able to actually walk out of Comerica Park after his 40th birthday.