Detroit Tigers: An unscientific way to predict 2018 performance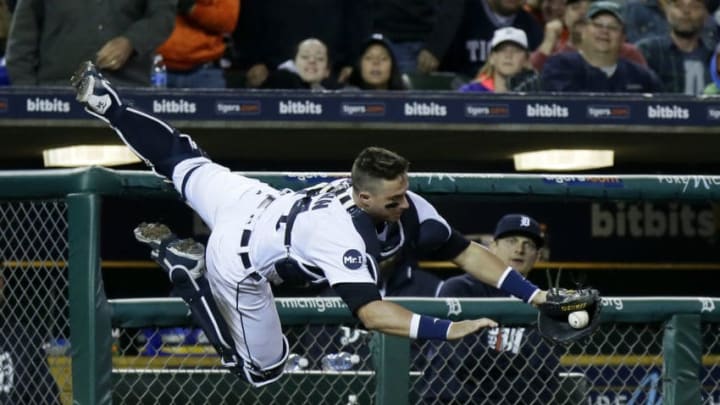 DETROIT, MI - MAY 20: Catcher James McCann #34 of the Detroit Tigers makes the catch on a foul ball hit by Joey Gallo of the Texas Rangers during the seventh inning at Comerica Park on May 20, 2017 in Detroit, Michigan. (Photo by Duane Burleson/Getty Images) /
DETROIT, MI – MAY 20: Catcher James McCann #34 of the Detroit Tigers makes the catch on a foul ball hit by Joey Gallo of the Texas Rangers during the seventh inning at Comerica Park on May 20, 2017 in Detroit, Michigan. (Photo by Duane Burleson/Getty Images) /
First up for the Tigers are the catchers. John Hicks has not been around long enough, so instead we will compare numbers for veteran minor league signees Brayan Pena and Derek Norris. First up, however, is the starter.
Although d'Arnaud was a highly touted prospect and McCann was a lesser known commodity, their careers have looked rather similar up to this point. Injuries have played a much bigger part in d'Arnaud's career up to this point, with McCann managing to stay relatively injury free. In 2017, the 28-year-old d'Arnaud slashed .244/.293/.443 with 16 home runs and 57 RBI. The Tigers would like  more from McCann in the BA/OBP department, but 16 home runs seems about right for the McCannon. d'Arnaud only saw 376 plate appearances however, so if McCann remains healthy he has a solid chance at 20 home runs next season.
Apparently Pena's 12-year-career has most closely resembled a player who played over 125 years ago. Baseball is fun isn't it? Keenan's final season in the show was in 1891, when he slashed .202/.302/.317 with four home runs, and five triples. While five triples does not seem remotely likely, a low average and a handful of home runs is about all you could expect out of Pena, if he were to serve as the backup catcher.
Derek Norris: 2010 John Buck
Norris' career up to this point has been so unconventional that his comparisons are even less reliable than others. Few players have already peaked and cratered by age 28 like Norris has. Case in point is his comparison, the 2010 version of John Buck. 2010 was Buck's finest big league season, as the veteran catcher blasted 20 home runs with a .281 average, making his only career All-Star game. Norris has already made his one career ASG, and seems very unlikely to do much, if anything, with the stick in Detroit.