Detroit Tigers: An unscientific way to predict 2018 performance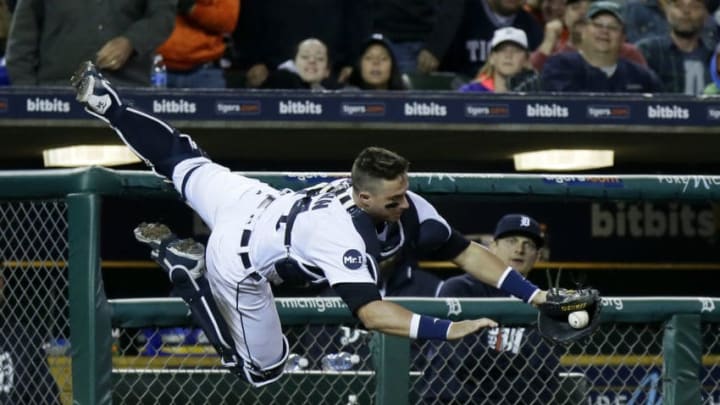 DETROIT, MI - MAY 20: Catcher James McCann #34 of the Detroit Tigers makes the catch on a foul ball hit by Joey Gallo of the Texas Rangers during the seventh inning at Comerica Park on May 20, 2017 in Detroit, Michigan. (Photo by Duane Burleson/Getty Images) /
NEW YORK, NY – AUGUST 02: Miguel Cabrera #24 of the Detroit Tigers celebrates the last out of the game against the New York Yankees on August 2, 2017 at Yankee Stadium in the Bronx borough of New York City. (Photo by Elsa/Getty Images) /
Dixon Machado and Jeimer Candelario are expected to start at second base and third base, respectively, next season. However, neither of them have been around long enough to have registered any comparisons, so they will not be a part of this exercise. In this place I'll use the two veterans who are competing for the utility infield role, Pete Kozma and Alexi Amarista. Only one of them will likely make the team, however.
First up is a player who has been around plenty, Tigers first baseman Miguel Cabrera.
As one might expect, the more statistics a player has racked up the more challenging it is to find similar player comparisons. However, Cabrera has shown a lot of similarities through age 34 to superstar slugger Albert Pujols, now of the Los Angeles Angels. Pujols' career has taken a much publicized downturn in his later years, something many fans are afraid may happen to Cabrera. While that still could be the case, it is worth noting that Pujols had a strong season in 2015, blasting 40 home runs and posting a 118 OPS+. He made his tenth All-Star game and finished with 95 RBI. Tiger fans would be thrilled with 40 home runs from Cabrera next season. It would mean he surpassed the 500 home run plateau, which he is currently 38 home runs shy of.
This comparison is actually quite spooky, as Iglesias and Stocker both have a very similar set of skills. Stocker was a glove first shortstop who got off to a very hot start offensively, before seeing his hitting steadily decline over time. Still, he remained a starting shortstop even through his decline because of solid work with the glove. Sound familiar? Fans can hope Iggy's fate is not the same as Stocker's, who was out of the game by age 30. He hit .208/.282/.313 with six home runs and five stolen bases in 1998. Iglesias hopefully will show more than that next season.
This comparison is a good example of why this exercise should be taken with a grain of salt. At age 29, Amarista and McLemore's careers happened to intersect at a similar place. Each of them, however, were on very different paths. McLemore would go on to play 10 more years, with his best seasons long ahead of him. Amarista looks to be nearing the end of the line, already resorting to minor league contracts with rebuilding teams. It is certainly possible Amarista will make a comeback and play decent ball, but accruing nearly 5,000 more plate appearances (like McLemore did) seems unlikely.
McLemore hit .257 with 20 stolen bases in 343 at-bats in 1994, numbers that Amarista will not reach unless injuries affect Detroit's other starters.
Quintanilla was a first round draft pick in 2003 who made his big league debut just two short years later with the Rockies. His career never really got off the ground however, and he has only received more than 100 at-bats in four big league seasons. One of those was 2012, when he hit .243 with four home runs in 169 at-bats. Kozma's career has seen a somewhat similar path, and he does not seem likely to see many at-bats in the Motor City.
Martinez's closest comparison through age 38 is actually veteran second baseman Chase Utley, who just completed his age 38 season. Since we have not seen Utley's age 39 season yet, we move on down the list. In one of the more telling comparisons, the next six players all retired before their age 39 season. While V-Mart is unlikely to walk away from the $18 million dollars he is guaranteed next season, he also seems unlikely to replicate what his closest comparison did at age 39, former catcher/outfielder B.J. Surhoff. Surhoff hit .309/.365/.420 with eight home runs and 50 RBI in 343 at-bats in 2004. While V-Mart likely won't hit .309 next season, if he stays healthy he should see double-digit home runs.
Hopefully, he can achieve the 13 necessary to reach 250 home runs for his career before he hangs them up for good.