Detroit Tigers: An unscientific way to predict 2018 performance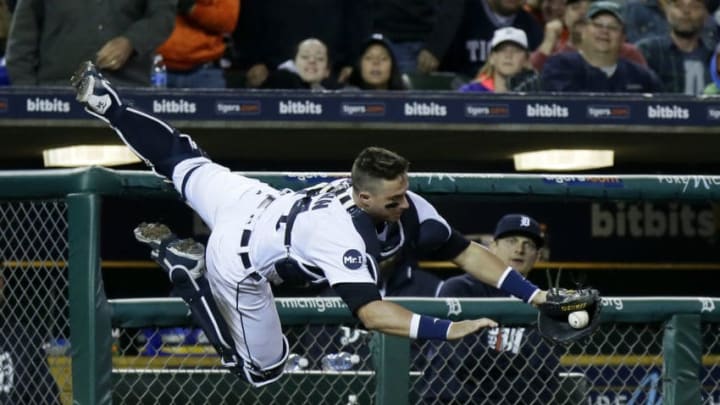 DETROIT, MI - MAY 20: Catcher James McCann #34 of the Detroit Tigers makes the catch on a foul ball hit by Joey Gallo of the Texas Rangers during the seventh inning at Comerica Park on May 20, 2017 in Detroit, Michigan. (Photo by Duane Burleson/Getty Images) /
SAN DIEGO, CA – JUNE 25: Jordan Zimmermann #27 of the Detroit Tigers pitches during the first inning of a baseball game against the San Diego Padres at PETCO Park on June 25, 2017 in San Diego, California. (Photo by Denis Poroy/Getty Images) /
Fulmer's similarity scores through age 24 are a solid example of how volatile pitching prospects can be. Crone, Vance Worley and Zack Wheeler, Fulmer's top three comparisons, all quickly flamed out and never really found sustainable big league success. However, Fulmer's other comparisons include Rick Aguilera, Luis Tiant and Josh Johnson, all of whom had longer, much more successful careers. Tigers fans will obviously hope for the latter from their young ace pitcher. For what it's worth, Crone's age 25 season he went 7-9 with a 4.62 ERA and a 1.47 WHIP. I think barring a catastrophe, Fulmer should be able to exceed that mark.
Reynolds went 19-8 and 16-14 in 1998 and 1999, leading the league in games started both years. His decline started in 2000 at age 32, when he sported an ugly 5.22 ERA and a 7-8 record. Zimmermann appears to have already had his sharp decline, so fans will hope that a rebound is in the cards for the 32-year-old right-hander and two-time All-Star.
Fiers and Gonzalez made their debuts a year apart and have followed similar career paths as back end rotation fillers. In 2017 at age 33 Gonzalez went 8-13 with a 4.62 ERA in 153.1 innings, split between the White Sox and the Rangers. Fiers should fare better then that, although expecting an ERA under 4.00 is ambitious for the right-hander.
A highly-touted left-hander who made his big league debut at a young age and struggled early in his career, it is easy to see why Norris and Maholm's careers intersect. Maholm went 10-15 with a 5.02 ERA and a 1.42 WHIP in 2007 at age 25. He found more success later on in his career before retiring at age 32 from injuries. Norris will hope to find that success sooner than Maholm did, although he still has some kinks to iron out if he wants to reach his ceiling as a dependable mid-rotation starter.
So I cheated on this one a little bit, as Robertson was not the first name that came up for Boyd. However, he is the only comparison who has had a similar path. The others were all relievers. Boyd has only put together one season with over 100 innings, so it is easy to see why his profile matches those of a reliever. Still, I couldn't resist drawing comparisons to Robertson, who was a Tiger for seven years. His tenure included being a rotation piece on the 2006 Tigers team that went to the World Series.
Robertson posted a 4.48 ERA and a 1.35 WHIP in 2005 at age 27. Boyd looks the part of a back-end rotation left-hander, and Robertson is probably a fair comparison. Hopefully Boyd can find a little more success than Robertson did in his career. However, a lefty who is capable of eating up innings at the back of a rotation for five or so years is a realistic outcome for Boyd. Once the rebuild is complete, Boyd likely will not be a part of the teams future.