Detroit Tigers: An unscientific way to predict 2018 performance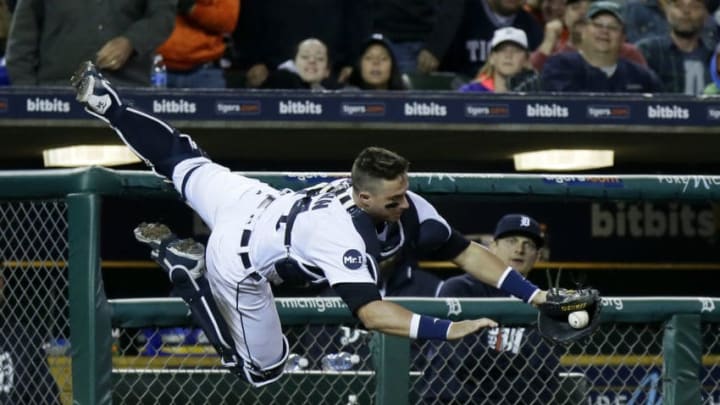 DETROIT, MI - MAY 20: Catcher James McCann #34 of the Detroit Tigers makes the catch on a foul ball hit by Joey Gallo of the Texas Rangers during the seventh inning at Comerica Park on May 20, 2017 in Detroit, Michigan. (Photo by Duane Burleson/Getty Images) /
DETROIT, MI – AUGUST 18: Alex Wilson #30 of the Detroit Tigers pitches in the seventh inning of the game against the Boston Red Sox on August 18, 2016 at Comerica Park in Detroit, Michigan. (Photo by Leon Halip/Getty Images) /
The Tigers have had a hard time deciding what to do with Farmer. He has appeared in 43 games with Detroit, 19 of them as a starter and the other 24 out of the pen. The results haven't been good either way, and his days may be numbered. The same was true for Dave Borkowski in 2004, who had not appeared in a big league game in two years. He appeared in 17 games (eight starts) and pitched to a 5.14 ERA with a 1.42 WHIP. Here's to hoping Farmer is better, but this seems like a realistic projection.
Greene's career trajectory from starter to reliever to closer is a rare one, which confused the age comparison chart. The result ended up being Curt Leskanic, who is one of the few who fits Greene's profile. Leskanic started 11 games combined in his first two big league seasons, before transitioning to the bullpen and even saving 10 games in 1995. Unfortunately, if Greene truly follows in Leskanic's footsteps than next season may not be pretty. Leskanic put up a 5.55 ERA and a 1.42 WHIP in 58.1 innings in 1997, his age 29 season. He went on to have a pretty solid career as a reliever, which seems likely for Greene.
Tigers fans will hope that Greene doesn't have as ugly of a season next year as Leskanic did.
Neshek's career got off to a hot start before he went through a multi-year rough patch. He emerged stronger than ever and just made his second All-Star team in 2017, at age 36. Alex Wilson may just be beginning his rough patch after a career-worst 2017 season. Neshek only threw 19.2 innings in his age 31 season, with a 1.37 ERA. Hopefully Wilson is able to log more time on the mound next season, whether as a starter or a reliever.
Sherrill was a late bloomer, not making the big leagues until age 27 and having his two best seasons in 2007 and 2009, at ages 30 and 32. His age 31 season was sandwiched in between in 2008. Despite making his only All-Star game appearance, he pitched to an ugly 4.70 ERA and 1.50 WHIP. Hardy also debuted at age 27 and although he has had some good seasons already, could definitely fit the bill as a late bloomer. Let's hope next season Hardy somehow finds himself in an All-Star game.
Wood was almost exclusively a starter through 2014. He transitioned to the bullpen after that, where he has resided the last few years. Mercker's career was the exact opposite, starting out as a reliever before actually transitioning into the starting rotation. This transition is much more rare, and is one fellow Tiger Alex Wilson is hoping to make. In 1999 Mercker started 23 games and pitched to a 4.80 ERA and a 1.63 WHIP. Wood seems much more likely to make the Tigers as a reliever rather than a starter. His 6.80 ERA from last season is not encouraging, but Wood has had a lot of success working with pitching coach Chris Bosio, so there is a good chance for him to rebound in the Motor City. Certainly, he is capable of doing more than Mercker did at age 31.
Next: Analyzing the last 10 Tigers drafts
This projection system should be used more for entertainment than actual predictions for our Tigers in 2018. Still, it can be fun to see how similar players in baseball's history have fared at roughly the same age.
The Tigers will hope to get strong bounceback performances from many of their veterans next season. Their younger players will continue to develop, pushing for a contention window in the not-too-distant future. Regardless, it will surely be a season with plenty of ups and downs.