Detroit Tigers: Shane Greene posted an ugly year compared to 2017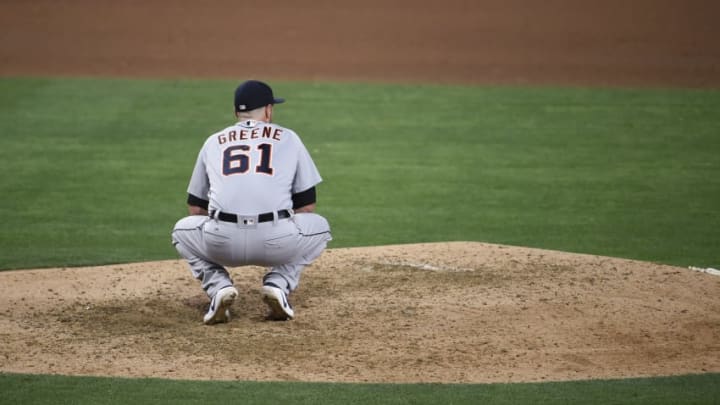 SAN DIEGO, CA - JUNE 24: Shane Greene #61 of the Detroit Tigers looks to the outfield after giving up a two-run home run to Hector Sanchez #44 of the San Diego Padres during the eighth inning of a baseball game at PETCO Park on June 24, 2017 in San Diego, California. (Photo by Denis Poroy/Getty Images) /
With the 2018 season coming to a close, we are providing year-end grades to each Detroit Tigers player who donned the Old English D in 2018.
The Detroit Tigers completed the first year of what looks to be a multi-year rebuilding process. While the team was hard to watch at times, there is still plenty to evaluate from this season as we look ahead to the next few years.
As with any team, there were a lot of excellent performances, surprise performances, and of course disappointing performances. Here at Motor City Bengals, we are going to be evaluating each player who suited up for the Detroit Tigers this season. We will analyze how they performed, what their future holds in the Motor City, and we will provide them a grade.
Note: the grade will be relative to what was expected of them. So a player who performed well above expectations may earn a B or an A, even if their actual season numbers are not that elite. If you disagree, feel free to drop us a comment. We would love to have discussions about these!
A handful of Tigers pitchers have already been evaluated, including Sandy Baez (here), Victor Alcantara (here), Matt Hall (here), and Chad Bell (here). We continue grading the pitchers as we turn to Shane Green for our next 2018 review.
Shane Greene
In 2017 Greene posted a 2.66 ERA, whereas in 2018 that number was a 5.12 ERA. He seemed to lack control when pitching on consecutive days. He easily won the closer role in 2017. However, he struggled in his first full season in that role.
The Tigers bullpen is notoriously a mess. A down season generally isn't cause for concern. However, the Tigers should be cautious of Greene going forward if he continues to be hitable in the future.
Hopefully though, the veteran pitcher can get back on the right track.
Grade: C
Check back here daily for more player grades! And if you'd like to discuss any grades, please leave us a comment on our Facebook or Twitter page.