Detroit Tigers: Do they have any non-tender candidates?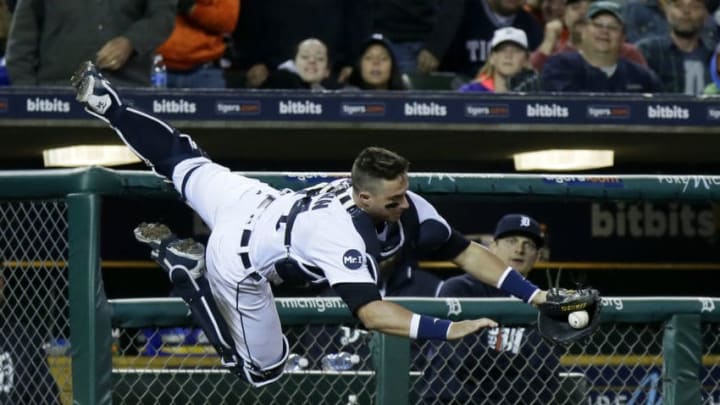 DETROIT, MI - MAY 20: Catcher James McCann #34 of the Detroit Tigers makes the catch on a foul ball hit by Joey Gallo of the Texas Rangers during the seventh inning at Comerica Park on May 20, 2017 in Detroit, Michigan. (Photo by Duane Burleson/Getty Images) /
The Detroit Tigers will head into the offseason with nine arbitration eligible players. Will they non-tender any of them?
One of the first tasks for Detroit Tigers general manager Al Avila this offseason will be determining how they want to handle Detroit's nine arbitration eligible players. Arb-eligible players usually work out a one-year deal to stay with their team, although there are other options.
For starters, teams could go all the way to arbitration, in which case a third-party would step in and determine their salary. Otherwise, the players can be non-tendered, in which case they become a free agent.
The Tigers, like most teams, will come to an agreement with the majority of their players before arbitration comes into play. However, they do have a few players who could be non-tendered as the team shoots for a younger, less expensive team.
Here are the nine arb-eligible players, what their expected arb salaries are (based on MLBTradeRumor's Arb projections) and how I think the Detroit Tigers will handle each scenario.
Nicholas Castellanos – $11.3M
Castellanos is coming off another career season, cementing himself as a franchise cornerstone for the Tigers. However, he will cost over $10M next year, and is a free agent after that. If Detroit cannot reach an extension with the slugger, he could become a trade candidate next season, or possibly even this offseason.
Greene was Detroit's closer all of last season, despite a high ERA and inconsistent results. He will be a free agent after the 2020 season, and will probably cost Detroit around $5M next year. I wouldn't be surprised to see Detroit shop Greene this offseason, but he strikes me more as a July trade candidate. Joe Jimenez is waiting in the wings to take over as Detroit's closer.
McCann completed another year as Detroit's starting catcher, although he took a big step backward offensively. With his price rising, his performance dropping, and a few other catchers waiting in the wings, McCann is a non-tender candidate. Grayson Greiner's recent injury could make Detroit more inclined to keep him though. Ultimately I think McCann starts out in Detroit next season, but I doubt he makes it through 2020 when he becomes a free agent.
Fulmer had a disastrous 2018 season, one that has completely plummeted his trade value. As such, he is much more valuable to the Tigers at $3.0M than he would be as a trade candidate. Let's hope for a rebound from the former AL Rookie of the Year winner.
Boyd had the best season of his career last year, solidifying himself as Detroit's best starting pitcher. At just $3M and with team control through 2022, he will be a highly-sought after trade candidate this offseason. Don't be surprised to see Boyd's name in multiple rumors.
Wilson had a quietly solid season last year, continuing to be a rock in Detroit's messy bullpen. At just under $3M, Wilson is probably worth more to Detroit than he would bring back in prospects. However, his age makes him a trade candidate, and it's possible bullpen hungry teams will come knocking this offseason – or next July.
Norris spent more time on the DL than on the roster last season, which wasn't good for his development but does keep his cost down. The Tigers have no reason to not hold onto the electric left-hander at just $1.5M next year, so expect to see him competing for a rotation spot come spring training.
Hardy had the best season of his career last year, making 13 starts and 17 bullpen appearances and posting a 3.56 ERA. He is a steal at $1.2M, but his advanced age could make him an appealing trade candidate – especially coming off the year that he had.
VerHagen got a full-time shot as a reliever, and had a solid season. At 900K, he is worth holding onto next season. He may never live up to the billing he had when Detroit drafted him, but becoming a solid middle reliever seems like it is in the cards for the right-hander.
The Detroit Tigers have a lot of important decisions ahead of them before the 2019 season gets underway. How they handle these arb decisions could have a big impact on the future of this organization as they trudge through their rebuild.