Why Tigerfest is Important to the Fans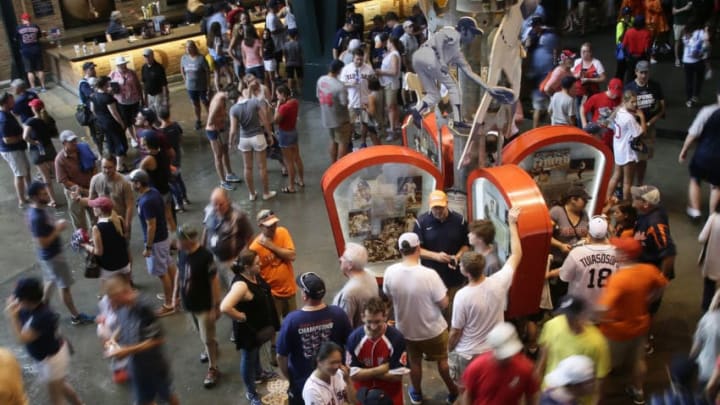 DETROIT, MI - JULY 6: Fans crowd the concours at Comerica Park during a rain delay for the Detroit Tigers game against the Boston Red Sox on July 6, 2019 in Detroit, Michigan. (Photo by Duane Burleson/Getty Images) /
TigerFest is only a month away, or at least it's supposed to be.
Last season, the 24th annual TigerFest was held on Jan. 26th at Comerica Park. This year, however, it's in doubt whether or not there will be a 25th.
As of Saturday night, there still hasn't been an official announcement from the Tigers on the event, according to Tony Paul of the Detroit News.
Not only is this shroud of doubt curious, but it's also a bummer to many who showed up, rain or shine, in sleet or blistering cold at Comerica Park or people who can remember at Joe Louis Arena or Cobo.
My first one was back in high school when it was at Cobo Arena in 1999 when I took the People Mover over with my two brothers and had deep dish pizza for the first time.
Despite the team's record, it would be great to see how Miguel Cabrera's diet is going. When was the last time you saw Michael Fulmer? Perhaps you want to shake Niko Goodrum's hand for helping the people of Flint during the water crisis. Heck, maybe meet the newest free-agent pickups in Jonathan Schoop and C.J.Cron. Or possibly push the narrative about Lou Whitaker's number finally being retired.
Right now Detroit sports is in a funk, and to show off the likes of your future pitchers in Matt Manning, Casey Mize, Alex Fadeo and Riley Greene could provide Tigers fans a chance to meet what the future holds. Tigers fans, outside of the stock picture of the big international signing of Roberto Campos, have you actually seen what he looks like in person? I know I haven't, but it'd be neat to see him in person.
Hopefully, within the next few days, we hear something about purchasing tickets for TigerFest and the Winter Caravan that starts up before Spring Training.
The Tigers are doing a disservice to its fans that want to meet their favorite players, and meet their newest Tigers. If there is a logistics issue, then just come out and let people know. Why continue to anger a fan base after a year the team only drew just over 1.5 million at the gate, which ranked you near the bottom of the American League?
The Tigers need to do the right thing and end this shroud of doubt around a fun tradition for both the city and fans alike. People have been asking for this to continue, and hopefully, it does.
The 25th TigerFest would be a great opportunity for people to connect to the Tigers. And if the Tigers aren't interested, then just come out and say it.
My tone is not one of anger, but just as a person who is just curious about the lack of an announcement. I have been able to talk baseball on many different platforms and have enjoyed the experience of getting opportunities that I am beyond grateful for. People have been asking for this on social media. Please continue the tradition so Tigers fans can have the opportunity to connect to the team they root for. Pretty easy move to make.