Detroit Tigers: MLB Draft MCB Staff Predictions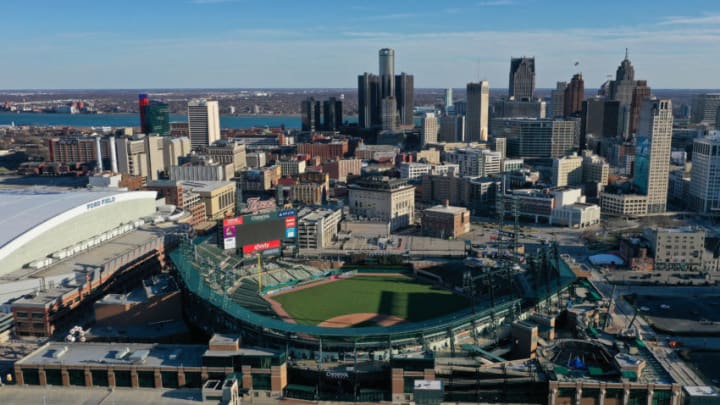 Aerial view of Comerica Park from a drone on March 14, 2020 in Detroit, Michigan. (Photo by Gregory Shamus/Getty Images) /
The MCB staff give their first two rounds predictions on who the Detroit Tigers will pick this evening.
Tonight is the night that Detroit Tigers fans have been waiting for since the season ended. This will be the first Tigers' related action happening since spring training. Last night, we at FanSided did a Twitter mock draft to kick things off.
From reports from Lynn Henning of the Detroit News, it looks like that  Spencer Torkelson will be the most likely pick. That did not stop us to do our first-ever staff predictions for where the Detroit Tigers may go in the second round. The general conscious had the four of us going with Torkelson going first but for the 38th pick, we all differed a bit.
MCB Staff Member Jon Welter (Twitter @welterj)
I would draft Torkelson first. I think Martin or Gonzalez could have a higher career playing at more demanding positions but Detroit needs a power hitter to build around and if they don't take Tork they could regret it for years.
And then Gage Workman in the second round. A plus defender at third that should get a tryout at short now that Alika Williams isn't in his way. If he can make consistent contact he has the upside of a top 10 pick. Just a dynamic player. Reminds me of Brandon Inge. Power and defense over hitting which is where the game has gone to over the last few seasons.
MCB Staff Member Jacob Boes (Twitter @MCB_jakeboes)
Pick 1: Spencer Torkelson, 1B, ASU. This draft is bringing back memories of 2018 when Detroit selected Casey Mize at #1 overall. Like Mize, Torkelson has been the consensus number 1 selection for some time now and it's hard to see Detroit going anywhere else at this point.
Torkelson may not present the highest upside among draft prospects, but he does have the lowest floor; meaning even if he doesn't reach his full potential, he's still a solid first baseman for years. Certainty is important for a team that's desperate to start being competitive again, and Torkelson brings some level of that with his track record and college experience.
Drafting based on need is generally frowned upon in baseball, especially with the number 1 pick, but it is well-documented that Miguel Cabrera is finished at first and between his position and his skill set, Torkelson would bring a lot of what Detroit currently lacks in their system.
Pick 38: Justin Lange, RHP, Llano HS (TX). Sticking to the 2018 blueprint, I have the Tigers taking a low risk, consensus option with the first pick, and then a high upside high school talent with the second pick.
Detroit has stated publicly they are not afraid to continue to add pitching, so Lange is a very real possibility considering he's a Texas high school arm (like Beau Burrows) and has a tall frame with projection remaining (like Matt Manning); suggesting he might be the tigers' type.
Because Lange is a high school pitcher, some teams late in the first round might shy away from Lange due to signability concerns (he's already committed to Dallas Baptist). If Detroit can get Torkelson under slot, though, this would position them nicely to potentially go over slot for a high school arm like Lange.
MCB Staff Member Jon Erkkila
Round 1 Pick 1: Spencer Torkelson ASU
Barring a last-minute money-saving move it just seems there is too much consensus to buck. Torkelson is getting the same amount of "inevitability" buzz as Casey Mize did two years ago. The Detroit Tigers get the offensive force they need to eventually plug into the middle of the order.
Round 2 Pick 38: Blaze Jordan HS-Mississippi
Why would the Detroit Tigers pick a younger version of Torkelson? Because it's a system bereft of power bats. Jordan has a chance to be an elite power hitter in time. Odds are one of Torkelson or Jordan can handle a different position beyond first-base. Jordan's re-classification into this draft year makes him quite young…to me, this is a nice bet to have a high projected ceiling. Pick 38 has a slot number of $1.95M. If they can save at least a few dollars on Torkelson's bonus they should be able to add to the slot #38 and convince Jordan to skip his commitment to Mississippi State.
My Detroit Tigers First Two Round Predictions
Round 1 Pick 1: Spencer Torkelson. 1B ASU
Last night, I and Chris Brown, my podcast partner had Harris Frommer from the Tigers Minor League Report and the comp to Torkelson was to Mark Teixeira, who ended up being a 50 bWAR player. He hit for power, walked, and had a lifetime batting average of .268. Ironically enough, he was repped by Scott Boras, the same agent who will be repping Torkelson.
The Tigers were dead last on the major league level in home runs. Their minor league system also was near the bottom in power numbers. Since the "Tank for Tork" chants began last year, Tigers fans have wanted to see him wearing the old English "D". Unlike WWE, which sometimes tortures their fans by not giving them what they want, Al Avila should do right here and pick Torkelson.
Round 2 Pick 38: Chris McMahon RHP University of Miami
As much as I wanted to go lefty here or even Florida State RHP CJ Van Eyk as Jacob Boes discussed in his draft profile, I think if Chris McMahon is there, the Tigers will take him. Al Avila has a history in South Florida but that is not the only reason why Detroit will pick him.
The 6'2 205 pound righty has a three-pitch mix of a fastball, change-up, and a breaking ball. His delivery mechanics are consistent and looking at the video I watch, his breaking pitch has some good 11-5 action, darting down well on lefties.
The cliche is "chose the best player available" as Harris Frommer said in the podcast last night but the Tigers besides the "Nuclear Triad" of Mize, Manning, and Skubal,  and Fadeo, the system below Double-A Erie is rather baren of pitching prospects.  Franklin Perez is still an unknown,  Joey Wentz is out for the year and the likes of Alex Lange and others, we have no idea of what is coming next. If McMahon is there, they should take him. He comes from one of the best programs in the country and his numbers indicate he could be an effective starter.
Leave us your second round predictions for the second day of the MLB Draft in the comment section below.