Detroit Tigers: Old English Details Volume I The Winter Meetings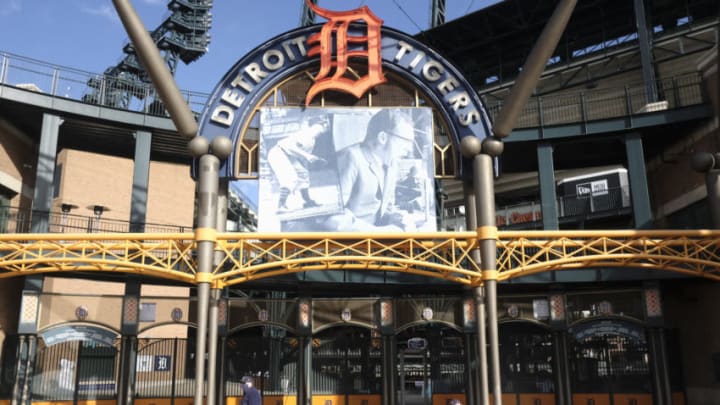 DETROIT, MI - NOVEMBER 10: Meijer employees and medical workers transformed Comerica Park into a makeshift vaccination hub during a free flu clinic vaccination event held by Meijer at Comerica Park on November 10, 2020 in Detroit, Michigan. With Covid-19 cases skyrocketing around the US medical professionals fear that a bad flu season will only make things worse and further fill hospitals and deplete medical supplies around the nation. (Photo by Matthew Hatcher/Getty Images) /
Giving you the Detroit Tigers news you have missed this week.
I was doing "Tiger Tales" when I first started here last year and it got away from me but inspired by the weekly Sunday Notes from David Laurila at FanGraphs and Adam Dubbin's work over at Bless You Boys, I give you random notes and links of what you may have missed every Sunday from here on out about your Detroit Tigers and some other random pop-culture tidbits.  Props to co-expert Chris Brown for the new name of the column.
The Detroit Tigers in winter league action.
Last week, we gave you a guide to check out where to find Tigers playing winter ball. Here's what you may have missed this week.
Tigers infielder Sergio Alcántara made a great play to get the last out of the game. He had quite the Friday night as he went 2-for-2 and drove in 3 in the Tigres 6-5 victory over Aguilas Cibaeñas.  So far in 15 games, he has been 16-for-44 with a pair of home runs and a slash line of .364/.453/.591 witn an OPS of 1.044.
Isaac Paredes is having a strong winter league campaign in the Mexican Pacific League, batting a slash line of .356/.450/.544 with three home runs and 18 RBIs.
Jeimer Candelario once again suited up for Los Toros in a lineup that includes Gary Sanchez and Yasel Puig. He was the MVP of the playoffs last season.
Tigers minor league pitcher Drew Carlton is pitching for Escogido Leones in the Dominican League. You can find a nice write up by Freep sports reporteing intern Evan Petzold here. So far, in 12 innings of work, 8 hits, just one around allowed and 11 K's. Video was hard to find but you can see him pitch here.
Rule 5 picks
The Tigers selected with the 3rd pick in the draft Alkil Baddoo, a outfielder from the Twins system and in the Triple-A portion, they selected reliever Yunior Perez from the Cubs system. Here's what Baseball America ($) said about Baddoo.
""Baddoo is an athletic outfielder with plus speed, though with mixed reviews on his reads and routes in center field, along with an average arm. His speed and defense give him some survival tools to perhaps stick around in 2021, but he has a 25% strikeout rate at the Class A level with a swing that gets too uphill, so he's likely to be overmatched at the plate next year.""
Perez fits the big, strong, reliever types the Tigers tend to have in their system like Jacob points in his scouting report like Bruch Rondon and Melvin Mercedes. Perez could shore up the bullpen in High-A West Michigan or some seasoning in Low-A Lakeland.
Twitter scroll.
A new feature I wanted to add for this Sunday weekly column are tweets I find interesting that pertain to the Tigers. Here's one that was fascinating for trade rumor purposes from a burner account.
Take this with a grain of salt but Garcia did get opportunties to close towards the end of the season.
The #DahltoDetroit movement could not be stopped this week.  I respect the hustle by Scott Bentley and his crew to rally the fans and get national attention to bring David Dahl to Detroit. Even some of the beat writers got in on it.  Dahl signed with Texas for one year, $ 3 million dollars.
Hall of Famer Larry Doby, the first African-American player in the American League, was born on this date on December 13, 1923.  He played for the Tigers in 1959.
The "oh yeah, I forgot he played for the Tigers" player of the week
The first one goes  to Brian Dubois. The former lefty was acquired for Keith Moreland on July 28, 1989. He would make his major league debut on August 17, 1989, pitching 6 innings, allowed 2 runs, struck out three and walked three  in a 2-1 loss to the Yankees. The Tigers that season would lose 100 games for the first time since 1975.
Detroit Tigers in primetime.
AJ Hinch was on the Jim Rome Show this talking about his summer of reflection and what it means to be the Tigers manager.
He also talks about the Astros scandal.
Tune of the week
The tune of the week will be very random and it will pertain to baseball sometimes.  Check out the latest Tigers talk podcast with myself and Chris Brown as we talk to Tony Paul of the Detroit News.com about the Tigers free agent chances.  Hopefully you like the first edition of the Old English Details. Leave us a comment on social or in the comment section below.