Detroit Tigers News
Detroit Tigers: AJ Hinch explains what he wants from his relievers and players in media session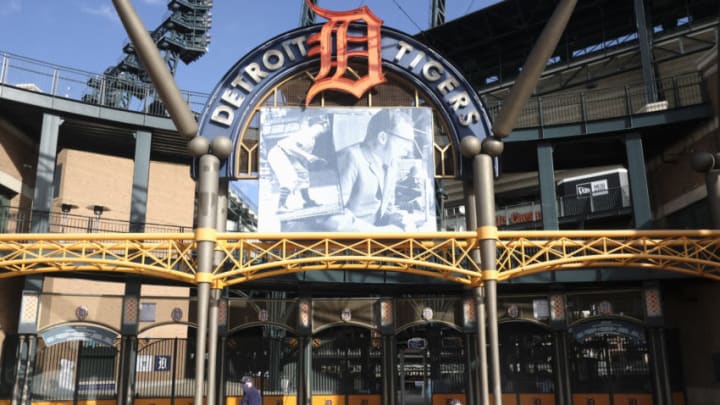 DETROIT, MI - NOVEMBER 10: Meijer employees and medical workers transformed Comerica Park into a makeshift vaccination hub during a free flu clinic vaccination event held by Meijer at Comerica Park on November 10, 2020 in Detroit, Michigan. With Covid-19 cases skyrocketing around the US medical professionals fear that a bad flu season will only make things worse and further fill hospitals and deplete medical supplies around the nation. (Photo by Matthew Hatcher/Getty Images) /
Detroit Tigers manager A.J. Hinch spoke to the media today on the direction of the team for 2021.
Today, on Tigers.com, Detroit Tigers manager A.J. Hinch spoke to the media about the bullpen, the rotation, player versatility, and what type of players Detroit seeks in free agency.
Extending Tyler Alexander and Daniel Norris
Hinch spoke about stretching out Daniel Norris and Tyler Alexander in spring training for a spot in the rotation. Alexander, who came up as a starter in the minors, has started 10 games so far in two seasons, so this would help the Tigers rotation depth. Also, Alexander set an AL record for most strikeouts in a row with 9 back in August, which seems like a lifetime ago to me. Here's what he said more about Norris.(Transcribed from audio)
"I love Norris and and and I think he's someone who can continually can still get better. I think the best way for him is to learn his strengths even more and use his strengths at the right time, obviously make adjustments faster than he has in the past when it comes to whether it's what pitches he's using where he's using him against specific hitters. That's the thing the game planning part.
Chris Fetter is very excited about the type of ingredients he posses.  He has the competitiveness that he has the swing and miss stuff that he's shown in the past. I know it was a valuable skill he had in those three-inning increments last year. Is it going to make our rotation or not? I think that's what we hope spring training is going to tell us. "
Norris finished the season on a high note, finishing off a month of September with allowing just one run in five innings of work in five games with six strikeouts. His September 12 appearance in which he allowed 3 runs in 1.1 IP was his worse performance of the season.  Either way, it sounds like Hinch and the coaching staff have a plan in place.
On what the Tigers are looking to do on the free-agent market and on Jake Rogers
"To enhance the pitching staff that's true. The market has to produce that you know, I think in general and the position player side, there's a lot of different ways to go we could upgrade or outfield. We could certainly have a lot of capable guys that can do both we can upgrade the infield and move some guys in the outfielders. There's a lot of ways to go. I think the key for us is going to be we gotta find some better at-bats. We got to be tougher at-bats. We got to minimize the strikeouts the non-competitive at-bats.
Those are types of players are going to be really attractive to us getting in heading in the right direction. What position that is, it could range from the outfields of you know, I know there's not a lot of talking second base and first base depending on how much Miggy and Candy play first base. 
Really intrigued by Rogers. I think Greiner and Haas have can handle a pitching staff as well. Like, you know, we're going to look at and up, you know upgrades there from a standpoint of if we do this, right we have to protect our pitching one of the increment and one of the parts of the pitching staff that can we can help them get better and help them produce better results is out of the catching position. I think Rogers has a future as an everyday player.'"
Takeaways from the presser: Better at-bats and enhancing the pitching staff
Al Avila has stated that he felt Jake Rogers was rushed to the majors so to hear Hinch thinks highly of him and they do not plan on giving up on Rogers was good. As our crew discussed in our Slack channel, Rogers does hit lefties well and is a gifted receiver, capable of handling a pitching staff, and has a great arm behind the dish.
He has an opportunity to win the job in camp and my impression based on what Hinch said, they are seeking the best bats that will give them a chance in free agency,  It could be from the outfield, it could be from everywhere is what I gather from Hinch's comments.
The biggest takeaway is what Detroit started to do at the plate in 2020 was to follow some form of a plan and they did from former hitting coach Joe Varva.  They have several players who make jumps in hard-hit %  like Candelario. The next step is to cut the strikeouts down as they lead the league in K% at 27.3%.
If a player is a high K batter, he is what he is. He may able to cut the rate a bit but I like what Hinch was saying about bringing in players who possess quality at-bats and can draw walks. Who knows, that approach could rub off on some of the players on the roster.
As far as Detroit will look at to fill the rotation? We shall see but a starter that can throw at least 150 innings, can go deep in games would be a start. He discussed using the current relief core more than just one inning.
It sounds like there is a game plan in place and Hinch is working with Al Avila on getting the right players on the roster. He is focused on who has so for now, we wait for the pieces to be laid out on the field.