Detroit Tigers Top Prospects 2021: No. 17 Jose De La Cruz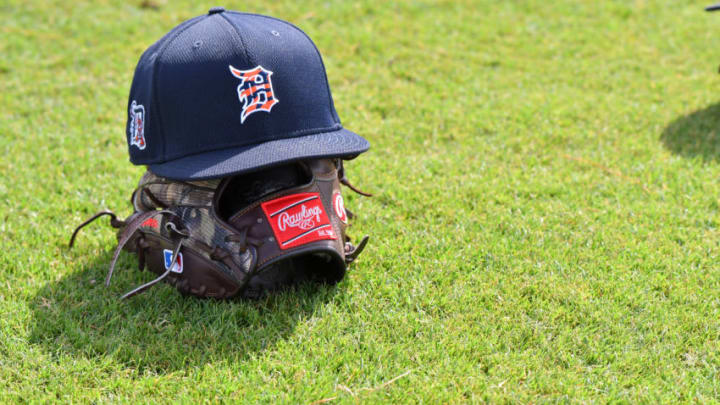 LAKELAND, FL - A detailed view of a Detroit Tigers baseball hat and Rawlings glove. (Photo by Mark Cunningham/MLB Photos via Getty Images) /
Welcome to the first-ever installment of the Motor City Bengals Top 20 Detroit Tigers prospects. The MCB staff has compiled our prospect lists and we will be releasing our consensus rankings, along with a breakdown of each player, in a series of articles in the coming days. In this article, we look at #17 on our list, Jose De La Cruz.
During the past few international free agent cycles, the Detroit Tigers have become more aggressive (however I suppose it's difficult to be less aggressive) and given out some larger bonuses. Jose De La Cruz is one of those bonus babies and if early returns are a sign of things to come Tiger's fans can start getting excited about his future.
Jose De La Cruz Background:
As mentioned in the open, De La Cruz was an international free agent, who hails from the Dominican Republic. MLB Pipeline ranked him as the 19th best prospect in his free-agent class and the Tigers convinced him to sign with them for $1.8M.
He spent his first professional season (2019) in the Dominican Summer League (DSL). However, like many prospects across baseball, De La Cruz did not take a professional at-bat in 2020.
Jose De La Cruz Strengths:
Potential, potential, potential. One look at De La Cruz and it is easy to dream of him patrolling the outfield at Comerica Park while hitting in the middle of the Tiger's lineup (in my dream he is hitting alongside Torkelson and Greene of course). His combination of a mature, powerful frame (especially for a teenager), strong bat speed, plus power, plus arm, and above-average to plus speed, give him a ceiling that rivals just about anyone in the system.
During his first exposure to professional pitching, he certainly did nothing to tarnish his offensive reputation. If anything, he made it easier to believe his bat will eventually play in the big leagues. Hitting in the middle of the DSL Tigers lineup, De La Cruz posted a very strong .307/.375/.556 slash line which included 11 home runs. He even displayed his natural speed/athleticism by manning centerfield and swiping 16 bases.
Now, given his strong, thick frame it seems unlikely De La Cruz will continue as a centerfielder as he matures and some would likely deem his shift down the defensive spectrum as a weakness. But, he should continue to be a solid athlete with respectable speed even if he can't handle center long term. This, coupled with his outstanding arm make him a prototype right fielder which still carries significant value.
Jose De La Cruz Weaknesses:
De La Cruz is similar to many other young prospects with high-end power potential in that he will need to continue to make progress as a hitter in order to use that power in games as he progresses up the ladder. A few key statistics from his 2019 performance indicate De La Cruz is still has a ways to go in the development of his hit tool. He struck out 75 times in 253 plate appearances leading to a 29.6% strikeout rate which is on the high side, even for the DSL. This coupled with his unsustainably high .411 batting average on balls in play (BABIP) indicates a player who, at times, has issues making contact and likely won't maintain his .307 average without some further development as a hitter. It should also be noted he displayed a rather pull-happy approach further indicating his issues and leaving him vulnerable on the outer half of the plate against more advanced pitching. To finalize the discussion on De La Cruz's hit tool both Prospects Live and MLB pipeline have graded his hit tool as his lone below-average tool (45 on the 20-80 scout scale).
Given the starting point, it seems likely he will maintain at least average speed long-term allowing him to handle right field. However, it should be noted, players with his body type have a wide range of outcomes as they mature and there is a non-zero percent chance he loses enough speed that he has to move even farther down the defensive spectrum.
Video:
Our Take on Jose De La Cruz:
The evaluation of a 19-year-old prospect (and just barely that, in this case), who has yet to play stateside professionally, should always list proximity to the majors as a question mark. De La Cruz has a significant gap between his present skill level and his ceiling. Given, all the developmental hurdles that can arise this seems important to point out, as to not over-hype a prospect.
However, with that said, there are a number of reasons to be optimistic about De La Cruz's future. In an organization that has lacked offensive players with significant ceilings (yes, I am aware that may still be an overstatement) De La Cruz's tools and potential alone are enough reason to be excited about his future. That potential coupled with his strong performance in the DSL, even if it's a relatively small sample, and you have all the ingredients for a player Tiger's fan should be sure to follow as he continues to develop.
Assuming, the season begins as planned (and at this point that feels like a big assumption), a trip to the Gulf Coast League seems likely to begin the year. If De La Cruz can continue to produce as he did in his stint in the DSL, a promotion is not out of the question. Also, not out of the question would be De La Cruz being much higher in the rankings at this time next year.