Detroit Tigers: 2021 Opening Day schedule and times announced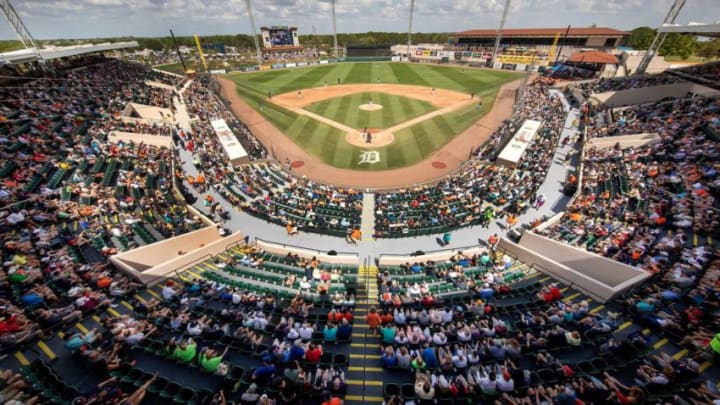 Detroit Tigers baseball fans watch their spring training game against the Atlanta Braves at Publix Field at Joker Marchant Stadium last March.031220 Ep Tigers 1 News /
On April 1, the Detroit Tigers will have Opening Day 2021 at home against the Cleveland Indians according to the announcement made today by MLB. April 1 will serve as the Opening Day for all 30 teams as this marks the first time since 1968 they are all playing on the same day.
The Detroit Tigers start the season with a six-game homestand against the Indians then the Minnesota Twins will come to town before Detroit travels to Cleveland for the first road series on April 9.  Here are some important dates for Tigers fans to remember early on the season.
Detroit Tigers 2021 April and May schedule highlights
April 12-April 14 at Houston & April 15-18 at Oakland
It will not take that long for AJ Hinch to manage against his former team as he faces the Astros in the second road series of the year and Robbie Grossman will also get a chance to face his former team the following series. Because of the short season in 2020, the last time Detroit played in Oakland was back on September 6 for a four-game series in which they split against the A's.
April 30-May 2 at New York Yankees May 28-30 
Detroit plays in the Bronx for just two games early in the month in their first AL East battle of 2021 before New York comes to town at the end of the month.
May 14-May 16 Cubs
The new-look Chicago Cubs will come into town for the first interleague battle of the year. Another note to add.  Tigers will be facing just NL Central teams for interleague play so Detroit avoids playing the Dodgers and Padres which if you are a baseball fan, will be sad to miss those teams coming to Comerica Park.
The Detroit Tigers are not on ESPN Sunday Night Baseball
For your viewing pleasure, the Detroit Tigers will primarily be on the new Bally Sports Network as the Tigers will not be appearing on Sunday Night Baseball. Strange enough, only the Chicago White Sox will be the only team repping the AL Central on ESPN with their only appearance coming on April 4 against the Angels.
Other MLB important dates to remember
April 15th-Jackie Robinson Day
July 13-All-Star Game in Atlanta
August 12- Field of Dreams game Yankees vs White Sox in Dyersville, Iowa
August 22-Little League Classic: Angels vs Cleveland in Williamsport, Pennsylvania.
Detroit Tigers Tibits.
According to Baseball Prospectus's PECOTA projections, the Detroit Tigers are projected to finish 67-95 and in last place in AL Central.
Last week, Chris Brown and I had the opportunity to talk to Eno Sarris of The Athletic about pitching design and Detroit's young pitching core on our weekly podcast.