Detroit Tigers: Opening Day Bullpen Projections 1.0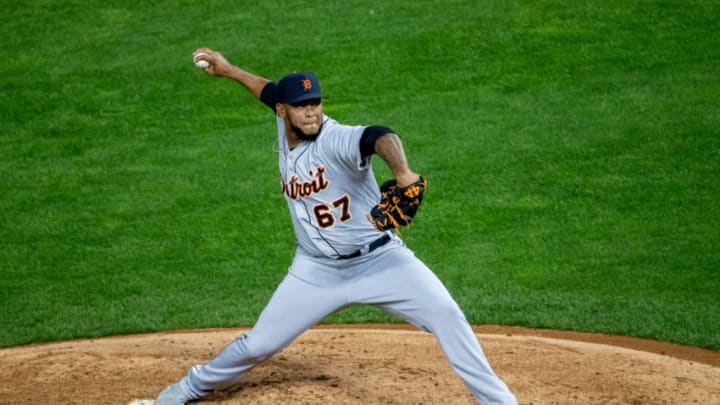 Sep 22, 2020; Minneapolis, Minnesota, USA; Detroit Tigers relief pitcher Jose Cisnero (67) delivers a pitch in the fourth inning against the Minnesota Twins at Target Field. Mandatory Credit: Jesse Johnson-USA TODAY Sports /
We here at Motor City Bengals have been looking at the Detroit Tigers projected Opening Day starting rotation but we have not focused on the bullpen yet. After the last few days, the bullpen seems to be coming together.  Much of who you will see in the bullpen won't be too much different either way, as spring training goes, a lot can change.
Who will be the team's closer? That seems still very much open but as manager AJ Hinch said about the role, it won't be as rigid. Detroit has several candidates who were holdovers from the bullpen last year that are in the mix that could close. Jose Cisnero and Gregory Soto certainly made their cases for the closer in today's win over Baltimore as they both pitched one scoreless inning.
Let's take a look at the Opening Day Bullpen with the assumption that Detroit will take 13 pitchers with them north.
Locked in and ready to head north:
Daniel Norris
Tyler Alexander
Jose Cisnero
Gregory Soto
Bryan Garcia
Buck Farmer
Jose Urena
Daniel Norris, I had projected as the team's fifth starter back in Opening Day Starting Pitcher Projection 1.0 way back in early February. Then Detroit signed Julio Teheran and Norris went back to the bullpen, which is not a bad thing. He was very good today, pitching an efficient three innings of relief, allowing just one hit. Norris finished the year strong in 2020 out of the bullpen, posting a FIP of 2.61 with a K per 9 of 9.69.
Buck Farmer has struggled in spring training but the second longest-tenured Detroit Tigers player can fulfill any role AJ Hinch will need him for. Bryan Garcia, who came back into camp today, also could factor in the closer's role. You would like to see Garcia's K numbers creep up more.
Dan Dickerson said on today's broadcast that he had Urena in the rotation over Michael Fulmer but for now, I am still standing with Jose Urena being a right-handed long-relief option. Fulmer will continue to get opportunities to start but Urena could take that spot and Fulmer could be in the bullpen.  I just think based on Urena's pitch mix, he could air it out and be an effective reliever. But, if he was a back-end starter, that would work too.
The "Hot Take" Prediction:
The last spot in the bullpen I think is up for grabs between Alex Lange, non-roster invite Derek Holland, and Joe Jimenez. Lange has looked impressive in spring but he has minor league options and could get some experience closing down in either Toledo or Erie then possible being one of the first pitchers the Tigers call up.
A trio of Tigers relievers struggled last season. The first two in Kyle Funkhouser and Beau Burrows,  Detroit sent down in the first round of cuts on Friday.  The last one that struggled was Joe Jimenez. Jimenez does have a good spin on his fastball but his command was off last season and struggles to keep the ball down.
Holland could take the place of Alex Fadeo on the 40 man roster since Fadeo is out for the year but that would give Detroit four lefties out of the bullpen, something we have not seen here since 2011.
Holland has looked good in spring and his strikeout numbers, career-wise, despite his horrible 2020 season, have been solid. This "hot take" is nothing more than an educated guess but perhaps having Jimenez start the year in Toledo to figure out his problems could be a solution. With Alexander, Norris, Holland, and Soto, all four have started at some point in their careers so this could provide Detroit a unique solution in case the rotation needs a spot starter or injuries occur. The idea sounds crazy and it is, but we shall see how the final weeks unfold.
My prediction to take the first crack at the Tigers' closer role?  Jose Cisnero. He had the best K per 9 of any reliever on the Tigers last season. Bryan Garcia will probably get an opportunity as well but for now, I think Cisnero gets the first shot.