Detroit Tigers: Akil Baddoo should stay in the starting lineup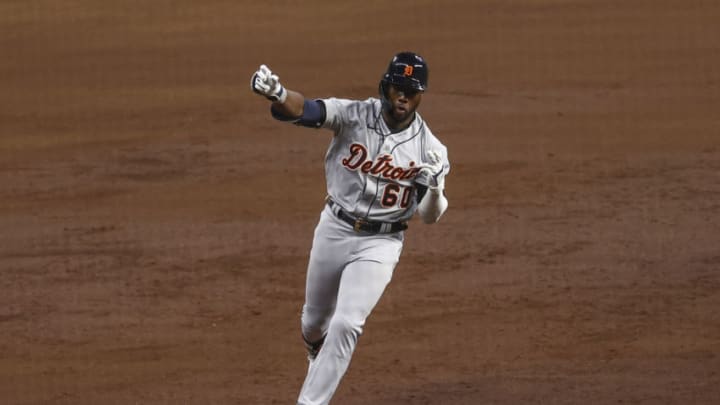 Apr 12, 2021; Houston, Texas, USA; Detroit Tigers center fielder Akil Baddoo (60) rounds the bases after hitting a home run during the third inning against the Houston Astros at Minute Maid Park. Mandatory Credit: Troy Taormina-USA TODAY Sports /
When the Detroit Tigers drafted Akil Baddoo in the Rule 5 draft, we here at Motor City Bengals said "who?" And I am sure most fans said the same thing.  But in spring training he made his presence known with a slash line of .325/.460/.750 for an OPS of 1.210.
But as we know, spring training stats are always met with levels of skepticism, which is understandable. But then our own Kellen Gove said he should start Opening Day because of his pure athletic ability and his approach at the plate, which generated 10 walks in 45 plate appearances.
Then, he became the first Detroit Tigers player in franchise history to hit two home runs in his first two games. Tigers fans got excited. Then on Monday night, as Chris Brown discussed, he became just the sixth Detroit Tigers batter to hit a home run at least 450 feet since MLB began tracking them in 2008.
Then, with his fourth home run, he did something else. Down 0-2, he worked the count full and went deep to the opposite field for the 3rd time this season. He broke another record:
As he continues to tear through the record books, the obvious questions continue. When will teams figure him out? How long can he keep this up? He's hitting .391 (9-for-25) after last night.
Baddoo argued with the umpire last night before he went back to the dugout and the night before, he thought he hit a home run and did a premature trot but after the game manager A.J. Hinch had this quote:
""He apologized to me because he knew it was the wrong play," Hinch said. "The fact that he acknowledged it and is man enough to come and admit it changes my entire reaction about it. To be honest, it's a simple mistake. We can't turn it into a habit.""
The answer. Keep putting him in the lineup. Let Baddoo start and make the tough decision on dropping an outfielder (Victor Reyes) back down to the minors.
Akil Baddoo's Numbers
My answer is so brazen because if you look at his numbers, he has four barrels already. Compared to Victor Reyes in 2019 with a full season under his belt, Reyes had four total. His hard hit contact is in 57% percentile according to Statcast.
There is enough evidence there to keep Baddoo in the lineup because, as Dan Dickerson said on the broadcast last night, you simply do not look away. He doesn't chase bad pitches and he's been keeping back on off-speed offerings. It's an advanced approach for a guy who has never spent a day over High-A ball until this season.
For a road trip that started roughly, the Tigers are a game under .500 just like that, and they're getting right against the Astros, who are no slouch.
Led by strong starting pitching and the bats coming alive in the last two games, the Tigers have played their best baseball of the season. Why change what works when Baddoo is in the lineup?