Detroit Tigers: Historical road woes against the Oakland A's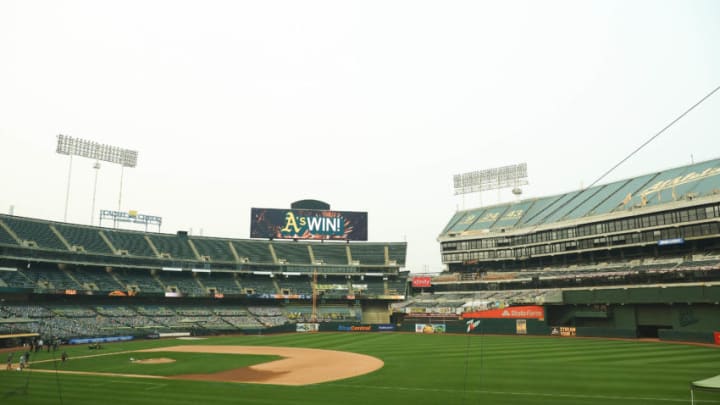 Oct 1, 2020; Oakland, California, USA; The video board displays ÒAÕs win!Ó after the Oakland Athletics win against the Chicago White Sox at Oakland Coliseum. Mandatory Credit: Kelley L Cox-USA TODAY Sports /
If you believe that the Detroit Tigers have not done well against the Oakland A's in your lifetime in the regular season, could you be suffering from the Mandela Effect?
Are you familiar with the Mandela Effect? For some Detroit Tigers fans, the Mandela Effect is a term you may not hear before but what it is according to various sources including the New York Times and named by paranormal researcher Fiona Broome: 
""a recent refinement of false memory that typically refers to pop culture or current event references.""
The name stems from the shared belief Broome had about South African civil rights leaders Nelson Mandela that he died in prison in the '80s. She found out that others believe the same belief, thus the name. So, another Mandela effect example is there are people who believe that the Berenstain Bears were actually the Berenstein Bears.
At any rate, I saw several comments online that indicated the Tigers never seem to win in at Oakland Coliseum (now RingCentral) so I decided to take a look and see how much truth is behind it. Also, is it just me, or has Oakland always had that damn vuvuzela playing?
(Note: I did not include the post-season but if you were curious since the Tigers have met the A's four times in the postseason in 1972, 2006, 2012, and 2013.  Detroit is 12-7 against them, 5 of those wins were in Oakland) 
Detroit Tigers 2000-2010 against Oakland
Notable dates in Oakland: 
Opening Day at then was known at Network Associates Coliseum, started with two sights that were not often seen in a Tigers uniform after the year 2000, Dean Palmer and Hideo Nomo.  Palmer, coming off a 38 home run campaign in his first year in a Tigers uniform in 1999, started the scoring for the Tigers with a solo shot off Kevin Appier in the second inning.
Nomo tossed a gem, going seven innings, allowing three runs, all the runs coming off solo home runs, and struck out 8 as the Tigers would win 7 to 4.
May 18-19 2010:
With interleague play, schedules starting to get wacky with a four-game series in Detroit but only a pair of games in Oakland, the Tigers got a pair of victories, thanks to Justin Verlander and Jeremy Bonderman. It was the only season in that decade that Detroit had a winning record in Oakland.
2000-2010 road record  in Oakland: 18-32
2000-2010 overall against Oakland: 36-55
Detroit Tigers 2011-2019 against Oakland
Notable dates in Oakland:
May 10, 2012 
Why does this start stand out? It was the first season that Max Scherzer would strike out 200 batters for the first time and in this start, he fanned 9 in 6.1 innings, allowing just two runs. The Tigers would win 10-6 and up till that point, only the fourth time since 2000 they would win the season series against the A's, winning the regular-season series 4-3.
May 27, 2016, and May 5, 2017
On his way to winning the Rookie of the Year in 2016, Michael Fulmer would pick up the only win the Tigers had in the three-game series in Oakland, tossing 7.2 shutout innings, allowing just 3 hits. His May 5 win would be the last win the Tigers would have until September 6, 2019. The A's would go on to win16 in a row, a streak that went from May 6, 2017, until the Tigers won in extra innings on that date in September as John Schreiber picked up his first major league victory in relief.
2011-2020 road record  in Oakland: 14-20
2011-2020 overall against Oakland: 25-39
The Tigers have lost 22 out of the last 24 against the A's. The last time they won a series against Oakland? 2014, when they went 5-2.'
So no Mandela Effect
So you are correct, the Detroit Tigers have not done well in Oakland during the regular season the but just remember, the Tigers have beaten the A's in three out of four post-season meetings so that's all that matters.