Detroit Tigers: A Brief History of Tigers from Canada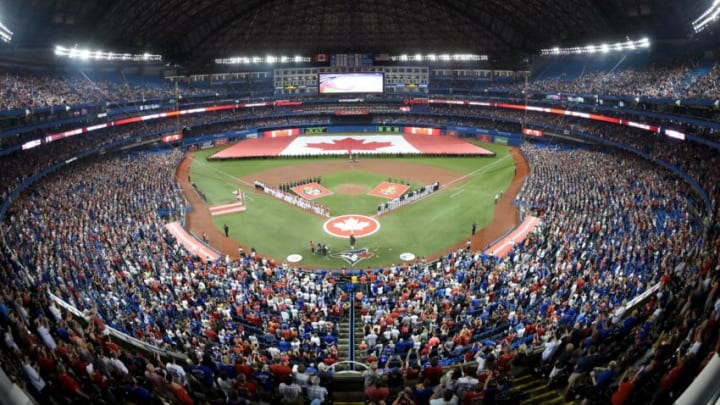 A view of opening ceremonies to celebrate Canada Day before a game between the Detroit Tigers and Toronto Blue Jays at Rogers Centre. Dan Hamilton-USA TODAY Sports /
Detroit Tigers from Canada – Pete LePine, Gene Ford, and Jay Clarke
There are no photos of Pete LePine, so here are some pine trees in Canada. (Photo by Thierry Falise/LightRocket via Getty Images) /
Pete LePine was the first player from Canada to ever suit up for the Detroit Tigers, and the first native of Montreal to reach the major leagues. He was a first baseman and outfielder who saw action in 30 games for the 1902 Detroit Tigers, struggling to a .208 batting average with one home run. He continued playing pro ball for another six years, but never did reach the highest level again.
Three seasons later a pair of Canadians joined the club. Gene Ford was a 24-year-old right-handed pitcher who posted a 5.66 ERA over 35 innings spread across seven outings. He also went 0-for-10 as a hitter. That was his only big-league action, but his younger brother Russ Ford was a very effective pitcher for some early New York teams, and apparently quite the innovator:
"Russ Ford burst into the spotlight in 1910, winning 26 games for the New York Highlanders with a baffling new pitch never before seen in professional baseball. Using a piece of emery board hidden in his glove, Ford roughed up one side of the ball, causing it to break at odd angles depending on how he threw it. For two seasons, Ford used the emery ball to dominate the American League, all the while hiding the origin of his new discovery. "He kept his secret a long time by pretending he was pitching a spitter," Ty Cobb later recalled. "He would deliberately show his finger to the batter and then wet it with saliva.""
The other native of Canada on that 1905 Detroit Tigers team was catcher Jay Clarke, though his stint with the club was incredibly brief. He came up with the Cleveland Naps, and spent the majority of his career there, but he was loaned to the Tigers for three games. He went 3-for-9 with his only homer of the season, which was apparently enough for the Naps to take him back. A Canadian Baseball Hall of Famer, Clarke is credited with pioneering the use of catcher shin guards.